Scaling up my cookie recipe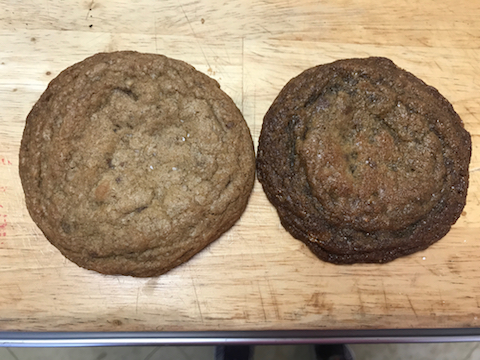 I was hoping someone could help me with my cookie recipe and scaling it. The cookie comes out great at dose 1, but not so great at dose 10 (though delicious). What's a way I can tweak it to get better results? The cookie on the left was a test batch and was a dose 1 recipe. The cookie on the right was a dose 10 cookie. I had to bake the cookie a little longer to get it to fully cook through in the middle. It's still tasty but it seems it is giving off a little extra butter (and yeah it got way darker).
Also, I will just say, the test cookie on the left was baked right away from the dough and the one on the right was baked from frozen.  Both at 350 in a blodgett convection oven.
BUT I've been having a problem with this cookie and scaling it, so I do believe it's the recipe and not how it was baked.