Dense crumb with sourdough bread. HELP!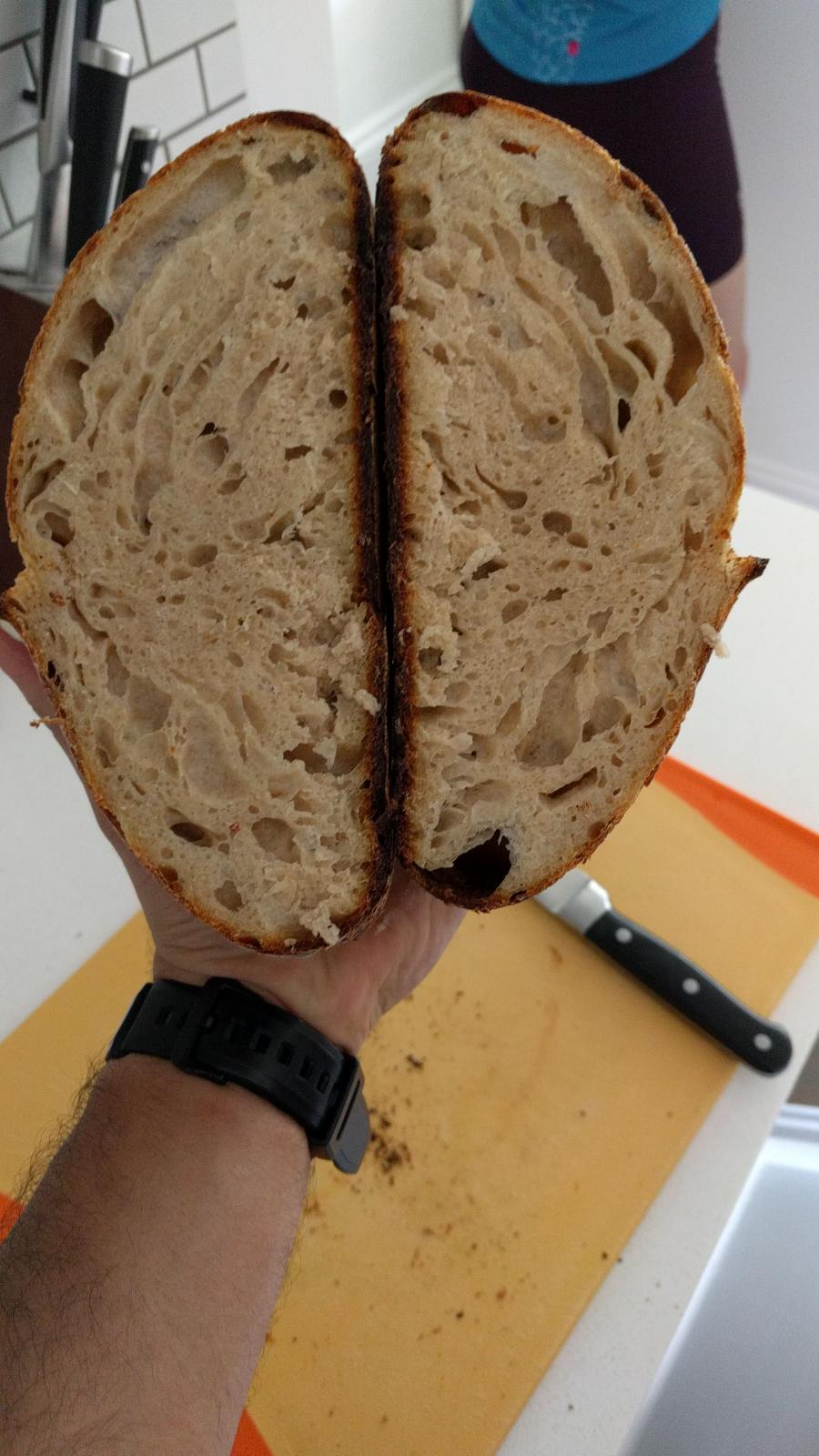 Hello everyone!
I've been baking french style sourdough bread for a few months now, and I've been having some struggles getting a crumb that isn't really tight.
Here were the basic formula parameters from my last loaf:
85% KA bread flour
15% KA white whole wheat flour
75% hydration
2.2% Morton iodized salt
20% levain
Levain build:
100% white whole wheat flour
100% hydration
15% starter
12 hour maturation time
Starter build:
100% hydration
100% white whole wheat flour
Feeding recipe: 1 part starter, 2 parts WWF, 2 parts water (I used to do 1:1:1, but I decreased the amount of starter relative to the other ingredients, because the starter would smell like ethanol after 12 hours)
12 hour maturation time.
Process:
-Standard RT in my home in June: 76-78 def F
-Mix levain just until complete incorporation and let mature for 12 hours. (note: levain passed float test at the end of 12 hours, and did not at all smell overfermented).
-Mix levain with the rest of the ingredients and and allow a 45 minute autolyse. (note: all water used in this recipe was at RT [76 deg F], and had been allowed to sit in an open bottle for at least 24 hours in order for any chlorine to evaporate.)
-Slap and fold for 10-12 minutes (note: I was expecting the dough to start feeling smooth and slightly tacky at this point, but it didn't quite feel that way. Still, I didn't want to risk overdeveloping the gluten, so I stopped. Windowpane looked OK).
-Place dough in polypropylene tub at room temp for bulk fermentation, and do 3 folds over the course of 2 hours.
-Continue bulk fermentation at RT, until dough reaches 50% expansion by volume. (note: in reality, the dough only expanded by 30%, and wouldn't expand further. I expected that the dough would reach 50% expansion in about 2-3 hours, based on the experiences of a friend of mine who's a very good sourdough baker, but since it didn't, I gave up on the dough after about 6 hours at RT, and decided to retard the bulk until the next morning, which was a total retardation time of about 14 hours. My fridge temp is about 38 def F). (note 2: perhaps volume expansion is not the best way to assess the doneness of the bulk fermentation?)
-Remove dough from fridge and let it warm up to RT, until it reaches 60% expansion by volume. (note: again, this is based on the experiences of my friend, who believes that ~60% expansion is near optimal. After two hours on the kitchen counter, the dough had reached about 40% expansion by volume, which is as far as I let it go in actuality. It's worth noting that my friend lives in a place where it's crazy hot and humid).
-Preshape and bench rest for 20 min.
-Shape into tight boule and place in banneton for proofing. Preheat dutch oven to 500 deg F (note: after shaping, I did the finger dent test to get an idea of how long of a proof I'd be gunning for. Almost immediately, the dough seemed to be very close to the end of the proof, so I put it in the fridge for the remainder of the preheat, which was about an hour).
-Score loaf and place into dutch oven, lower temp to 475F, and steam bake for 25 minutes.
-Dry bake for another 23 minutes at 450F.
-Remove from oven and let cool for 2 hours before cutting open.
For a while now, I've been toying some some variant of this recipe and procedure, varying the parameters up and down, and improving my techniques. Nevertheless, I still can't manage to figure out what I am doing wrong, and neither can my friend who's very good at baking sourdough.
I'm very careful about documenting everything that I do, and I go out of my way to be very gentle with my dough (in fact far more gentle than many professional bakers in their demonstration videos). I feel like I've tried everything, but I just can't get this thing to work. I don't know if I'm doing one big thing wrong or lots of little things.
Any help that any of you could offer would be greatly appreciated. Please keep in mind that my schedule only allows me to work on bread before I go to work, dinner time or later, and on weekends before noon and after 6pm.
If you have any questions about my process, please ask, because I'd love to figure this thing out.
Best,
A