January 13, 2017 - 8:13pm
Sourdough pizza experiment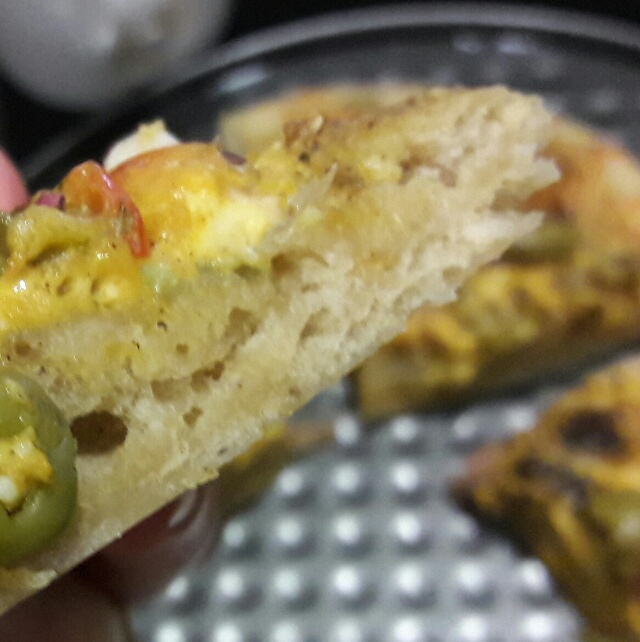 Newbie question, I have this almost 1month old starter which is fed every 24 hrs at 1:2:2. Now to test my starter (which floats in water, is yeasty) I decided to make a very small portion of pizza with following proportions (loosely based on some beginner recipes I read about on the net).
I started with equal quantities (in weight) of starter and flour.
110g Starter + 110g Flour mix (WWF+APF)
Mixed above, rested and added olive oil n salt n seasoning, kneaded it for some time incorporating a little hot water to form a smooth dough. I am guessing that with all the liquid I added the final dough would have been around 50-55% hydration.
I baked one portion right away after a 30 min rest period (it was more of a cracker consistency) and let another portion rest in the refrigerator for around 24 hours, removed and rolled out, topped and baked at 200°C for 15 min.
The second portion (pictured) had risen well in the refrigerator and there was a better spring in the crust with a few holes. The only problem is the rise in the oven was not so gr8, did I underbake it or is it sourdough?... It was not fluffy as I would like it (or as achieved with commercial yeast)
What could I have done differently and what is it about baking sourdough baking that needs different treatment?