December 3, 2005 - 8:28pm
I, too, had a doughy disaster today. I was trying to make a simple French/Italian bread using both a poolish (a wet, yeasted, overnight pre-ferment) and an autolyse (a flour and water quick pre-ferment). The poolish was too wet, the autolyse too dry, and when I tried to mix them together I could not get the chunks of autolyse dough to combine with poolish. It ended up having the consistency of chicken and dumplings. I ended up throwing the batch out and starting over.
The next batch turned out better.


16 oz. bread flour
11 oz. water
1 heaping teaspoon instant yeast
2 teaspoons salt

I combined the flour and water in a bowl and mixed just until the flour was full hydrated. I covered the bowl and let it hydrate for 20 minutes. Then I mixed in the yeast and salt, mixed for about 3 minutes, and placed the dough in covered bowl. I gave it 45 minutes, then folded, another 45 then a fold, and a final 45 before shaping into rounds, placing in my floured baskets, which I covered, and let them rise for a final 75 minutes.
I baked them at 475 with initial steam. They were in for about 25 or 30 minutes. They turned out quite nice: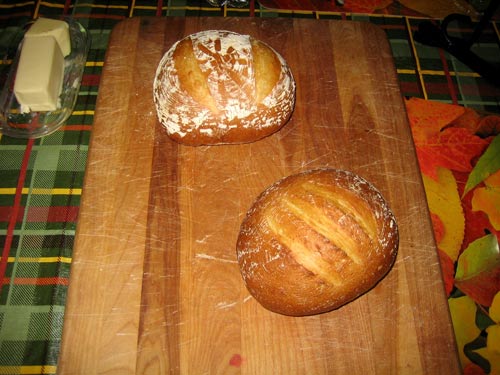 We had a pot of vegetable soup and a bottle of Chianti with them. You couldn't ask for a better meal on a wet, wintery day.