January 9, 2017 - 12:50pm
First attempt at Baguette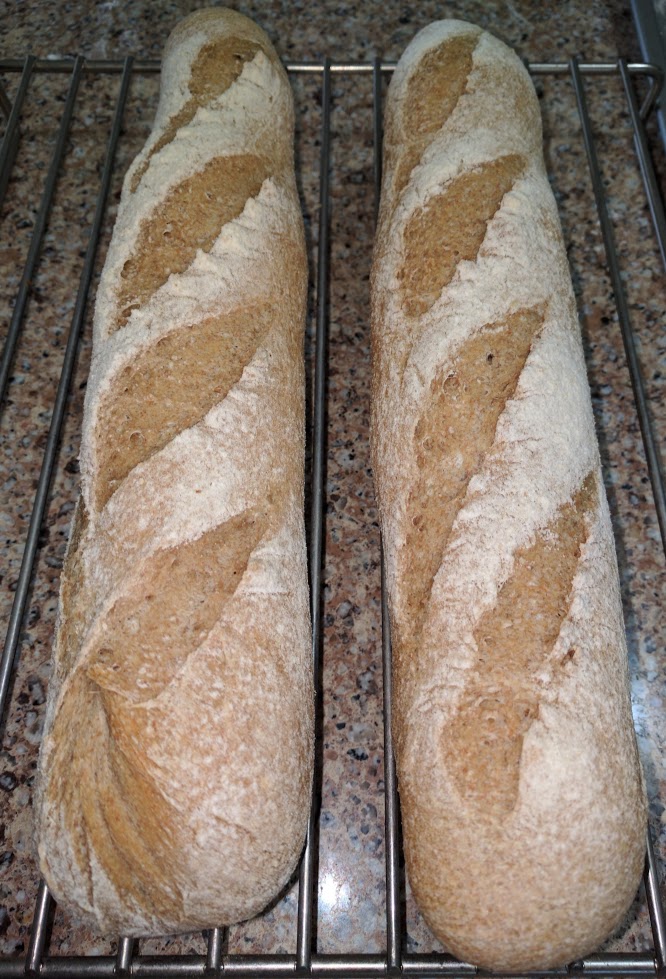 I am sure I did nearly everything wrong - but I gave it a good try.  I also think I should have stuck with normal flour for my first several attempts (I've read several recipes that say to use AP rather than bread flour - not sure which is right) but I mixed half bread flour and half freshly milled hard red spring wheat.
I didn't get hardly any spring - the slits barely opened up.   I tried to get steam by putting boiling water in a metal cup at the  bottom of my oven and I also misted water in the oven space a few times for the first 10 minutes or so.  
I've been reading that the secret to getting oven spring is putting the bread in the oven when the yeast is at its peak activity - and my yeast was pretty tired when this went in the oven.  That's because my baguettes were flattening out when the yeast was really active.  I had left them shaped in the fridge all night (hardly any rise at all in the fridge - I think my yeast is too old) and then warmed them up to room temp this morning and got a lot of rise but it just spread out flat.  So I reshaped them and this time they held shape but the yeast didn't seem to be nearly as active.   
Well ... I'll keep reading and practicing and hopefully I can have a more successful attempt soon :)