December 26, 2016 - 11:06pm
Baking December, 2016
I started the Month loafing in Las Vegas. We had Thanksgiving in Henderson, NV this year. One of our sons teaches at UNLV. The deal was that the following weekend, said son and his wife (also a professor at UNLV) went off to a neuroscience conference in Hawaii, leaving my wife and me in charge of (Ha!) two granddaughters. So, we revisited parenthood for a week, complete with JuJitsu lessons, piano lessons, bass guitar practice sessions with rock and roll band, school pick-up and drop-off and cooking. Did I mention that the granddaughters are vegetarian?
Now, this is the same son I had successfully infected with lactobacilli a few years ago, so the granddaughters are accustomed to having delicious home-baked sourdough bread. I baked 3 bakes in a week. The bread I made all three times was Ken Forkish's "Field Blend 2," which is a pain au levin-type loaf made with a mix of AP, WW and rye. The reason I didn't switch breads was that this one was so good.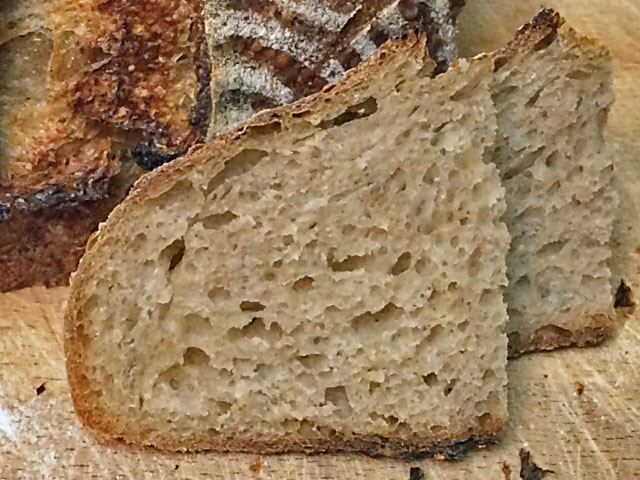 In fact, it was so good, I baked another loaf when we got back home to California. It was good again.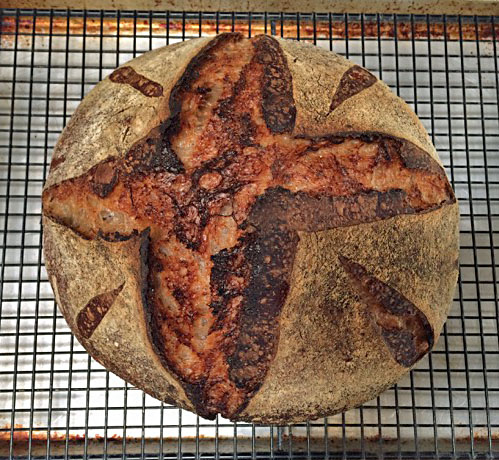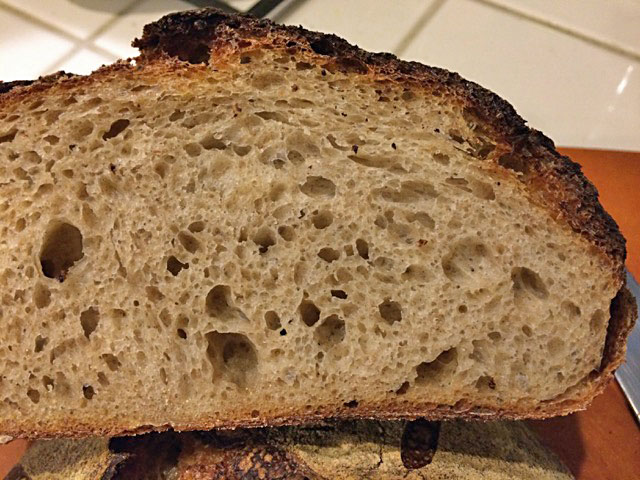 Next month, the Fresno Jewish Film Festival film will be preceded by a dinner featuring "Jewish comfort food." Now, that covers a whole lot of different dishes!  Anyway, I let slip that I bake rye bread and got volunteered. This week, I made a couple loaves to get in the freezer. I'll do another bake shortly before the dinner. 
The best part of the story is that the coordinator of the dinner is the daughter-in-law of the owner/baker of the Jewish bakery in Fresno when I was a child. He's why I crave rye bread which is why I started baking bread. And his daughter-in-law wants me to teach her to make rye bread! That's some kind of karma or something!
My last "project" for the month was two bakes of Hansjoakim's "Pain au Levain with rye sour." This has been  a favorite of mine for several years. I have always followed Hansjoakim's procedure which includes machine mixing and a single stretch and fold during bulk fermentation. My recent very happy experiences with hand mixing sourdough breads made me wonder how some of the breads I have always machine mixed in the past would be hand mixed. So, I made loaves of Hansjoakim's bread on two successive days, the first machine mixed and the second mixed by hand and stretched and folded four times at 30 minute intervals during bulk fermentation.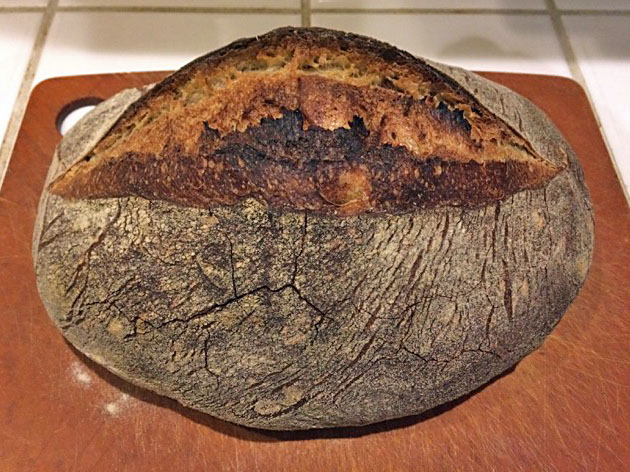 Pain au Levain with rye sour, machine mixed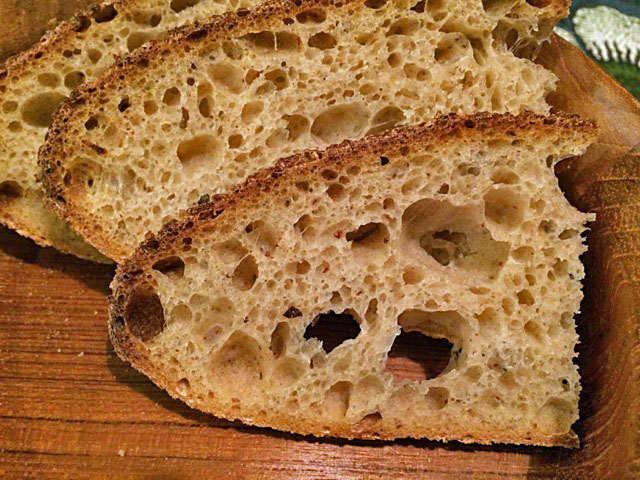 Pain au Levain with rye sour, machine mixed, crumb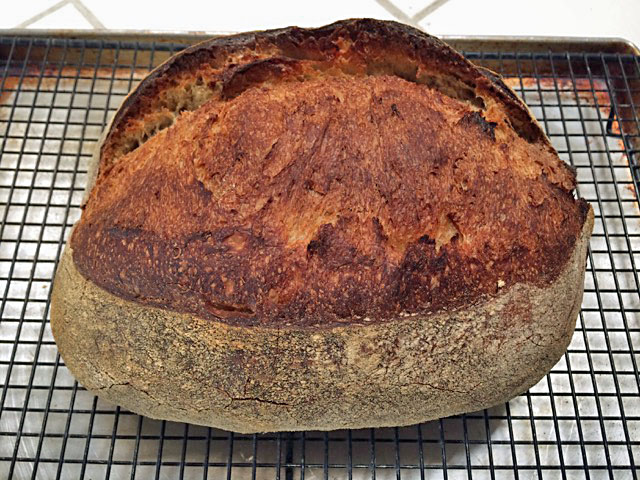 Pain au Levain with rye sour, hand mixed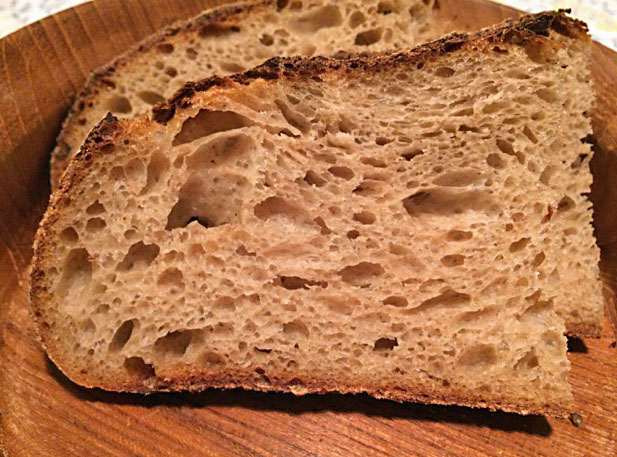 Pain au Levain with rye sour, hand mixed, crumb
All and all, the two bakes yielded pretty much identical results. I preferred the hand mixed version slightly. It had a more tender crumb and crunchier crust. It should be noted that, besides the difference in mixing, I also used a finer milled WW flour in the machine mixed loaf.
I made some really tasty breads this month. A good way to close out the year. In the coming year, I already have two "dates" to bake with and teach a couple wannabe sourdough bakers. I'm looking forward to it.
I have been less conspicuous on TFL this past year, but I have been gratified to see lots of collaborative problem solving happening. That is the heart of TFL, as far as I'm concerned. I think we participate in one of the interpersonally healthiest corners of the online universe, and Floyd deserves all the credit and a whole lot of appreciation for creating and maintaining it.
 So, a happy, healthy, peaceful and sane New Year to all and Happy Baking!
David