November 7, 2016 - 6:13am
Troubleshooting bread crumb - gelatinized, rubbery, gummy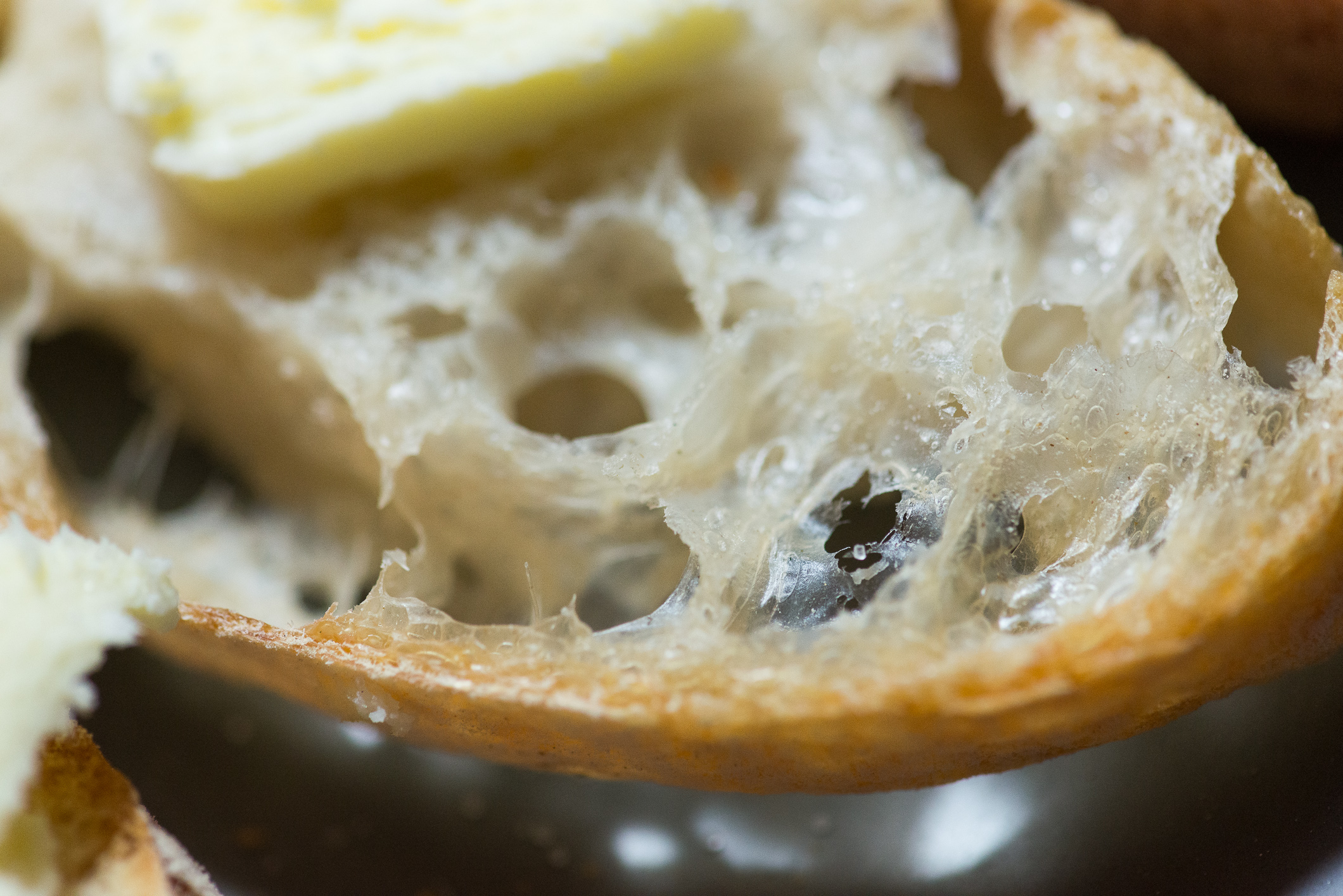 My bread crumb has a gummy, gelatinized, rubbery consistency, and I am wondering if it is just how the bread is supposed to be based on the recipe I am following, or is it a result of technique?
Here's the recipe (4 ingredients):
300g Bread Flour (I have tried KA, and Costco's harvest)
210g Water
2g Yeast
3g Salt
I will discuss my main baking process which is based off of Jim Lahey's no knead recipe, and mention the variations I have tried. 
Dissolve yeast in warm water. Add salt to flour. Mix the wet and dry. Let it bulk ferment/autolyse at room temperature (72F) for 18 - 24 hours. Stretch and fold every so often (I average 6 times). Do the window pane test. Shape the dough, let it proof till doubled in size (About 1-3 hours depending on temperature). Do the poke test.
Preheat oven to 450 (I have tried 400 to 550) along with a dutch oven. Place the dough on a parchment paper and drop it into the dutch oven. Let it cook for 25 min with the lid on, and another 15 min with the lid off. (I vary the time depending on the temperature) Once the crust turns brown, check the interior with an instant read thermometer to see if it registers at least 210F.  Remove the bread and let it cool (15 min). 
The attached image is my attempt from the described baking process. As you can see, the crumb is slightly translucent. I would describe the texture as soft and rubbery, but I have seen people describing it as gelatinized and gummy. It is definitely not as soft as a bahn mi bread, or po boy, or hoagie etc. I have also included a bakery-bought ciabatta in the photo (The one with tighter crumb). Not the best ciabatta around, but the texture is softer, the crumb looks whiter, and definitely different from what I baked.
I have also tried varying the following parameters - Bake time, temperature, hydration level, kneading with a planetary mixer, kneading with a food processor. It varies how airy the crumb is, how thick the crust is, but the crumb retains that rubbery appearance and texture. I even made sure to over cook the bread slightly in some cases since I have read that a gummy texture is a result of underbaking. That didn't help either.
Does anyone know why this is the case? Is it just a characteristic of bread made this way, or a result of my technique? My best guess is insufficient fat, since enriched dough tend to have a much softer and fluffier crumb. Would adding more fat like milk, butter, olive oil etc. help?