Blackberry Rye Sourdough
September 10, 2016 - 4:34am
Description
With brambles in abundance in Yorkshire this summer there is a glut of early-season blackberries. To make use of some of that excess this is the Roundhay Bakehouse's take on a non-sweet version of Lingonbröd created by Barbara Elisi at Bread & Compatico. She, in turn, was inspired by MC's blueberry spelt sourdough. All of which is just how such things should be. The SD is strong and enhanced by the tart blackberries. 
Like Barbara's lingonberry bread, this goes perfectly with cheese, meats (especially thin-sliced venison or air-cured hams), and fish but is also delicious with jams and other spreads. It's already sharp flavour also improves with time.
Here's the crumb shot....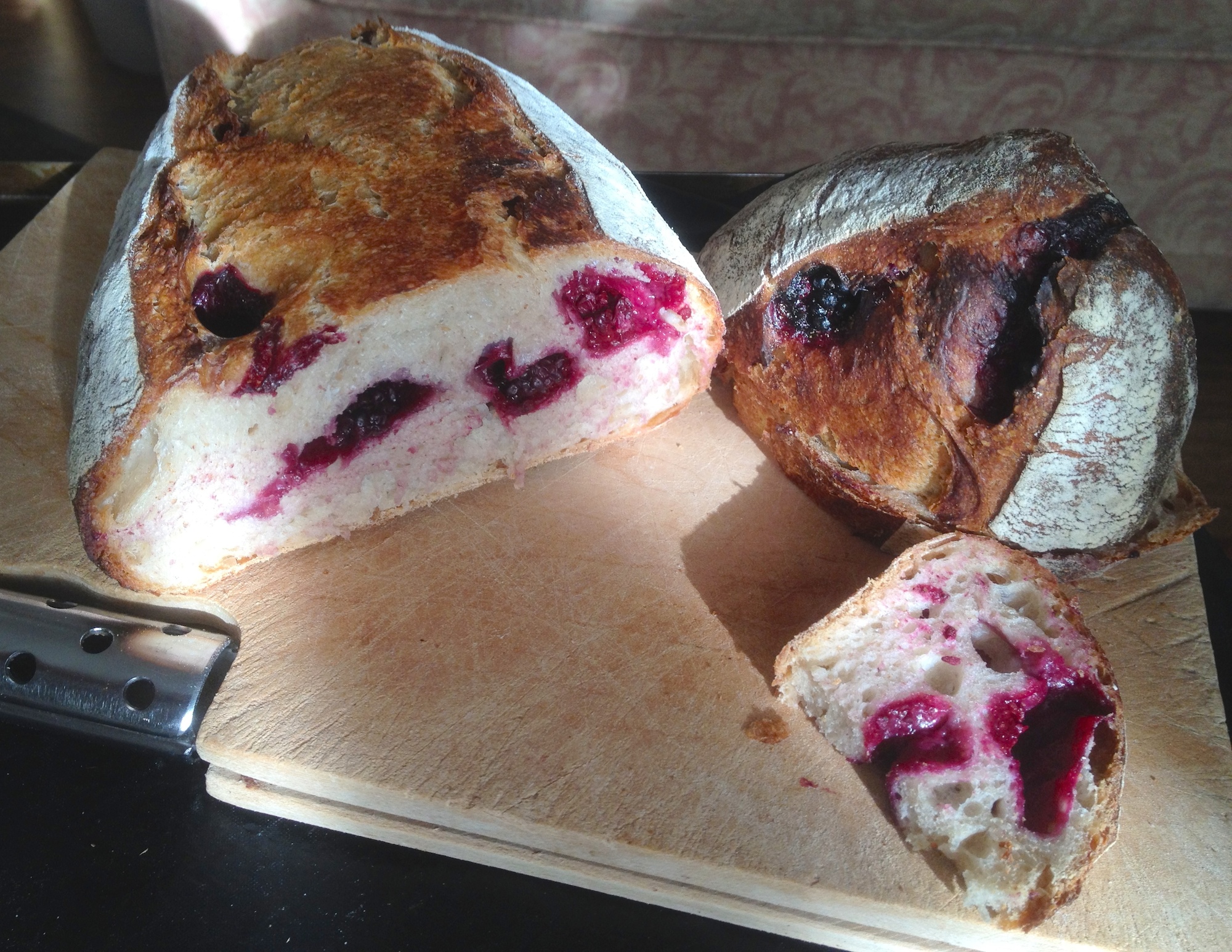 Summary
| | |
| --- | --- |
| Yield | |
| Source | Barbara Elisi at Bread & Compatico & MC at Farine - see links in Description |
| Prep time | 21 hours |
| Cooking time | 1 hour |
| Total time | 22 hours |
Ingredients
35 g
mature 100% rye starter (Levain)
70 g
strong bread flour (12.4% protein) (Levain)
60 g
plain flour (10% protein) (Levain)
370 g
liquid rye levain (Dough)
450 g
strong bread flour (12.4% protein) (Dough)
175 g
plain flour (10% protein) (Dough)
75 g
wholemeal dark rye (Dough)
13 g
salt (3 tsp) (Dough)
150 g
frozen blackberries (or other berries, fresh or frozen) (Added after pre-shaping)
Instructions
Levain: mix mature 100% sourdough starter with water & flours.
Set to ferment for 12-16 hours.
Mix: Stir the levain into the water the add the flours. 
Mix for 4 minutes at low speed (or knead for 8 minutes by hand). 
Autolyse: Rest covered for 30-60 minutes. 
Knead: Add the salt and knead for further 4-5 minutes at slightly higher speed (or for 10 minutes by hand). 
Bulk ferment (with S+F): Cover and set aside to rise for 2½ hours. 
Stretch+Fold: Every thirty minutes for the first 90 minutes of the bulk ferment. 
Then for the final 60min without folding (or cold retard overnight in a 4-5℃ fridge.
Scale & Pre-shape: Rest for 20-30 min. 
Shape: Flatten and degas gently. 
Scatter blackberries across the surface of each dough, pressing in gently with the palm of your hand. If you're brave, use unfrozen, but you are likely to end up with a spectacularly messy dough.
Envelope fold. Again, as gently as possible.
Gently press some the remaining blackberries into the dough.
Now shape into batard or boule. I chose batard because I had to worry less about uneven distribution of the berries.
Prove: Let the shaped loaves rest in flour-dusted bannetons for at least 2 hours (in summer temps it took mine 2¾ hours).
Preheat the oven to 250/230℃(fan).
Baking: Lower the temperature immediately to 230/210℃ degrees and bake for 30 minutes with initial steam.
After 30 minutes, further lower the temperature to  200/180℃. Bake until the crust looks golden-brown on all sides and the loaf feels lighter when lifted.
Leave to cool for at least one hour before slicing.

Notes
NOTES & TIPS:
It is best to freeze the blackberries before adding them. When soft they are much more fragile than lingonberries or blueberries and much more difficult to incorporate unbroken into a dough. 
Because rye is so sticky, the longer the rest period during autolyse, the better. 

Like Barbara, all the flour I used is organic and stone-ground so, as ever, you will probably find hydration amounts and fermenting times vary with your own flours.
This make 2x large (900g) loaves or any combination of lesser weights you choose.