Spelt Flakes: To soak or not to soak?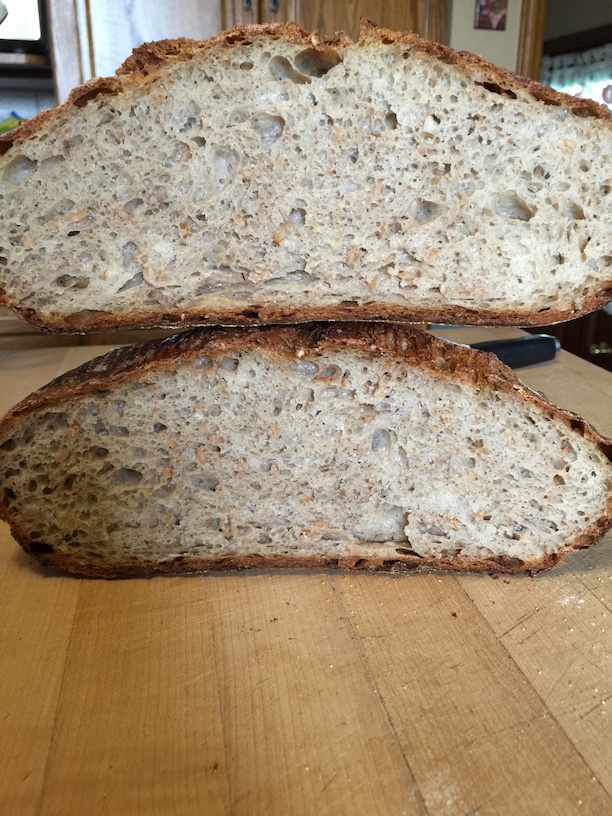 I have a mix of leftover flours and whole grain flakes or groats that I want to use up. I plan to toast and soak the buckwheat groats, drain and then toss them in some crème fraîche before adding them to the dough. My question is do I also soak the spelt flakes and treat them as an extra or do I just use them dry and consider them part of the flour amount?
These are the ingredients that I want to use up to make up to 1 kg of flour:
113 g of whole grain Kamut flour
183 g of whole grain Spelt flour
142 g of Spelt flakes
50 g Dark Buckwheat flour (I have more but since it doesn't have any gluten, it is being added for flavour and to use some of it up)
76 g Buckwheat groats 
35 g crème fraîche 
300 g unbleached flour (This can be adjusted but I am aiming for a 70% whole grain bread)
12 g local partially sifted stone ground whole grain wheat flour (This can also be adjusted depending on what happens to the spelt flakes)
21g salt
1/2 tsp yeast
360 g sourdough 80% hydration levain (200 g local sifted flour)
660 g water or so to make a 75% hydration dough. 
Any other thoughts on this mess are very much welcomed such as should I add some vital wheat gluten to lighten things up? =-)