Learning to hate Tartine breads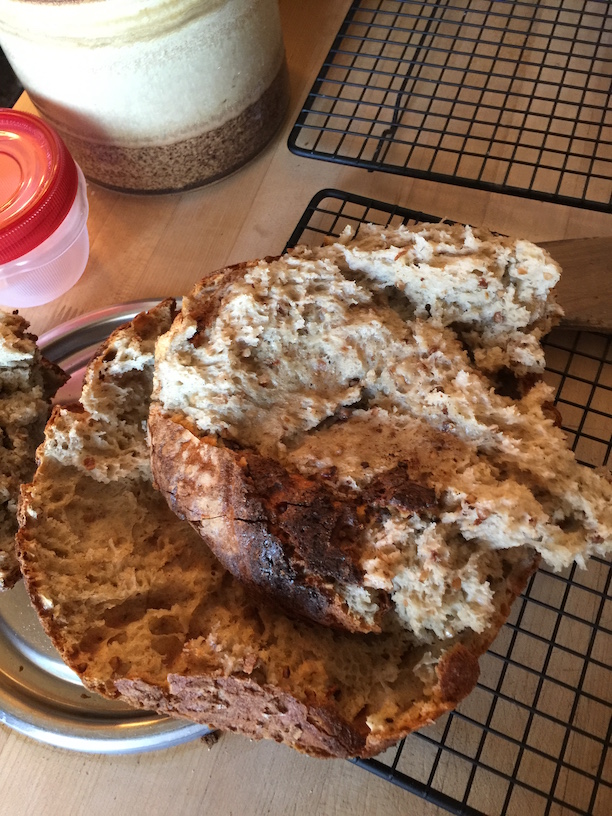 What you see above are the results of my loaf getting stuck in the bottom of my dutch oven! I am not a happy camper!
To start at the beginning, I was making Tartine 3's Buckwheat Loaf with toasted groats and crème fraîche. I followed the Tartine method aside from developing the levain using DBM's rule of 7 to get 150 grams of levain. I then followed DulceBHbc's method of 24 hour bulk fermenting and 24 hour proofing in the refrigerator after 3 hours of stretch and folds at room temperature. I am determined to get great oven spring and those big holes if it kills me! Anyhow, the dough looked wonderful after the bulk ferment. Full of gas and bubbles. I did a preshape, 30 minute rest and then shaped it into my proofing baskets seam side down (forgot to put it seam side up).
I then put it back in the fridge. I took at peek at it after about 12 hours and thought it was ready to bake but decided to stick to my plan since I have no idea if it is under proofed, over proofed or ready when I refrigerate things. I should have taken a bit and put it in a straight sided jar to rise along side but I didn't. So the next morning, this is what it looked like:
Probably over proofed!  I flipped it out on to the counter where it held its shape nicely. Into the DO it went and into the oven at 500F. I had planned to score it but as usual, I forgot. I baked them as usual where I drop the temp after 20 minutes to 450f, then the lid comes off 20 minutes later and then back till dark, usually another 20 minutes or so.

Then, disaster struck. I couldn't get it out of the DO! I tried banging the pot upside down, left it upside down for a few seconds hoping the steam would dislodge it but no luck, I finally attacked it with a wooden spoon which I broke. You can see the results of my attack here:
I was able to pry the second loaf loose with only a couple of holes in the loaf, one caused by another wooden spoon and one from a bit getting stuck in the DO. And wouldn't you know that a half hour or so later, the bottom stuck part of both loaves came loose by themselves. So lesson to me, if it sticks, leave it alone till it cools then try loosening it.
This is what the other loaf looks like:
Of course, there was no oven spring since the loaf was definitely over proofed. I forgot to get a crumb shot since I sliced it all up and froze it. The crumb actually wasn't all that bad. No huge holes but typical of what I have been getting for whole grain breads from Tartine. The taste was quite good.
I am going to try this again but try leaving it either on the counter at room temp till it is ready to bake or put it back in the fridge for a lesser time. I need to remember to try that little straight side glass trick.
I am starting to hate the Tartine 3 book. I had such success with FWSY and it is bemusing to me that I am not getting the results I want with Tartine!