October 29, 2015 - 2:38am
Wood and/or Gas Brick Oven "help!"
Working on a oven building project, my first.  About to send off some fire bricks/parts for a wood or gas brick oven and need some input.  
I have to get something into the container at the end of next week for the shipment and need input.  Clay, broken pots and rice hulls will be there.  Tropical, in a camp and half the year is rainy.  Also any steel and concrete works, base and hut are there where I'm building the oven.  Right now my main concern is with the oven itself.  I haven't got the brick or shelf sizes or flue sizes yet.  What I'm needing is the physics, height of openings, chamber, door.  If rock wool is needed what kind and how thick.    thoughts... comments... ideas... where to put a gas flame entrance and if I have to stack 4.5 cm thick shelfs (40cm x 50cm) on top of one another for the baking chamber (for lack of bricks)  does the space present a problem.  
Am I asking for too much time to heat up an oven with a 4 inch or  10cm thick firebrick walls  as compared to one with 2 inch or 5cm walls?  
The drawing I've come up with:    each tiny square denotes 10cm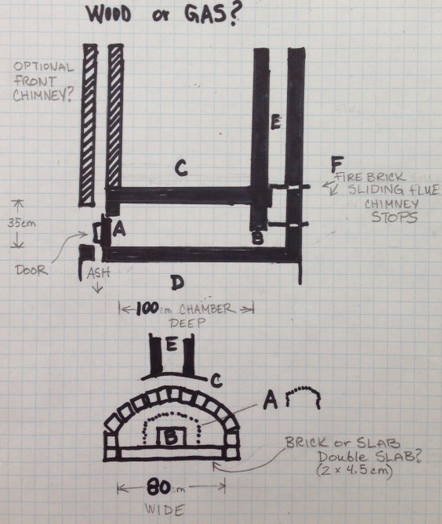 side view  and front view
A is the door opening  
B is the flue opening between baking chamber and chimney  
C is the chamber outer shell (or all the stuff on top of the bricks to seal and insulate then decorate)
D is under the baking chamber (not to forget to insulate)
E is the flue
F  is the flue control (manual) by pushing in and out a slab of fire clay, can be also smeared with a little mud to seal tight after heating chamber  two create a "dead air space"
G  is gas portal waiting for a location
Baking chamber is 80cm wide  x 100cm deep and 35cm tall in the barrel shaped middle.  
Thanks all!