November 7, 2005 - 6:30am
Support this site and do yourself a favor by getting Firefox
Google has a program right now where, for each person a site owner convinces to download Firefox, they'll pay the site owner a buck. All you have to do is click on the button below to go to the download site, get Firefox, and support this site.
For all intents and purposes, Firefox is my operating system. I work on Windows, Macs, and Linux using different editors and programming languages. The one tool I cannot live without on any of them is Firefox, easily the best browser on the planet right now (other Firefox users: comment and back me up on this!).
I've been advocating for Firefox for a long time, to techies and non-techies alike. Both of my parents use Firefox now, as does my neighbor. They are all glad they made the switch. The ad blocking feature alone makes it worthwhile, and once you've gotten used to tabbed browsing (a feature that Microsoft is "borrowing" for the next version of Internet Explorer) you'll never go back.
I kid you not, here is my office at work: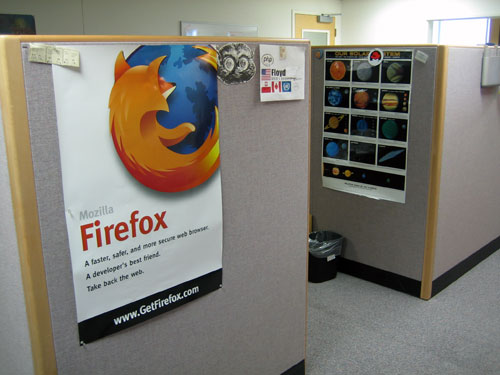 If you think I'm saying all this just to earn a buck, click here to go to main Firefox site. I won't make a dime via this link. If you click on the paying link though I'll use the money to continue promoting the site so we'll have more people participating in the discussions, something that I believe makes the site more enjoyable for everyone.
The only difference between the two versions of Firefox linked to by the two links above is that the second version doesn't include the Google toolbar. I haven't tried the Google toolbar recently, so I don't know what all it can do. Worst case, if it is annoying and takes up too much space, you can disable it. If you use Google often and/or have a gmail account, I suspect the Google toolbar is actually pretty useful. I've run it in Internet Explorer for years and liked it.
If you are going to do Google adwords, here is a way to do it.