October 21, 2014 - 1:29pm
Pitas, 7 Grain, & The German Bistro
Nearly 2 months has passed since my last post. Since then, a few major events has happened. For anybody who doesn't know, I've been trying to open a specialty sourdough bakery in Siem Reap, Cambodia (Southeast Asia).
It ain't easy, that's for sure!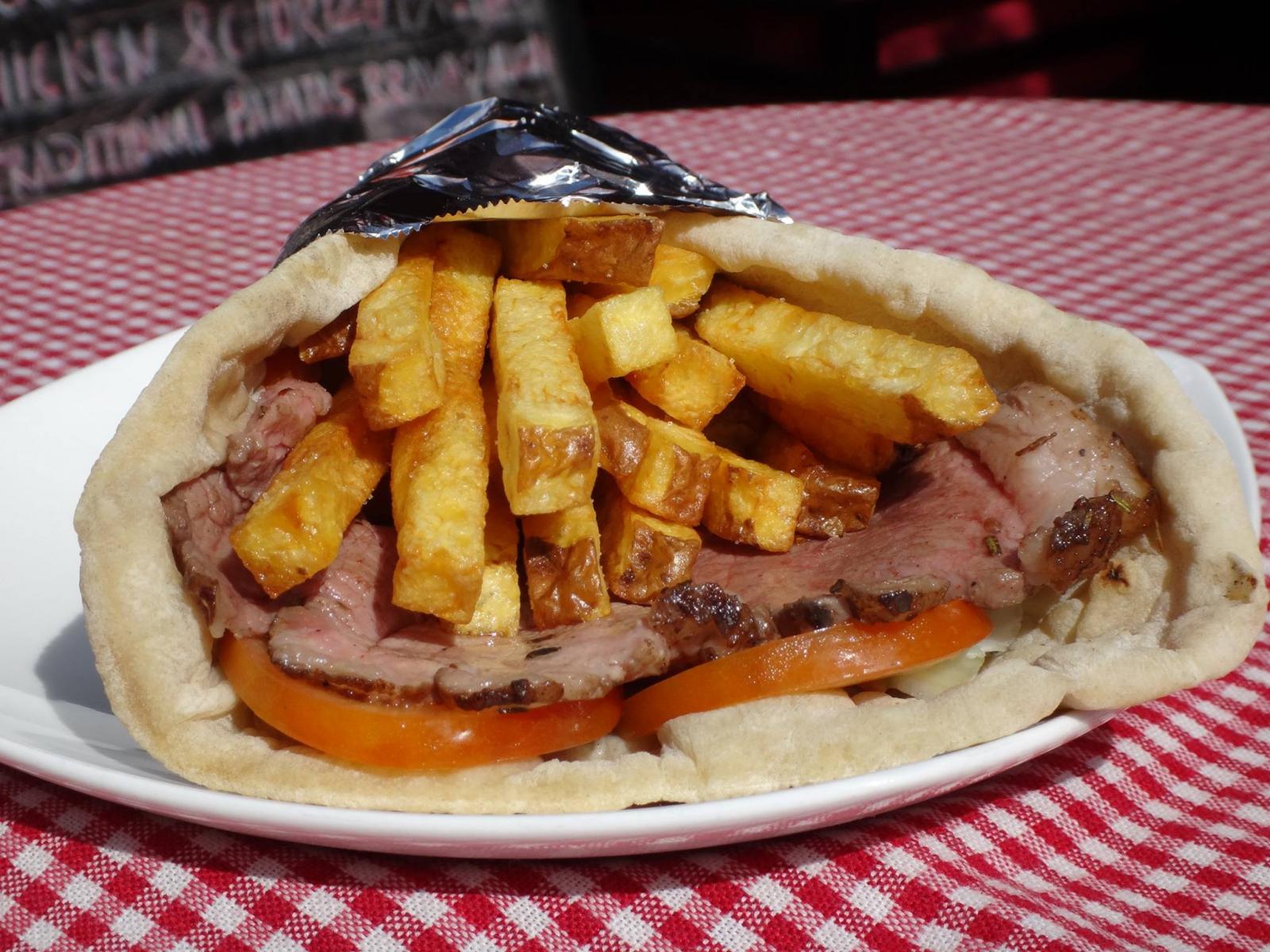 Roasted lamb, potato fries, tomatoes, onions, lettuce, tzatziki (Greek yogurt sauce), wrapped in a pocketless pita
I've made over 1,000 Greek-style pitas by hand now---my best seller and unexpectedly a favourite of the locals. And it still amazes me that I learn something new with each batch of pita dough. Most a small, minute lesson, but all accumulates into practical knowledge.
By the way, the photograph above is a Greek-style gyro by a popular pizzeria in town, fitted with my pitas. It was offered as a one-week special and, surprisingly, sold out in 2 days. Although the lamb was the main attraction, I'd like to think my pitas played a vital role in its deliciousness.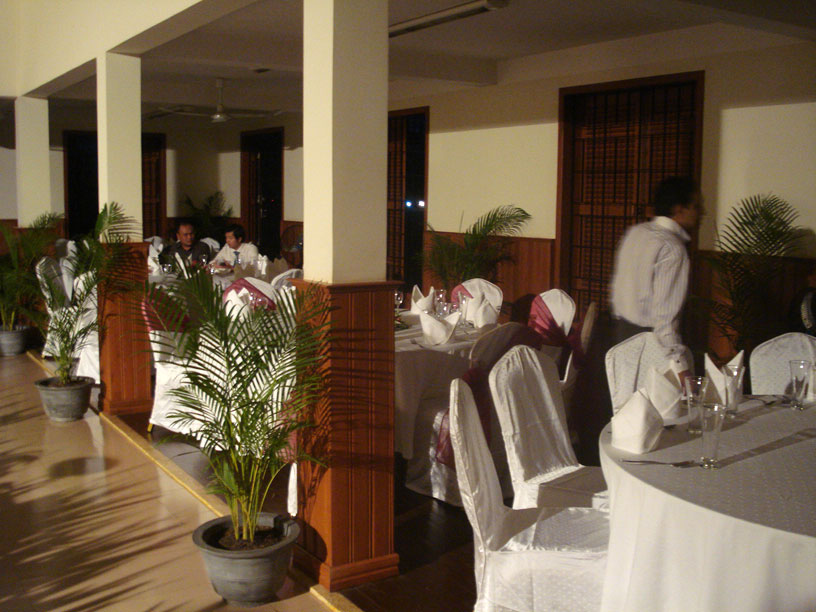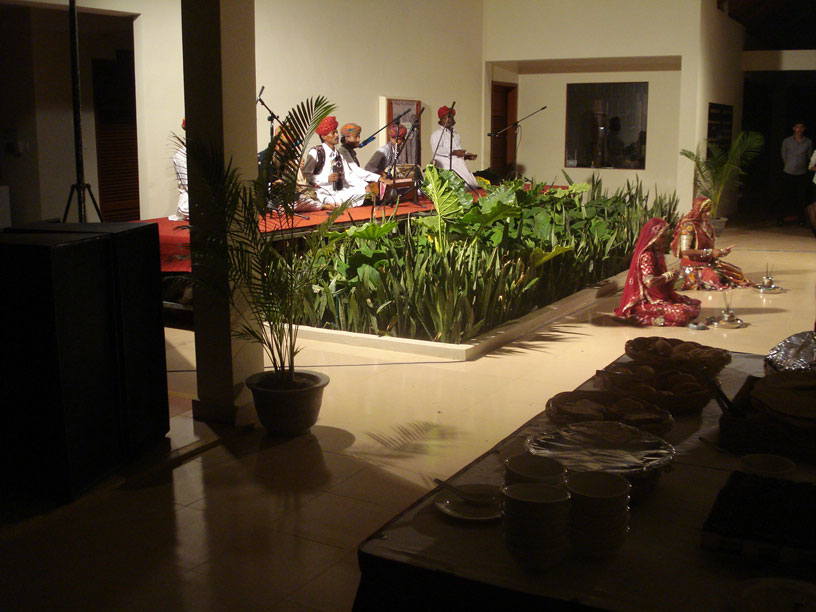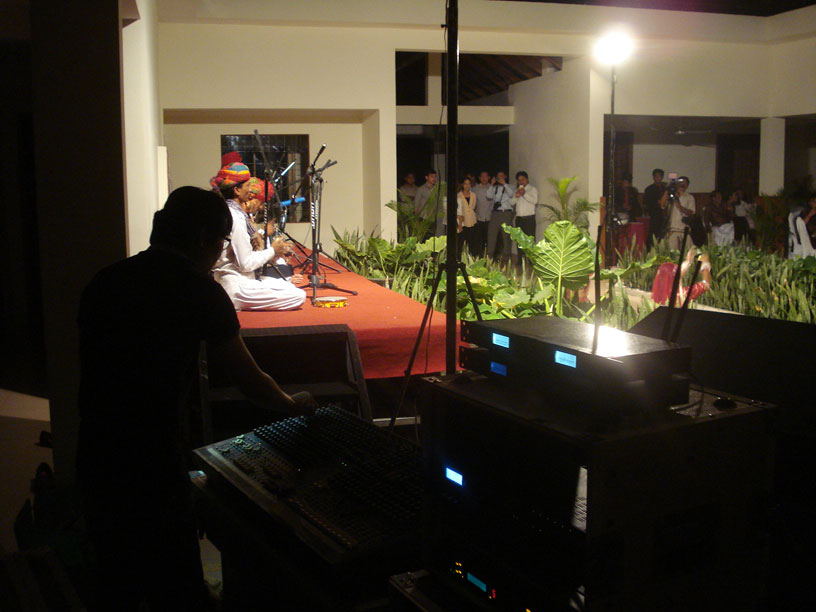 Because of my pitas, my business partner Michael and I were hired to cater for an event for the Embassy of India and APSARA, an organisation responsible for protecting the Angkor archaeological park.
Apparently, the host of the event wanted to sample my pitas for personal reasons at a local craft market. I was absent at the time, but Michael told me that she purchased a pita, tested it on spot, and was so impressed that she requested our staff for contact information.
The rest is history.
As Michael enlightened me with this story, my eyes began to well up with tears. Of course, I had to look away from him to retain my composure. It'd be strange to cry in a public setting, now wouldn't it?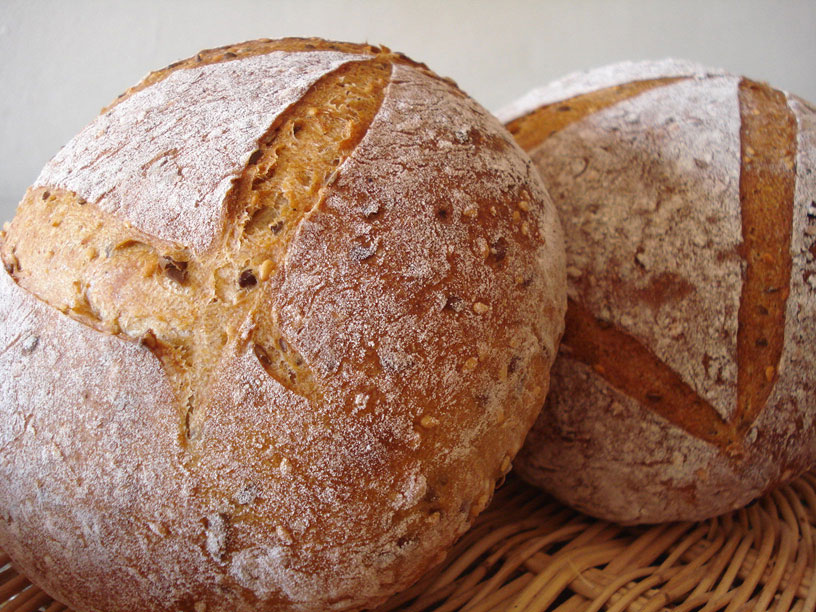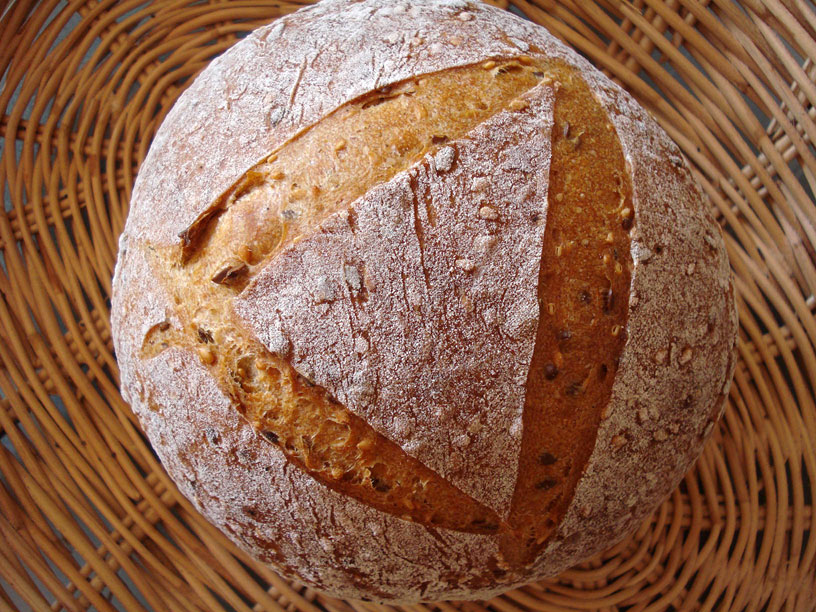 Many, many months ago, don't know when, I sporadically tested an assortment of sourdough multigrain breads. Most were what I considered failures, few were satisfactory in flavour and aesthetics, but never both. For whatever reason, I halted my experiments and dove into other breads.
That changed after reading Golgi70's (Josh's) blog post on his 5 grain levain in May. It was the kindling I needed to reignite my interest in multigrain breads.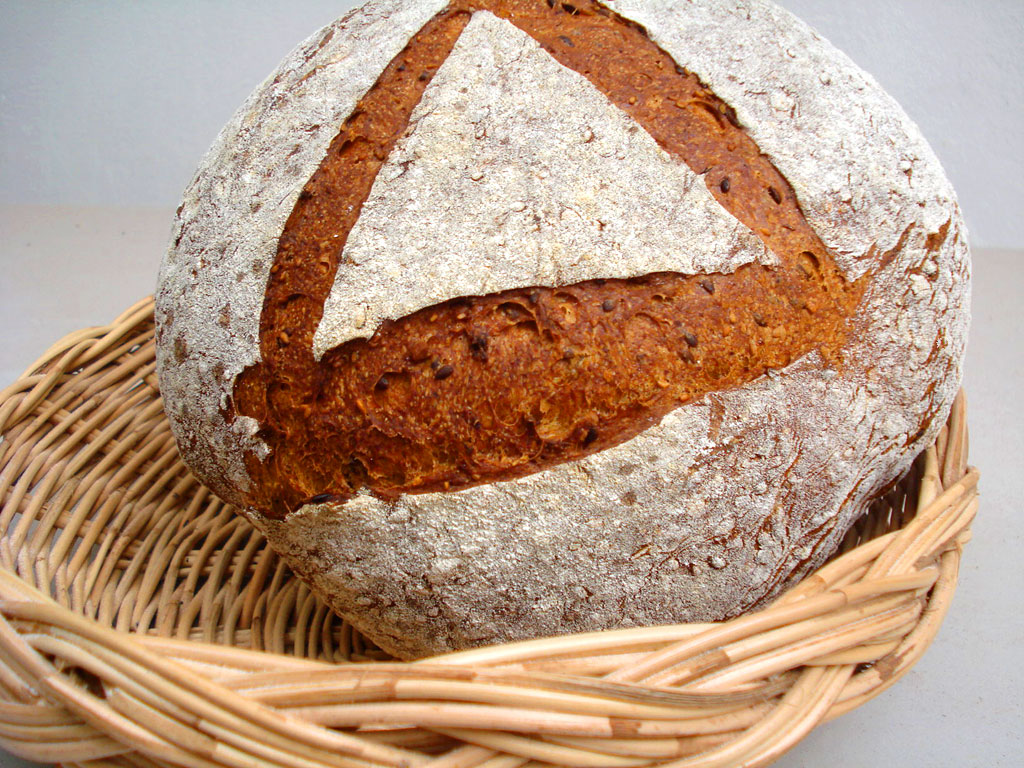 The Se7en Grain (Siebenkornbrot), final trial
On the 27th of September, or late last month, I finally took the plunge and sold my first sourdough bread to the public: the "Se7en Grain". Prior to then, I was strictly selling yeasted German bread rolls (Brötchen). Easier and less temperamental than sourdough, but not what my heart longed and desired.
I was struggling to bake larger quantities of sourdough breads because of high ambient temperatures (above 30C / 86F). However, the game changed after dedicating an air-conditioned room to bread / dough prepping.
For months I told myself the first sourdough bread I offer to the public must WOW them, blow their taste buds away, and redefine what bread was to them (particularly if they're only familiar with mass produced white bread). Did I do that? Well...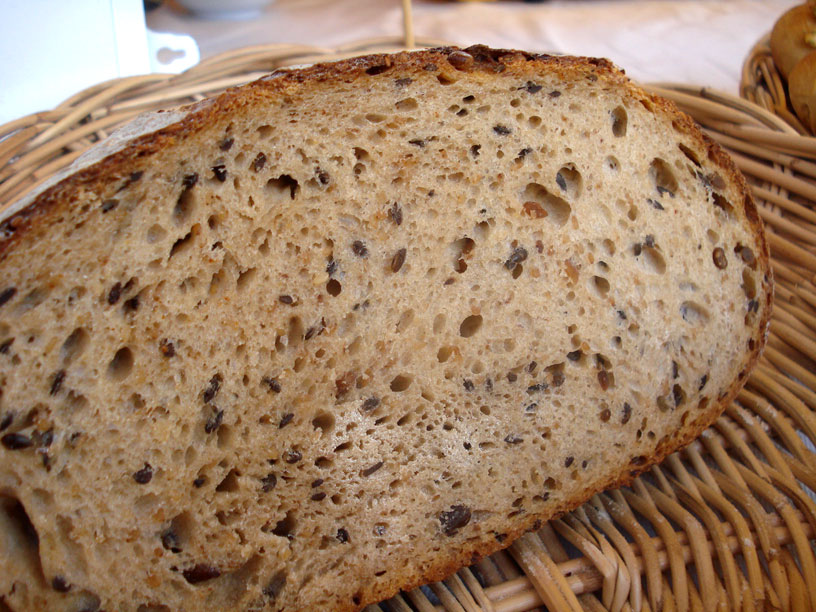 I had mixed responses.
The majority of my American, Australian, British, and European clients were WOWed by the Se7en Grain. In contrast, the local Cambodians and other Asians weren't sure what to think of it. 
Ingredients of the Se7en Grain: Sourdough (cultured bacteria & yeast), Unbleached wheat and rye flour, Natural mineral water, Toasted seeds (Sesame, Sunflower, Pumpkin), Rolled oats, Cornmeal, and Sea salt.
The Se7en Grain was inspired by Jeffrey Hamelman's Five-Grain Levain (Bread, pg. 182, 2nd edition), with minor influences from Chad Robertson's Oat Porridge Bread. It has a nutty, wheaty flavour, accompanied by a subtle to mild tang. And the flesh is soft, somewhat custard-like, yet pleasantly chewy.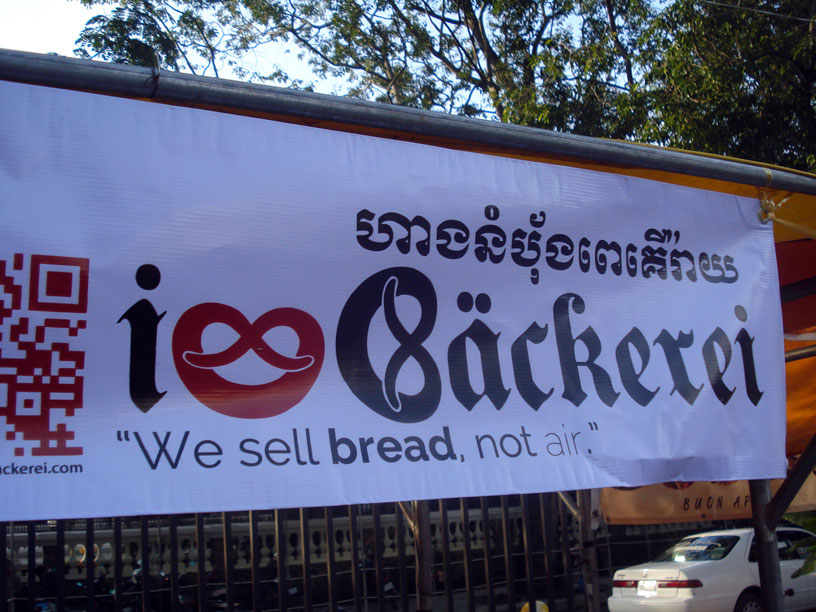 "We sell bread, not air."
Our new slogan.
It's a humorous (and arguably disparaging) attempt to help differentiate ourselves from the French bakeries in town. At present, we sell the most heaviest, densest breads in Siem Reap, which I reluctantly admit to take pride in. But hey, a handful of our clients and passerby were amused by the slogan. On several occasions, people would stop at our stall, read it, then crack a smile or break into laughter.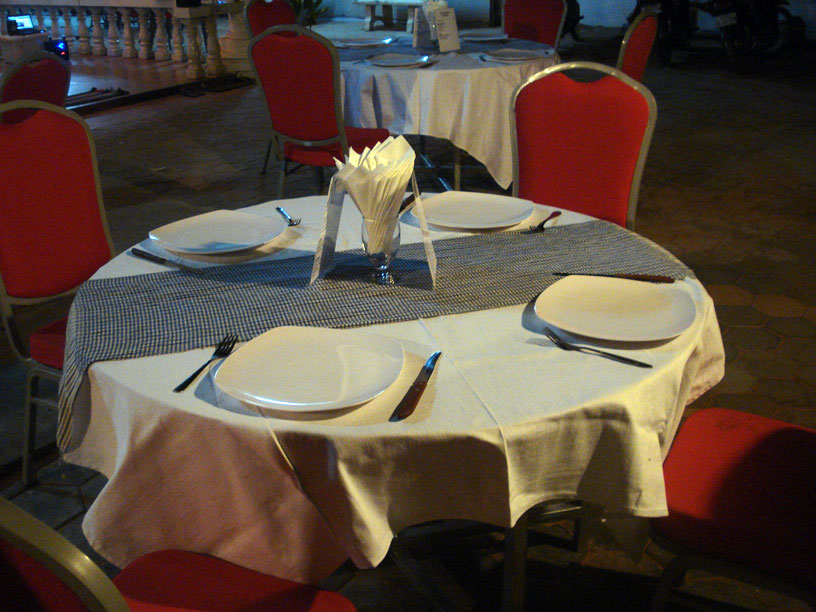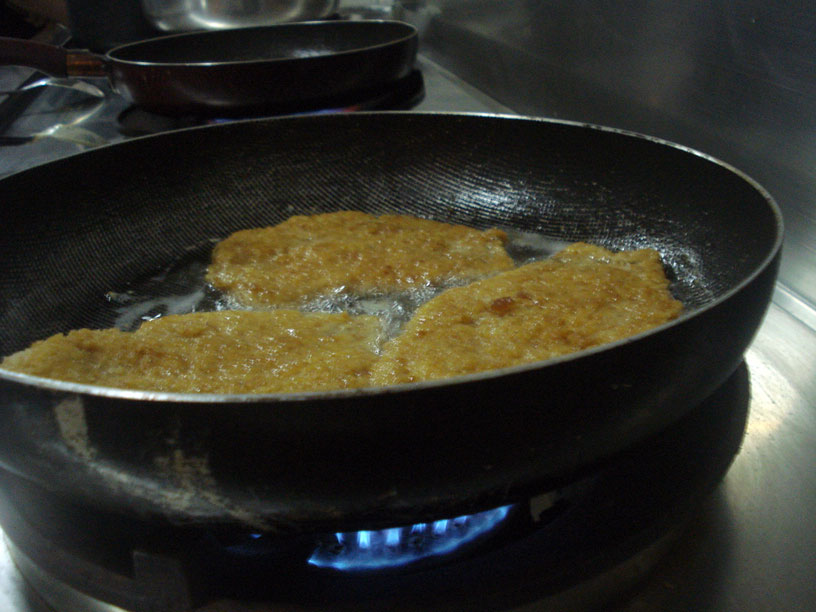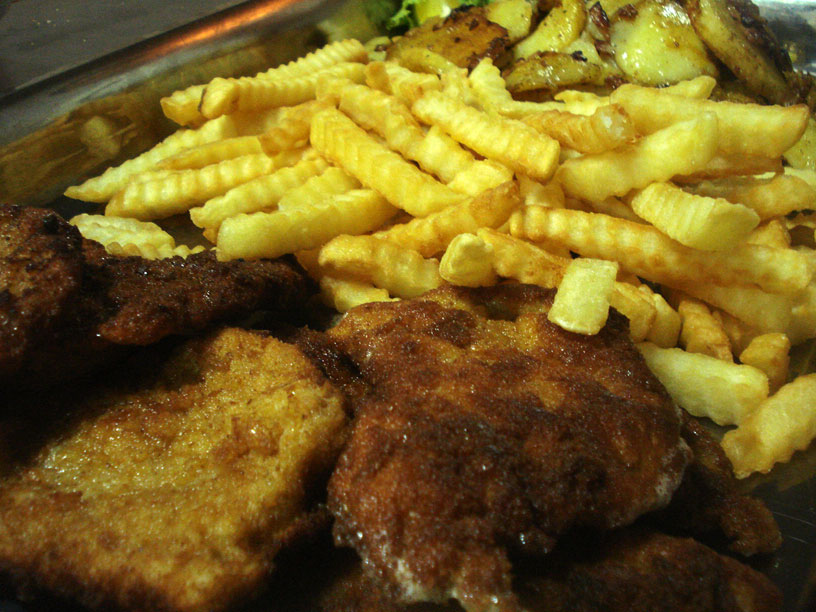 Last Friday Michael (my business partner) and I opened our trial restaurant called "The German Bistro". It's a small, modest, Bavarian-style restaurant, opens only on Friday and Saturday evenings, featuring all-you-can-eat menus with authentic German dishes and central European-style breads (made by me, of course).
Now I know what some of you are thinking: "How the heck does Zita have time to open a restaurant?!"
The answer is simple. Because it requires little to no effort for us to open a restaurant. Michael and I already operate a thriving and reputable catering business. We have chairs, tables, tableware, and cutlery, and plenty of staff who are willing to get involved in our latest project. Our workplace also has a spacious, fully functional kitchen that's inactive during the night. And the premise can accommodate 30 or so guests. 
We don't know if our concept will work in the long run, but I'm crossing my fingers and hoping the restaurant succeeds. If it does, I can create new specialty breads and have a permanent location to station my breads for the community---a problem I've been having since my bakery startup.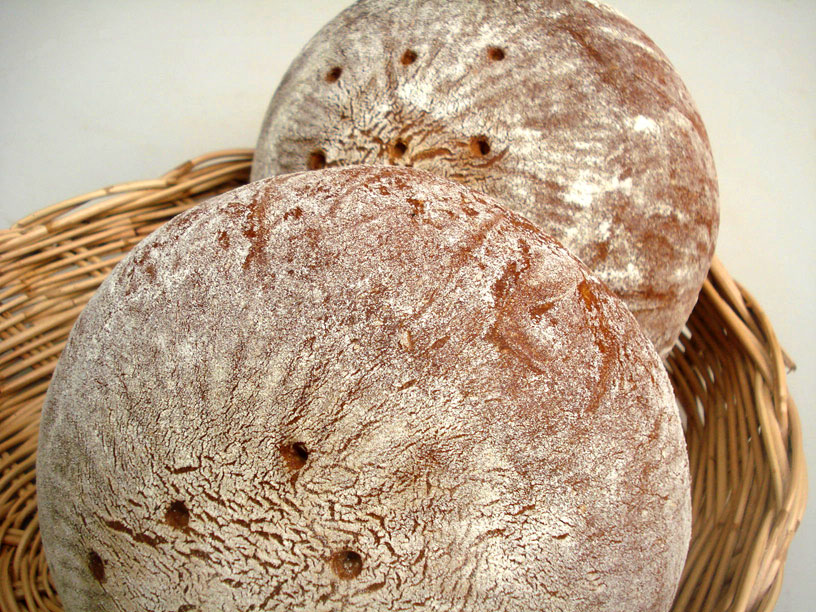 This weekend at our local craft market I'll be selling my newest bread called "Farmer's Field" (Bauernbrot) to a wider audience. I'm still anxious about it. It's a sourdough with 55% rye flour, therefore a "Roggenmischbrot", and contains freshly ground German spices. It has a sharper tang, a crustier crust (which may be problematic since most of my clients don't own bread knives), but is the most authentic German rye bread in Siem Reap. Actually, I don't know that for certain, but I'd say it's a high probability.
Wish me luck!
Farewell for now and best wishes to my fellow bakers, supporters, and everybody who watched me grow into the baker I am today. You're all lovely and inspirational people, to me at least. :)
Zita
Head Baker
Siem Reap Bäckerei