"I say, my friends," pursues Mr. Chadband, utterly rejecting and obliterating Mr. Snagsby's suggestion, "why can we not fly? Is it because we are calculated to walk? It is. Could we walk, my friends, without strength? We could not. What should we do without strength, my friends? Our legs would refuse to bear us, our knees would double up, our ankles would turn over, and we should come to the ground. Then from whence, my friends, in a human point of view, do we derive the strength that is necessary to our limbs? Is it," says Chadband, glancing over the table, "from bread in various forms, from butter which is churned from the milk which is yielded unto us by the cow, from the eggs which are laid by the fowl, from ham, from tongue, from sausage, and from such like? It is. Then let us partake of the good things which are set before us!"
Bleak House, Charles Dickens
And so it came to pass that I wandered off to the depths of Burgundy for a week of parents and T65.  The Husband had accompanied me for a few days but wisely fled the joys of family (as well as the glorious countryside fields of corn, sunflowers and golden haystacks) to return to the Big Smoke.  Dutifully, I had left behind a freshly baked loaf lest he otherwise perish from malnutrition (in a city where Pain Poilane and Austrian Speck are to be had within about 10minutes walking distance….).   Toasted pumpkin and sunflower seeds truly sprang forth - a rich warm nutty flavour.  This one appears to be The Husband's favourite bread so far, disappearing well before my return and local reports have it that this was good with everything.  I was unable to establish the extent of the meaning of "everything" in this context, as I suspect he didn't want to go into the details of just how much "everything" he gobbled down while I was away.  Good for him, is what I say!!  
Sunflower and Pumpkin Seed Bread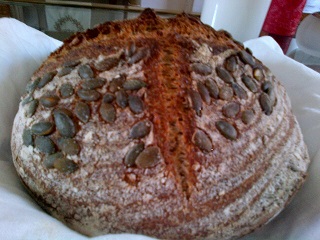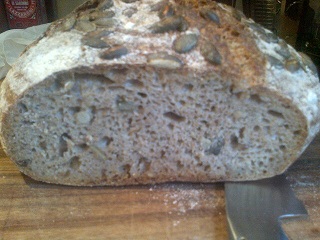 Essentially based on the "Sunflower-Flaxseed" recipe in Tartine 3, but with a few changes.  I toasted the sunflower and pumpkin seeds and then set to them with a rolling pin to crack them into slightly smaller pieces, as I decided not to do a soaker but throw them in as they were.  Total amount used was 10% sunflower and 10% pumpkin.  I also toasted the wheat germ, I think it does add something to the flavour; and reduced the salt to 2%.  Total BF of about 3.5hrs and cold retard overnight in the fridge.  This had a great spring and good crumb, the crust was still incredibly crunchy on the morning after baking when I stole a slice to eat on the train to France.
Having maintained my sanity through a combination of surfing TFL and conference calls for work, the first thing I did on my return was to have a conversation with my starter which required some awakening and refreshing.  Promptly upon considering what bread to make, it began to pour cats and dogs - which was most fortunate as there was no need to make excuses for shunning a walk in the park.  This gave way to The Husband's kitchen lectures, this time on the winter campaign of 1942-3 on the Russian Front.  So while the battle of Stalingrad raged, I mixed, stretched and folded, pre-shaped and shaped and watched a new bread evolve.  All in, this bread is excellent albeit slightly bungled on one side (which particular aspect has been promptly eaten by said Husband). 
Spelt, Kamut and Hazelnut Bread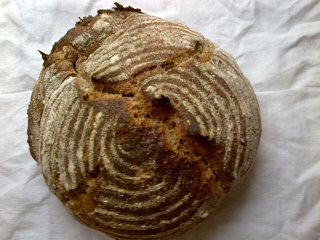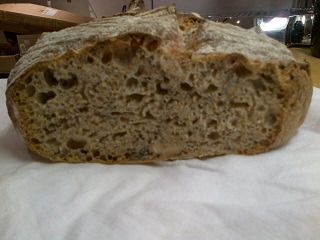 Bread flour - 150g                   30%
Whole wheat flour - 150g        30%
Kamut - 75g                             15%
Spelt - 125g                             25%
Water - 375g                            75%
Salt - 10g                                   2%
Hazelnuts - 100g                      20%
Levain - 120g                          24%
(nb. levain is 60/30/10 BF, WW and Rye at 80% hydration)
1. Autolyse all flours and 325g water - 6hrs.
2. Toast the hazelnuts - I cracked the whole nuts and then toasted them on a skillet on a gas hob and let them cool before adding them in.  I like them very toasted but not burnt.
3. Mix in Levain and salt and 50g remaining water.
4. S&F every 30mins for first 2.5hrs, or as needed.  Mine took 5 S&F.  Mix in the hazelnuts on the second S&F.
5. Total bulk ferment was about 3.5hrs.
6. Pre-shape and bench rest 20mins.
7. Shape and proof.  In this case, I didn't proof overnight as I wanted to get some bread for dinner so I set it in the oven which was about 26.5C with light on.   Total proof time was about 4 hours.  Turn out of banneton into DO, try not to make a botched job of it….fail miserably, so score it with scissors anyway and pour yourself a glass of wine.
8. Bake in DO with lid on, 250C for 20mins and then lid off for another 15 at 230C.
As mentioned above, I sorely misjudged my dexterity and in my wild enthusiasm, I slightly bungled this one: some of the dough got slightly caught on the lip of the DO on its migration from the banneton.  Ah well, slightly misshapen but really rather yummy this one.  It tastes warm - that's the simplest description I can provide.  Warm from the spelt and slight sweetness from the kamut, all rounded off with the warmth of toasted nuts.  I know the various hazelnut recipes suggest you "crack" the nuts, but frankly I have not discovered a delicate way to do this without generating a nice amount of nut "dust" - to my mind, this was a good thing as that got toasted as well and dispersed throughout the dough.  The flip side of this, however, is that the crumb is not as open as I would have liked.  Also, next time I will definitely let this rise overnight in the fridge and possibly would have let it BF for slightly longer, so I expect that my rush to keep the household happy resulted in a less open loaf - although the photo is from the cut on the bungled side, once we cut further into the loaf the wholes got bigger.  Surprisingly tangy the next day, given the "relatively" short proof.
Good with stinky runny St Marcellin, Wyfe of Bath cheese, fresh hummus, honey roasted ham, roast chicken and superlative with old fashioned butter and lavender honey.  Glass of Gevrey Chambertin was just the thing to go with this and cheese.
I don't have a sunset à la DAB, but this was the little corner of calm I enjoyed while away.  No photos of my T65 adventures, probably just as well.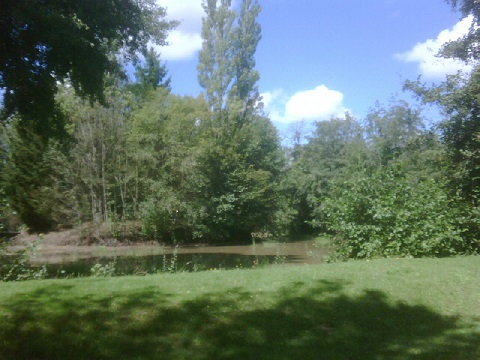 The object of her attentions withdrawing for the purpose, Miss Smallweed takes that opportunity of jumbling the remainder of the bread and butter together and launching two or three dirty tea-cups into the ebb-tide of the basin of tea as a hint that she considers the eating and drinking terminated.
Bleak House, Charles Dickens