Please Help Analyze Sweet Roll Recipe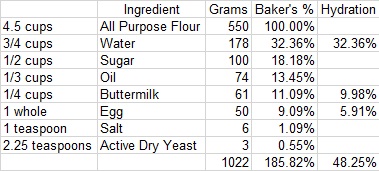 I found a recipe for rolls on the net. The measurements were in volume, so I did my best to convert into weight, then compute the baker's percentages and estimate hydration.

Based on my examination of the recipe, I think:
The goal is to create a sweet, soft, & moist roll. Is this recipe good or does it need to be adjusted? If so, what are these adjustments and why (the why is important to me as I'm trying to learn how to bake still).

Also, will this brown nicely? Should I add some baking soda to help it brown (the recipe already has buttermilk, so the baking soda should activate).