Bauernbrot mit Sauerteig (rye bread) - recipe and questions
Hello all!
Today I made a "Bauernbrot", using DMSnyder's Greenstein Sourdough adaptation as a sour. This yielded 600 grams of sour after Stage 3.
My recipe is an adaptation of a Bauernbrot mit Sauerteig recipe from the Chefkoch.de site
The site uses 800g of "Sauerteig Ansatz", but as I had 600 instead of 800g of sour I adapted it as follows:
300g of wholemeal Rye flour. Chefkoch.de recommend a type 997 or type 1150 flour, but these are German classifications and my Rye is of British origin. I have asked the manufacturer whether it is possible for them to give me an equivalent German classification number for their flour. They haven't replied yet.
225g of Italian tipo 00 bread flour. I get this straight out of the kitchen of a local Italian delicatessen who use it themselves to bake bread, but as a result I have no idea of its protein content as I don't get to see its packaging. My guess it that it would be in or around 12.7%, but certainly no less than 10% protein.
11g salt
The German recipe uses 6 gram (4-5 gram in my reduced quantities recipe) of Rye malt but I didn't have any, and I was going to replace this by honey or brown sugar but I actually completely forgot. I can't say the end result tastes like it's lacking in anything.
The German recipe mentions optionally adding 2 grams of additional (baker's?) yeast, but the writer states that they never do this as their Sour is quite active, and I found the same applies to the Greenstein adaptation. It's very active, and I didn't have to add any extra yeast.
Additional considerations
The German recipe adds as much lukewarm water as wheat flour (where I used Italian tipo 00), but their Sour is much runnier than the Greenstein at Stage 3, so I had to add a bit more water as I was making my dough. Anyhoo. I started with
225g of lukewarm water
ProcessI mixed the 225g of Tipo 00 with the 225g of lukewarm water, and let it stand for half an hour to autolyse the gluten in the wheat.
I then put the 300g of wholemeal rye on the work surface and made a well in the center. I added the autolysed wheat flour to the well and started mixing, and then added the Greenstein sour. At this stage it was clear that I needed more water so I just added as needed until I had a fairly dense but easy to knead dough. As the recipe states: "der Teig klebt kaum" - the dough barely sticks, and it didn't.
I shaped the dough, and as it was less than the German recipe, I didn't create two small loafs as stated therein but one large boule. With the lukewarm water and the ambient temperature, and me putting the dough into a cold oven with a bowl of hot water the dough very quickly rose, and it really did only take just over one hour - as stated in the recipe - for it to rise and double in size.
I slashed the dough and placed it in a roaring hot oven at 250 degrees Celsius, together with a bowl of boiling water and throwing water on the oven floor to create a vigorous steam - the "kräftigen Schwaden" in the original German recipe - in which I baked it for the stated 15 minutes, after which I removed the bowl of boiling water and let off the steam, and continued to bake at 200 degrees Celsius. In the last 10 minutes I kept the oven door ajar using a wooden spoon - again as per the original German recipe.
The result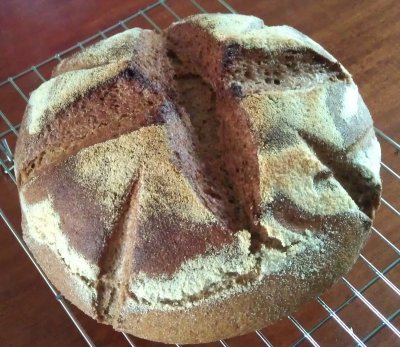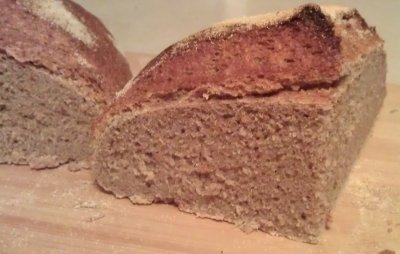 What I liked
The flavour hits you like a ton of bricks. I absolutely love the taste of this bread.
What can be improved
1) I don't think I quite gave it enough time to rise. I was under time constraints. I would have liked it to have proved a bit longer.
2) I don't think I added quite enough water to the dough, it could have been a little softer.
3) The crust is just on the brink of burning, and it was quite hard.
Questions
The baking temperatures and times are higher c.q. longer than I'm used to, but it needs it, apparently. How do I prevent the crust (almost) burning the way it did?
While I absolutely love the crispiness of the crust, is there a way I can keep it a bit thinner?
many thanks