Long fields of barley and rye
On either side the river lie
Long fields of barley and of rye,            
That clothe the wold and meet the sky;
And thro' the field the road runs by
             To many-tower'd Camelot;
.....
Only reapers, reaping early   
In among the bearded barley,
Hear a song that echoes cheerly          
From the river winding clearly,              
             Down to tower'd Camelot:
And by the moon the reaper weary,
Piling sheaves in uplands airy,
Listening, whispers ''Tis the fairy
           Lady of Shalott.'
Alfred Tennyson, Lord Tennyson (1809-1892)
And so it came to pass that I was called to abandon my hearth, off to West Sussex to spend a weekend with a friend atop his hill looking across his newly planted vineyard over a valley and up to the Chanctonbury Ring.   Originally a hill fort probably built during the early Iron Age, this "ring" was later the site of a Roman fort and an even later 18th century copse of beech trees - the "ring" is actually a reference to the original Iron Age circle.  The whole area is dotted with ancient woods, with sessile oak, birch and beech here much before man arrived and now bearing enchanting names like "Sawyers Copse", "Normans Copse", "Trickles Wood", "Muttons Copse" and "Grinder's Wood".  Add the rolling hills and you have a postoral idyll, indeed the rustling of the trees seemed to carry the Lady of Shallott's song across the fields up to our little hill. 
As an offering to the elves and pixies and various wood sprites who dwell in these ancient woods, I made some bread!  This is based on Tartine 3 "Wheat-Rye with caraway and coriander".  The original has 45% medium strong flour, 25% high extraction flour, 20% whole wheat and 10% rye with 2% each caraway and coriander seeds.  I made my own HE flour which ended up being about 83% extraction.  I upped the rye slightly and reduced the whole wheat slightly, as I wanted a bit more of the rye to come through.
Medium Strong Flour             35%
High Extraction Flour              35%
Whole wheat                           18%
Rye                                         12%
Caraway                                  1.5%
Fennel                                     1%
Wheat Germ                            7%
Salt                                           2%
Water                                        85%
Leaven                                                    15%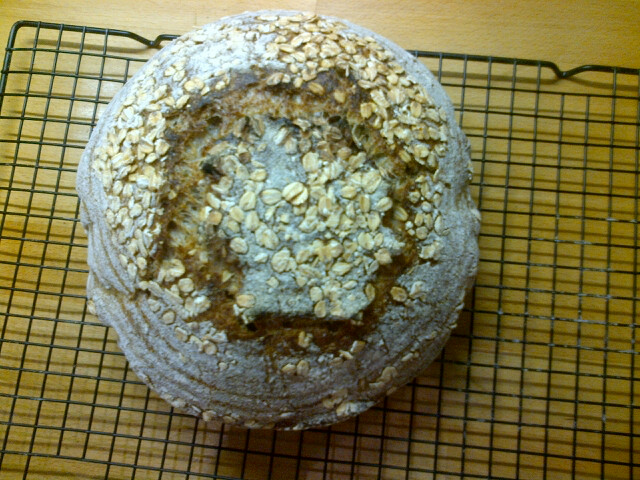 A few notes:
1.  The battery on my digital scales decided to die just when I was weighing the leaven straight in the bowl of autolysed flour, so I estimate that I ended up with something around 20% leaven. 
2. I reduced the salt to 2%.
3. I had no coriander seeds, so used fennel and reduced his seed mix from 2% each to 1.5% caraway and 1% fennel.  I'm not convinced that toasting them made a huge difference and I might go to 1.5% each but I wonder if 2% each isn't too much.  Will need to try.
4. I didn't toast the wheat germ but added it to the autolyse.
5. I autolysed for about 1.5hrs, which is the time I had available! 
6. Total of 6x S&F and a total bulk time of 3hrs45.
7. Preshape and bench rest of 20 minutes, following by shape and proof of just over 3hrs. 
8. Overall, bulk and proof went quite quickly but the kitchen was hot and I suspect the additional (albeit small) quantity of leaven will have contributed to this as well.
9. Baked in DO for 25mins at 250C and then another 25mins with lid off at 230C.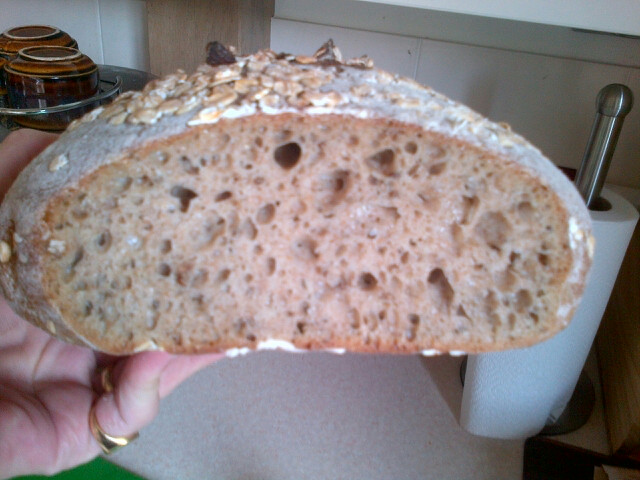 I finally, finally, finally feel like I have a loaf that looks and tastes as I would like.  The oven spring was good, given that it started spreading as soon as I had turned the banetton onto my pre-cut parchment sling, and the crumb is what I am after - not too holey so that runny stinky cheese still (mainly) stays on the bread!  The fennel is a good combination (IMO) with the caraway, although I think I would keep the caraway dominance with the fennel rather than have both in equal quantities. 
The local pixies and elves with whom we shared this loaf were very pleased, although I was told to stop inspecting the crumb and sniffing the bread - apparently, non-bread types find this quite boring after a while!!   The Husband, who had cycled some unconscionable distances to get down to Sussex, didn't appear to breathe between slices and our friend wondered, as he munched, how much grain he might grow in his field if the vines don't produce good wine!!  
And so as the Lady of Shallott floated towards Camelot singing her last dirge, the afternoon turned evening, with the oak and birch trees swaying in the wind carrying the melody from leaf to leaf, punctuated with the calls of the lesser spotted woodpecker, the nightingale and the owl.  A Vina Tondonia was ceremoneously opened and we sat savouring lashings of brie, speck and wild boar pâté on thick slices of bread.
Lying, robed in snowy white
That loosely flew to left and right—
The leaves upon her falling light—
Thro' the noises of the night
        She floated down to Camelot:
And as the boat-head wound along
The willowy hills and fields among,
They heard her singing her last song,
          The Lady of Shalott.
Alfred Tennyson, Lord Tennyson (1809-1892)