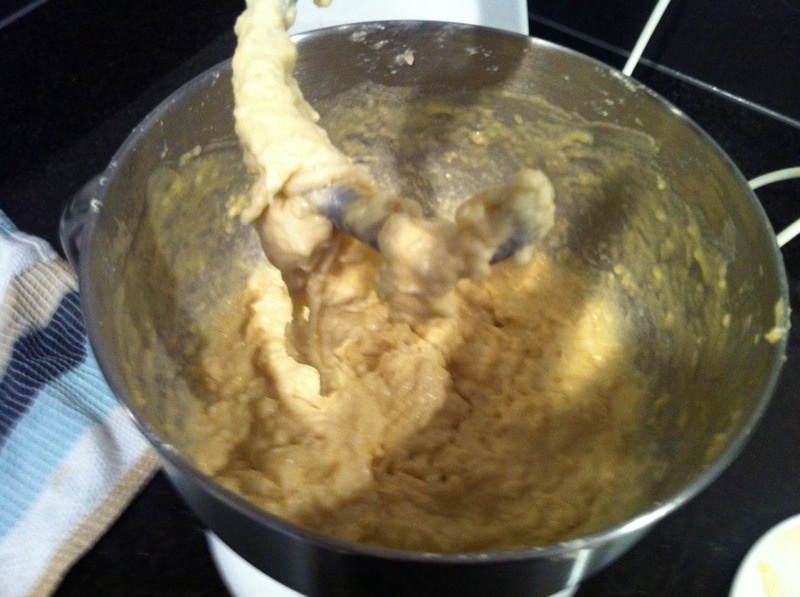 My recipe for sweet buns called for 550 grams of flour and 300 grams of milk.

I took 30 grams of flour and 150 grams of milk (scalded) to make a roux (which ended up about 125 grams when it was done).

The remaining 520 grams of flour was mixed with the remaining 150 grams for milk (scalded). I was trying to autolyse. However, at just 28% hydration (it's actually less since milk is not 100% water), the resulting dough was very dry and flaky. So ... I decided to add another 150 grams of milk (scalded), 50 grams at a time, to get a ball looking dough. I left the autolyse for about one hour.
I then combined the 125 grams of roux, 2 eggs, salt, sugar, 75 grams butter, and yeast mixed with an additional 30 grams of water (for proofing).In all, I added a total of 180 grams of additional liquid to the recipe (150 grams milk, 30 grams water for proofing).
As everything mixed in the mixer, I knew it would probably end up being very wet. However, I also noticed that the dough from the autolyse didn't really incorporate well. At first, it seemed like the ball of dough wasn't going to mix at all. I helped it a bit with a spatula, and then it started to mix better. But in the end, I still saw small chunks of the dough in what almost looked like a batter (I was expecting a batter like texture knowing that I added extra liquid, but I thought it would be smooth).

I'll be making modifications to the recipe based on this experiment of mine (e.g. maybe switch to powder milk or don't try combining roux + autolyse). However, I'm curious, is milk actually OK in a roux and autolyse? Did the fact that I used milk in the autolyse cause a batter that's not smooth (perhaps something to do with the protein in the milk + gluten development)?