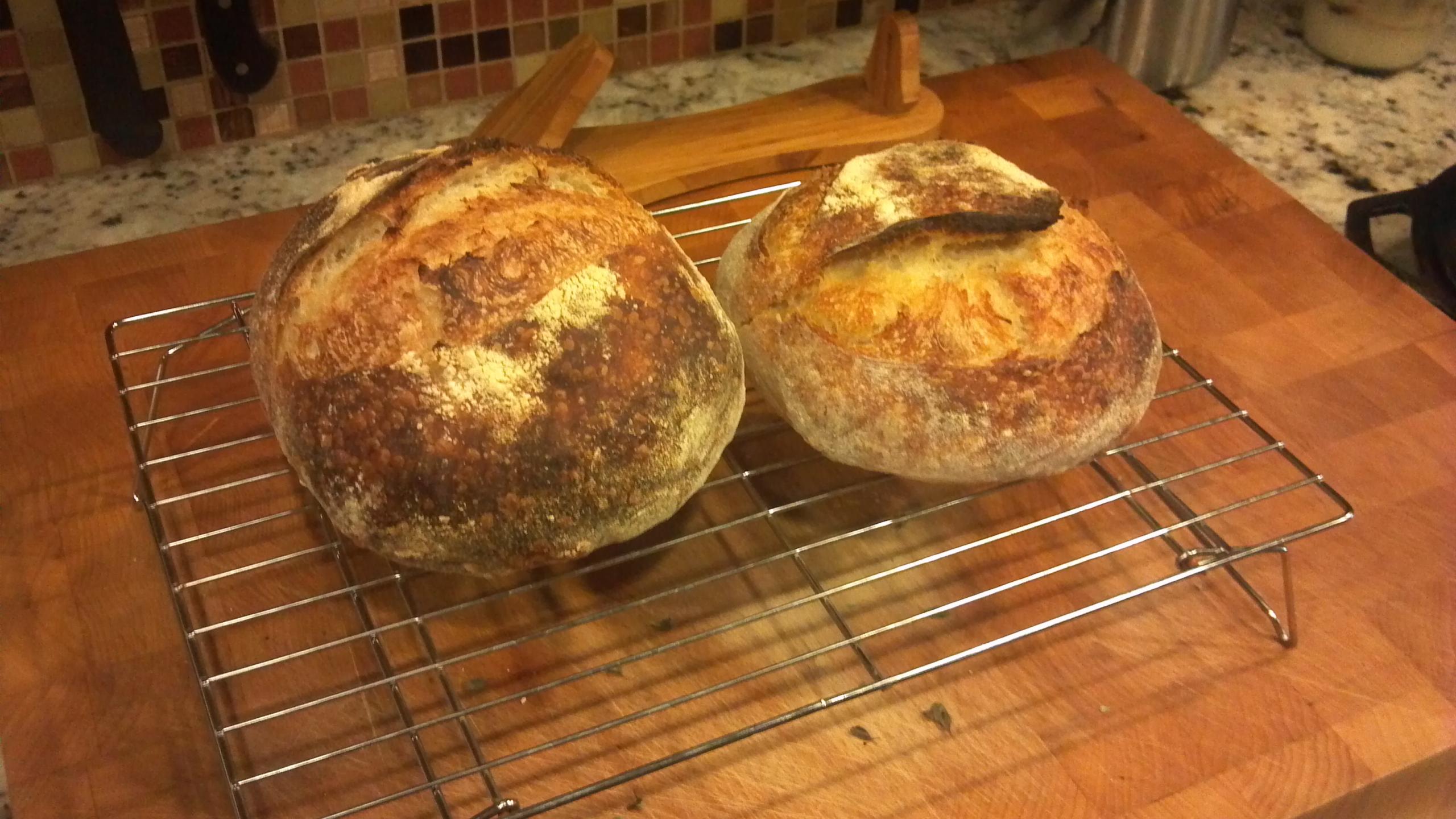 So, I've been keeping two starters for a while now - my own, started from scratch, and one made from rehydrated Carl's Oregon Trail starter.  I recently reduced their hydration levels to 50%, and I'm really liking the way the stiffer starter works.
Anyway, they had both been languishing in the fridge for a while, so I decided to pull them out last night and give them a refresh.  Then I thought "hey, why not bake a small loaf with each starter to compare their flavor and performance?"  Fun, right?  So, I let them both come up to room temperature, fed them, allowed them to double and then got started with my doughs.  I made the same amount of a basic 75% hydration dough with both starters, and in both cases, the starter contained approximately 20% of the total flour in the recipe.
My homegrown starter (named Valentin) seemed a little more sluggish than the other (named Carlo) during the feeding process, but they both seemed ready when I mixed the dough.  However, either I was wrong or Valentin is just REALLY slow, because after bulk ferment the dough made with Valentin was about half the volume of the one made with Carlo.  I decided to press on and shape anyway, but again, Valentin really lagged.  I baked Carlo first, so Valentin got an extra hour of proof time, but even so, you can see the difference in the pics (Carlo is on the left).
Luckily, the flavor of both breads is good, and I don't mind the chewier, heavier texture of the Valentin bread, but clearly I should have let that dough ferment/proof MUCH longer.  That dough also didn't seem to have the strength of the other, despite the same amount of autolyse, folding, etc.
Anyway, does anyone have any suggestions as to how I can improve the performance of Valentin?  Is it just a question of some more frequent feedings until he behaves as I wish?  Or should I just accept that he's slow and deal with it?