Arts and Crafts Market # 6
Hi,
It has been a while since i last posted. I've been away for a 3 week "vacation", so i missed June's crafts market in Dubai. I've returned, though, and began baking for the July Market and my lone client. 
I chose to bake the fastest selling breads: Hamelman's roasted garlic bread, and Olive levain. The third variety is 5 grain Rye sourdough also from Hamelman. I do realize i have to break free from Hamelman's book for the Market bread, and start using recipes of my own.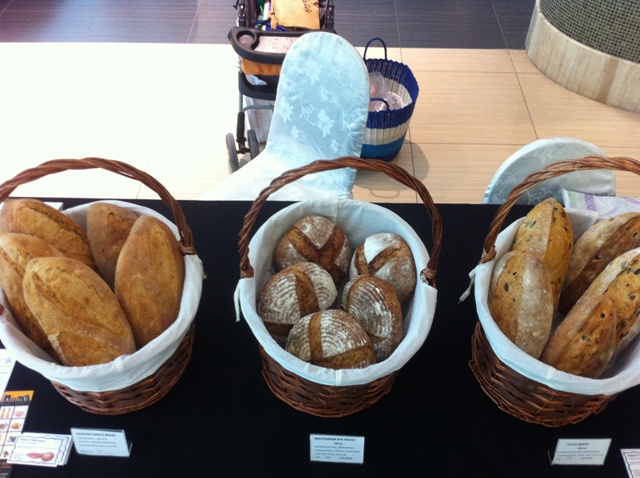 The Market started well, with a great footfall gaining momentum as the day approached 12:00 noon, the beginning of the Market in a lazy shopping mall. My first client was my neighbor vendor, who bought olive bread. Slowly but surely,  i had clients snatching away my breads and soon i was sold out in 3 hours. Boy, as exciting as that was, it was boring to stand behind an empty table for the next 4 hours (I'm fasting - mind you). I gave away my business card along with a brochure on the benefits of Artisan bread. I wasn't alone in this (although i admit i should have baked more, but such is the limitations of my 60 cm width oven), my Brit neighbor, has also sold out her entire stock of vegan pastry in 3 hours. The market grew vibrant by late afternoon, much to my regrets, as i sat there waiting for the Market to end. 
So, as dusk drew near, I packed and head home for breakfast. I knew i had to buy me a larger oven.


As to my plans for bakery, I've booked a class on "basic food hygiene" tomorrow. My next step will be to try to seek an apprenticeship, or a temporary job in a renowned bakery. An approved food hygiene lesson along with a medical checkup is a requirement in the food industry here. 
Wish me luck!
Khalid