Some recent breads, and a few general questions
I need to start taking better notes. I've accumulated a lot of pictures recently, and looking through them I find I have trouble remembering exactly what I actually baked. Also, a couple of the breads seem to have fairly nice crumbs in hindsight (I tend to be quite critical at the time), so I wish I could remember my precise handling methods and timings. Oh well.
I think this was a Pain au Levain from Hamelman.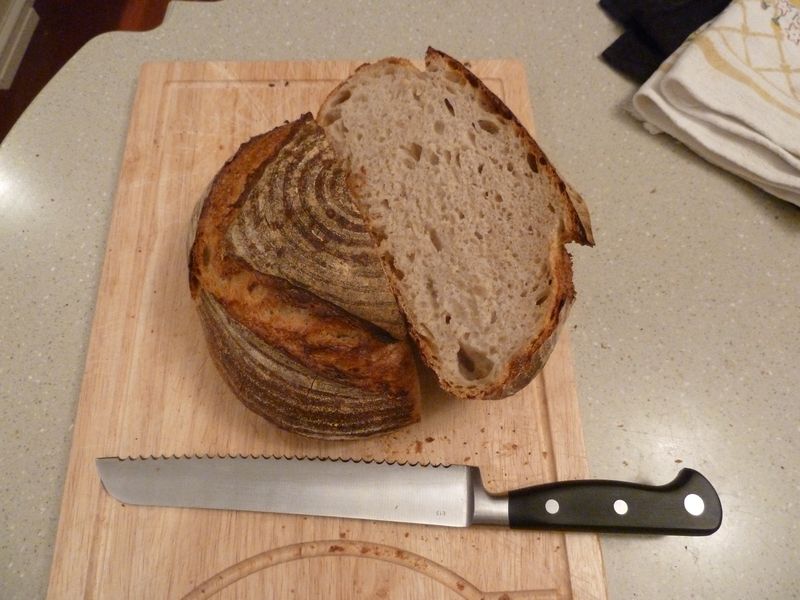 This was from Forkish's FWSY, either a white bread with poolish or biga. I made some pizzas with it too.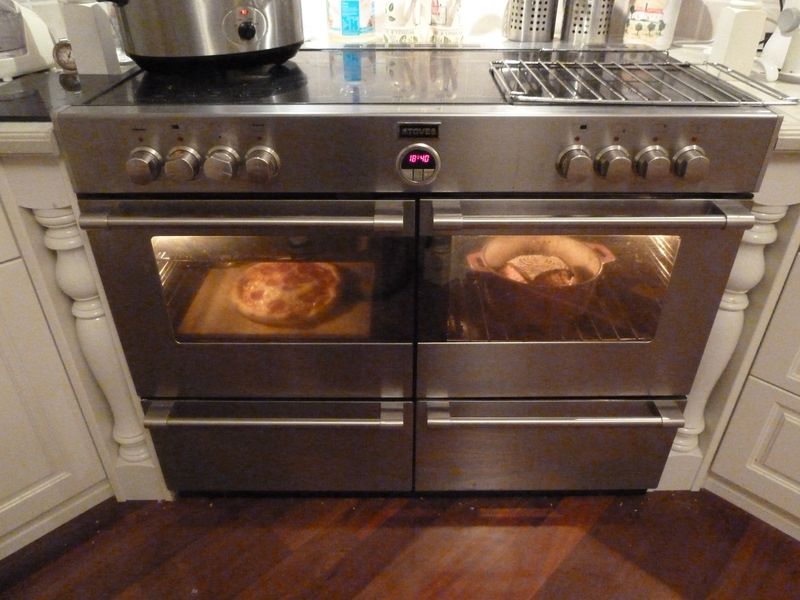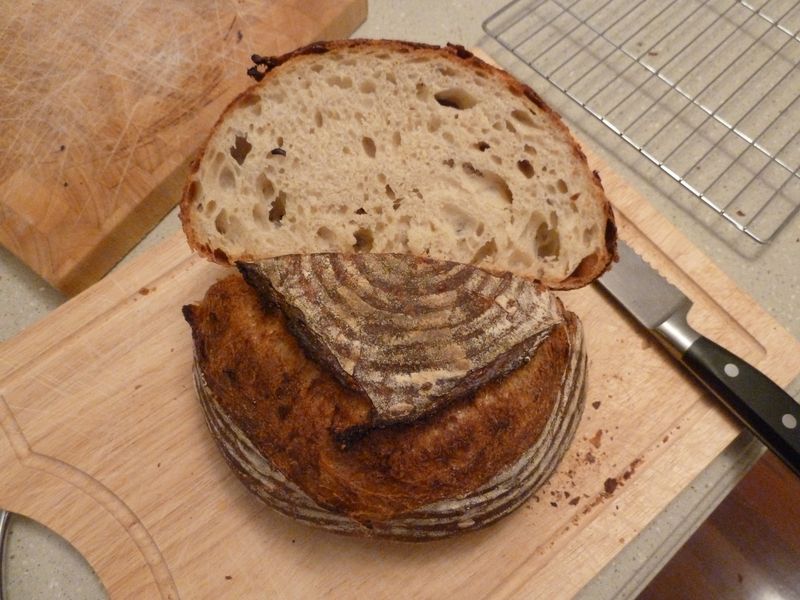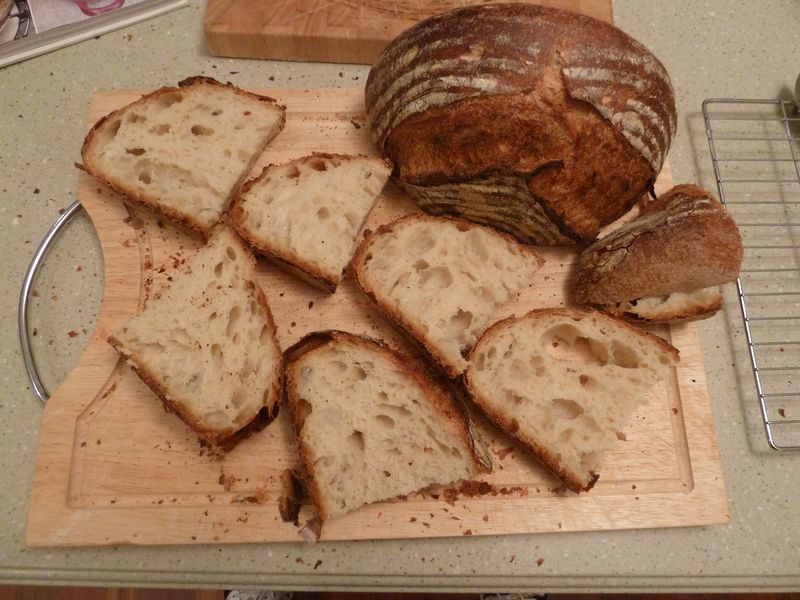 This was a white bread with poolish from Forkish, but I reduced the hydration to around 65% because I wanted to work with a less sticky dough: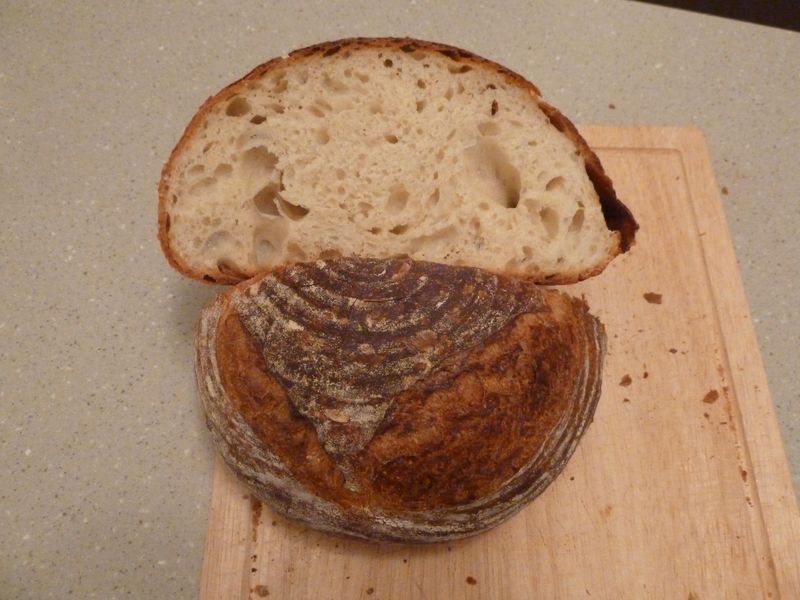 I made it again a few days later, this time at about 63% hydration. Somehow the high percentage of poolish (50% of total flour) allows for a fairly open crumb even at this low(ish) hydration. Environmental variables and flour type may be partly responsible too, of course (I think the weather was a little bit more humid than usual when I made this).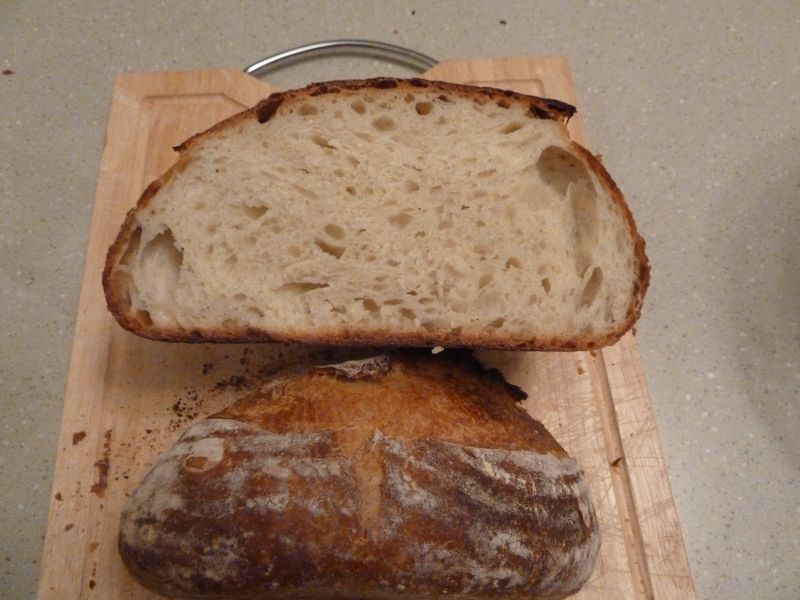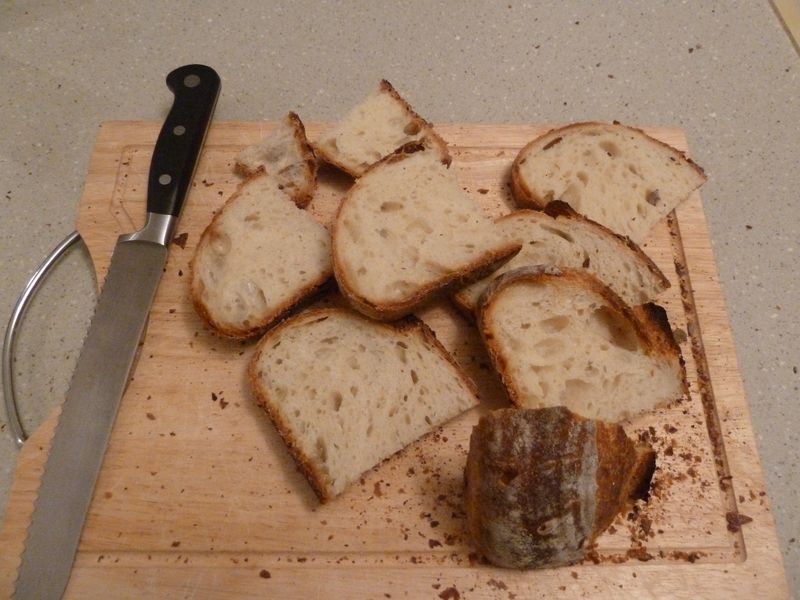 There are some more (including a French boule which had a very nice crumb and noticeably sweet taste) but I took them on someone else's camera and still need to copy them off there. Just wanted to clear my backlog a bit.
I also have a few questions, if anyone is inclined to answer. These are mainly related to differences in approach I've noiced between Hamelman's recipes and Forkish's.
1) None of Hamelman's breads specify a volume (eg double, triple) for bulk fermentation. Nor does he (as far as I can tell) give much indication of how to assess whether bulk fermentation has progressed enough. Do any of you try to reach a specific volume, after folds? And what do you look for when deciding whether the dough is ready to divide and shape?
It may be because I'm not using American flours, or because I make smaller quantities of dough, but I've noticed that my doughs invariably take longer to rise during the bulk stage than specified. For instance, for the Forkish recipes where the dough is meant to triple, my dough can take hours longer than specified despite meeting the target temperature or even exceeding it. So I'd prefer not to rely solely on time. I do look at things like the amount of aeration and volume, but I'm interested in your thoughts.
2) The Forkish recipes I've been making recently (white bread with poolish or biga) involve 2 or 3 folds after a light hand mixing, no autolyse period, and a 2.5-3x volume increase during bulk fermentation. I found it interesting because Hamelman's recipes tend to involve a similar number of folds, but only after a good few minutes at second speed in a professional mixer, at which point the gluten is already moderately developed. Neither does Forkish include any preshaping in his recipes. In addition, the high-hydration of Forkish's doughs mean the gluten develops more slowly (if I remember correctly). So why are 2-3 folds after a light mix sufficient in his recipes? I suppose the longer fermentation times have something to do with it, as in no-knead recipes. I'm really just curious.
3) I'm still conflicted as to the appropriate amount of degassing during shaping. Forkish suggests not trying to degas at all, to preserve the gases and structure of the dough, which I've found to be quite tricky as the dough (when tripled in volume) is very light, fragile and gassy. On the other hand, Hamelman's method involves degassing multiple times, during both preshaping and final shaping. If you watch the King Arthur Flour Youtube video where he demonstrates shaping techniques, during the final shaping of the boule you can see he really squeezes his fingers quite firmly into the dough during the initial rounding, and seems to not be overly concerned about maintaining the majority of the gas. Both methods seem to result in beautiful, open crumbs, judging from the photographs in their books. What's your favoured approach?