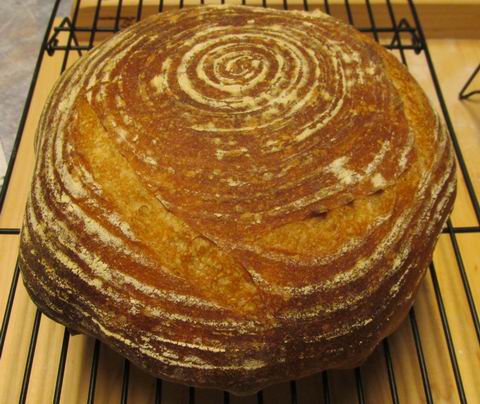 I made another sourdough loaf from Bread by J. Hamelman.  This was the Vermont Sourdough with whole wheat.  The recipe calls for 460F for 40-45 minutes.  I steamed the first 5 minutes (he cautions against over steaming) and due to browning, reduced the temperature to 400 at 20 minutes.  At 35 minutes the inside temperature of the loaf was 207F.  I considered the bread done and removed it.
Am I missing something?  I looked through the book to see if home bakers were to use a lower temperature but he likes hot fast bakes.  I just find 45 minutes to be a bit long.  I was baking two 1.5 lb loaves on a stone.  One is pictured at top.
I am working on my oven loading technique as well as my slashing.  I normally do pan loaves.  Those I bake at 375F for 35 minutes.
At least these loaves did not kiss.
Mike