A good baking wknd finally...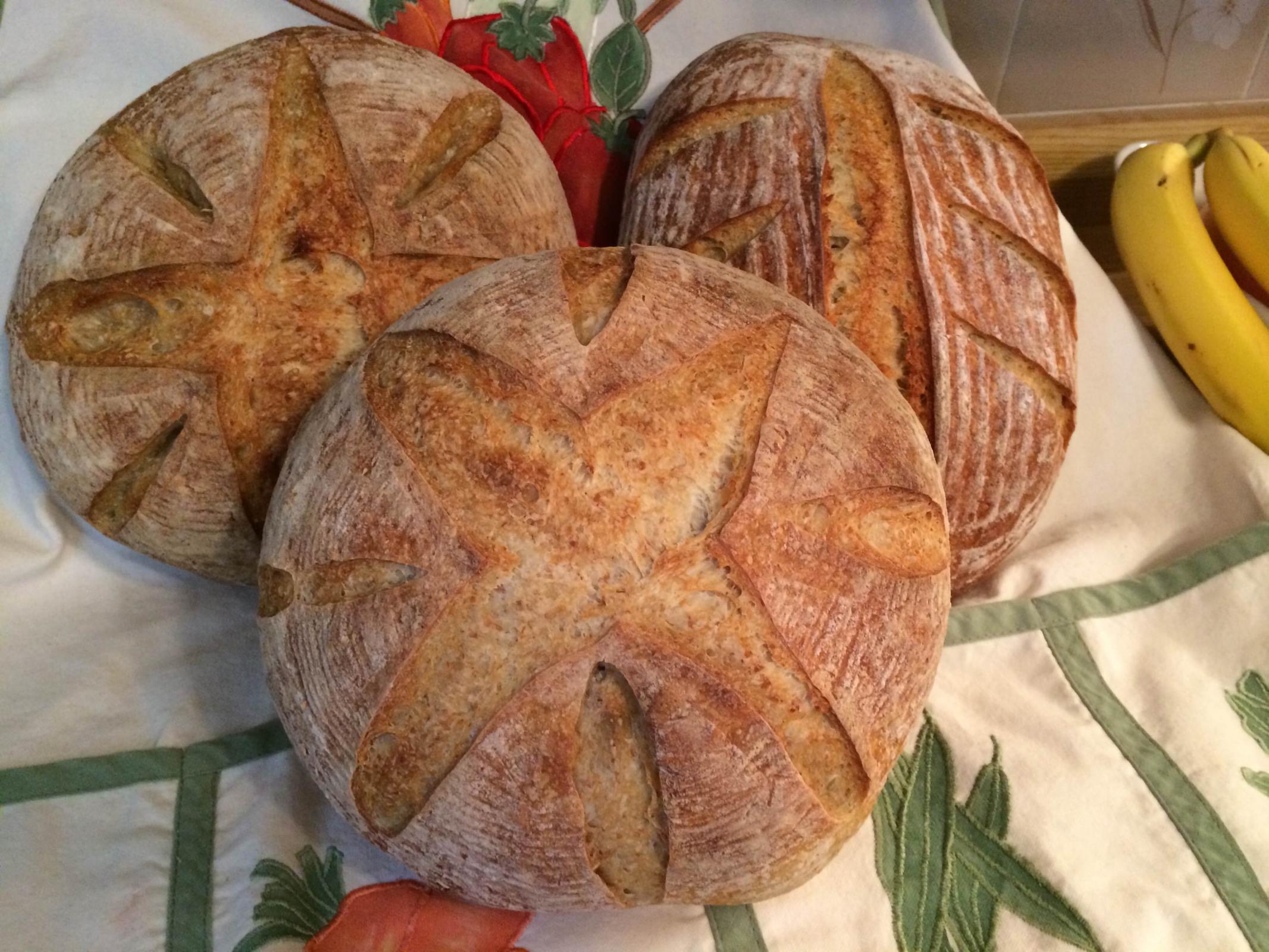 First time I have posted a photo.  I am very excited about my bake this wknd.  Unfortunately despite the fact that I have now produced three fairly nice loaves I can't wait to try again to correct the things I missed out on.  (I think Petra has it right. It's a sickness.)
The two round loaves are Hamelman's Vermont Sourdough.  They baked very differently because I almost missed out on everything timing wise.  The oval is JMonkey's San Francisco style sourdough.  I retarded them all for 12 hours. The SFSD was a very different texture - probably because it didn't get the same initial mix as the Vermont SD.  I let them come to room temperature and kept an eye on them but I suspect I over-proofed them all somewhat.  I haven't looked at the crumb yet but the weight of each loaf in hand is very comfortable - not dense at all. 
I was trying Sylvia's steam method for the first time - well worth the extra bit of work.  I scored the back loaf and then had to tend to the steaming portion of my bread-baking session.  That meant the back loaf sat for a very few minutes - less than five - already scored.  It was a very obvious lesson on what can happen if you let your scored loaf sit on the counter.  The front round got scored and in to the oven very quickly.  The back round did not experience the same oven spring and had actually fallen a bit before it ever went in the oven.  And although I was concerned about the difference in texture of the SFSD  from the other two, it came out of the bake in nice form. 
The biggest lesson for me has been backing off on handling. After lurking at an open market bakery and observing heir dough handling, I decided I an guilty if over-handling the dough.  That conclusion resulted in me dropping off to sleep  at night imagining how dough should feel before being pre-shaped. Some people count sheep...
Another difference for me is that I changed the food my starter was getting.  Last wknd I read DMSnyder's post on SJSD, in which he mentioned his starter maintenance.  I feed my starter to keep 100% hydration but upon switching to DMSnyder's 70/20/10% mix I noticed a marked difference in the performance of the starter. 
My thanks to all those people that bother to post their experiences!  All I can say is it's a huge help.