Authentic Bread - You're Doing It Wrong!
After reading Don Sadowsky's guest post "The Hole Truth" on Barbara's wonderful blog "Bread & Companatico", I knew I had met a kindred spirit.
Beginning with his nouvel interpretation of Munch's famous painting - how lame seemed my 12th grade essay on the same subject in comparison! - he mused on the holeyness of bread, going back to the caveman's gritty gruel and ending his discourse with St. Chad's holey grail at Tartine.

Eager to further this hole discussion I invited Don to share more of his eye-opening insights with a guest post on my humble blog. He graciously accepted, so I'm happy to present to you:
AUTHENTIC BREAD - YOU'RE DOING IT WRONG!
 I have a huge amount of respect for people like Daniel Leader. He treks all the way from the U.S. to Europe and dodges rolling boulders, booby traps and angry natives to find THE guy who makes the best kringenschmaltzenblinkenbrot in the world.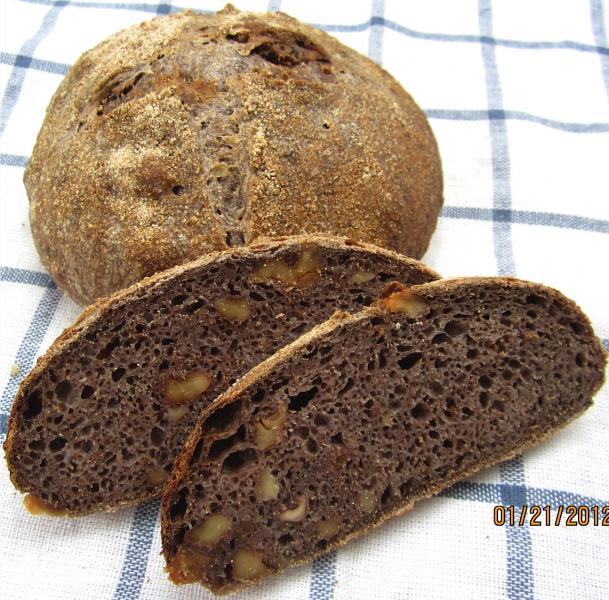 Daniel Leader's French Walnut Bread - not authentic?
Then he spends a decade cleaning out the stables so that the master will teach him the secrets to put in a cookbook for the likes of you and me. I've made some of his breads, and they're fantastic. Authentic breads, people say.
You know another group I have great respect for? Bakers who take difficult ingredients that have been used since the dawn of time to make bricks, and manage to turn them into gorgeous, airy and perfectly shaped loaves better than anything I could make with the finest wheat flour and Peter Reinhart looking over my shoulder making helpful suggestions.
They'll use 100% einkorn or barley to create a boule that's better supported than a suspension bridge (and tastier too!).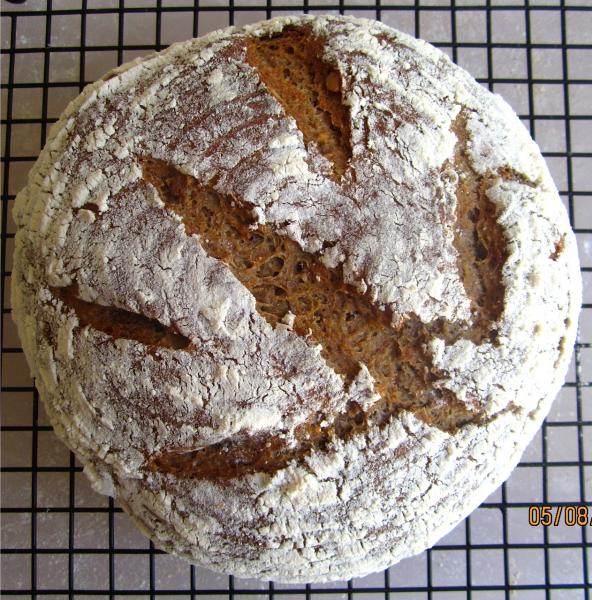 100% Einkorn Bread - solution to our crumbling infrastructure?
Well crafted, impressive breads? Certainly. Authentic bread like what folks ate in the old days? Not so much. Do you really think that most people dined upon lovingly baked loaves made with golden wheat from tall fronds waving in a gentle breeze and harvested on a sunny afternoon by a smiling Tuscan ragazza in colorful garb?
To find out what authentic breads were all about, including a downloadable BreadStorm formula, please follow me to my Brot & Bread blog here!
:) :) :)