Help diagnose my lava rock steamed loaf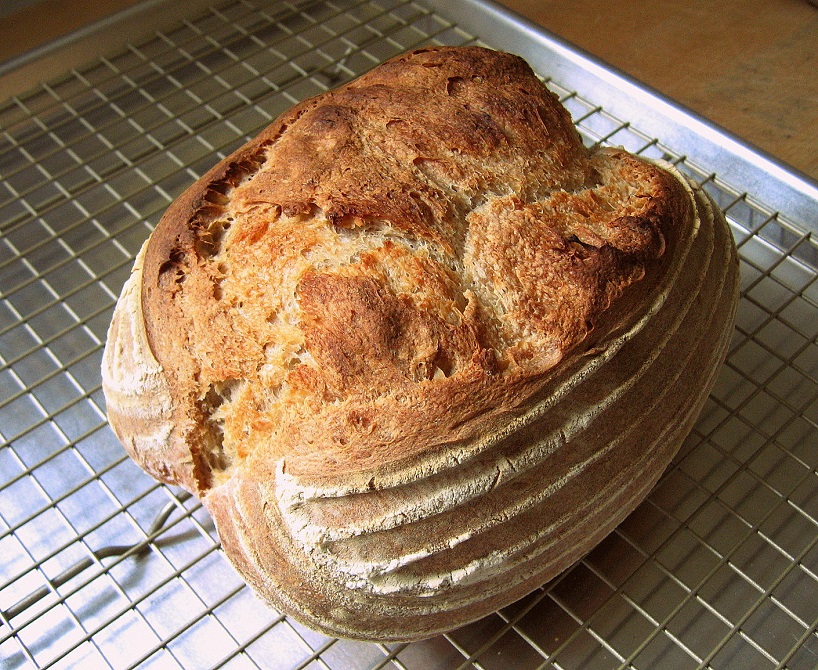 I finally found some lava rocks at the home improvement store and was excited to try them to generate steam in my oven. I preheated my oven to 500F with the baking stone and a pan of lava rocks. When the oven was ready, I loaded my bread onto the hot stone, put a perforated pie pan filled with ice cubes on top of the hot lava rocks, and decreased the oven temperature to 450F. I removed the pan of lava rocks after 20 minutes (all water was gone by then) and let the loaf bake for another 18 minutes.
The scored loaf bloomed open like crazy during those first 20 minutes. It's more bloom than I've ever gotten with a Dutch oven, combo cooker, stainless steel bowl cover, or hot soaking wet towels. I didn't get any ears and the bloom looks haphazard and out of control for lack of a better description. I also didn't get the lovely blisters and golden shiny crust that I normally get.
Using lava rocks, how do I get the blisters and shiny crust that I get with other methods? I like the bloom, but how do I get a bloom that isn't so haphazard?
Here are the details:
15% whole grain rye flour and 47% levain.
Hydration was 63%.
Bulk fermented for 3 hours at room temp (70F), shape retarded for 16 hours in the refrigerator (40F).
My oven is gas.
Amount of ice cubes = 300 grams.
Overall the bread tasted really good. The crumb was nice. The crust was still crisp on day 2, but still very easy to cut through.
Thanks!
Mary