1/3 wholemeal with sprouted malted rye berries sour dough
Well its been a while since i had the time to bake,but when i visited the brew shop and was impressed with the different grains that were there for brewing i bought some malted rye grains from Germany something gave me a giddyup.
So the sour dough culture came out of the freezer where it has been hiding since the term break here at the Institute  and after a couple of feeds it was away. So i soaked the grain which succeeded in taking the malt off the outside  and after 24 hours i drained and allowed the grain to sprout after another 24 hours it was ready to go into a dough.
Wednesday morning i went into work a little earlier and made up the dough knowing there was a big class of apprentices  that i could get to do the stretch and folds for me on the hour and allow me to shape during my lunch break, which is what we did.
4 dough pieces were scaled at 650 grams and shaped and  into new bannettons  that i recently purchased and others at 600 grams onto couches on boards and into the cool room. The next day i came in early 5.30am to bake off the sour dough and as i was advised the class for that day was small  i made up a dough for the restaurant dinner rolls to help out  where 40 patrons were booked in for lunch. i might just as well as i was only waiting around anyway.
The dough i decided to make was a semolina dough  this was an instant dough  and i used 3% dry yeast that moved it along at a good speed so that iwas able to finish all the baking actiity to start work at my desk  for 7.45am  
Below is pictures of the Sourdough, unfortunately i did not get any pics of the semolina rolls but i have to say i was impressed with the lightness and tastiness  of these rolls, i was also fortunate to get an invite to lunch at the restaurant and saw the patrons enjoying the rolls.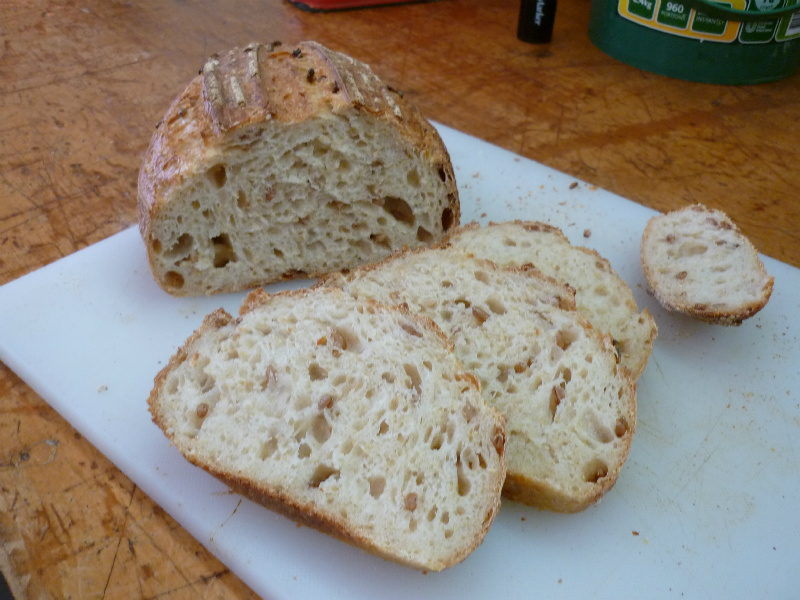 .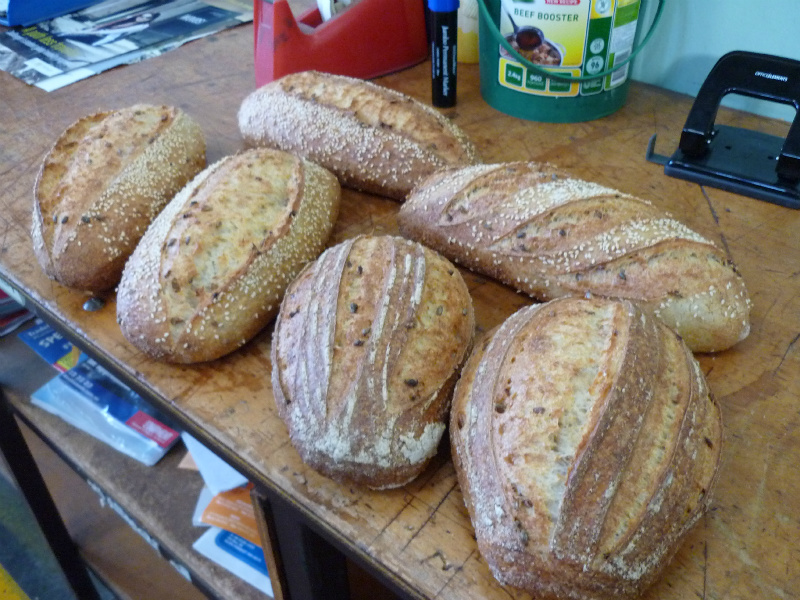 The sourdough was  3:2:1 with the addition of butter @2% salt @2% eggs 2%  and sprouted rye berries  dry weight 250g @ 8.3%.  
I will post the semolina dough formula if anyone is interested
kind regards Yozza