36 hour Rye Pain au levain
I've finally jumped into the 36 hour sourdough bandwagon. I had some ripe Rye sour on hand, as I created a preferment out of a starter for no certain recipe  (Happens to me often), and decided to give the 36 hour sourdough a trial. With all the rave on TFL, I knew that the method will yield excellent bread.
The Recipe: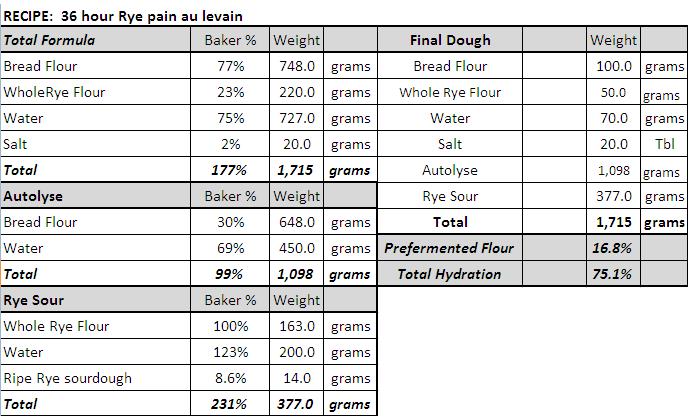 Generally, I've followed the procedures for the 36 hour sourdough, as written by Txfarmer but refrigerated rye sour after it has ripened for scheduling purposes, and added some flour to the final dough.  First, the bread flour and water were mixed and left to autolyse in the refrigerator overnight. Next day, I mixed the cold rye sour and the autolyse, added more rye flour , bread flour and some water and mixed the dough slowly by hand (I should have used a mixer, as the dough was very cold!). For the next 3 hours, I stretched and folded the dough 6 times every 30 minutes. The dough was then retarded in the refrigerator for 24 hours. Next day, I removed the dough from the fridge and let it stand covered at room temperature for 2 hours to remove the chill. It has risen considerably in the fridge (almost doubled). I dusted my work surface and divided the dough into a boule and a batard, and preshaped both into rough rounds. After a bench rest of 30 minutes, I shaped the rounds and placed them in floured proofing baskets.  After an hour and a half, I preheated my oven with baking stones in for one hour. The loaves were inverted onto a parchment paper lined peel, and loaded. I baked the loaves for 500 F / 250C for 15 minutes under steam, and 20 minutes at 400 F without steam.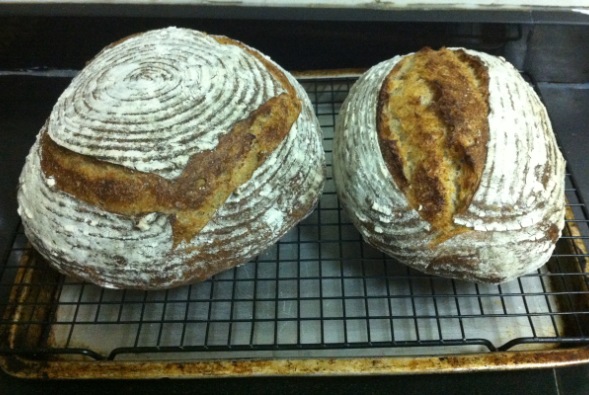 I cut into the cooled loaves 2 hours later, as my young son demanded some sourdough bread. I was delighted yet amazed at how he consumed the slice I gave to him: he started by peeling the crust off and eating that first. By the end of the third slice, all that was left was a single shred of a soft inner crumb! If a 6 year old boy prefers an untoasted bread crust as against its softer interior, then the bread must be really good.
The flavor of the crust was nutty/sweet with very good caramel undertones. The crumb was soft, slightly moist, with clean custard like flavor and a slight sour. Thank you, Txfarmer.
Khalid