Arts and Crafts Market # 5 + my first Gluten Free adventure
It was time for the much anticipated Arts and crafts market – Times Square, Dubai.  On Friday, the 9th, I had prepared my display gear, packed and loaded my bread, and head to the Market.
A w eek earlier i had been baking  5 sandwich loaves (600gr each) of "Many seed bread"  from Peter Reinhart's (Whole grain breads), and 5 boules  (600 gr) of "Roasted Garlic Levain " from Hamelman's (Bread).  The whole grain bread was packed in plastic freezing bags and frozen, while the garlic bread was baked fresh on the eve of the Market day. I could not bake larger quantities, as I was suffering lower back pain. In retrospect, however, I could have baked and frozen more in advance; I realized that whole grain breads retain freshness even when frozen! Some hope for me :)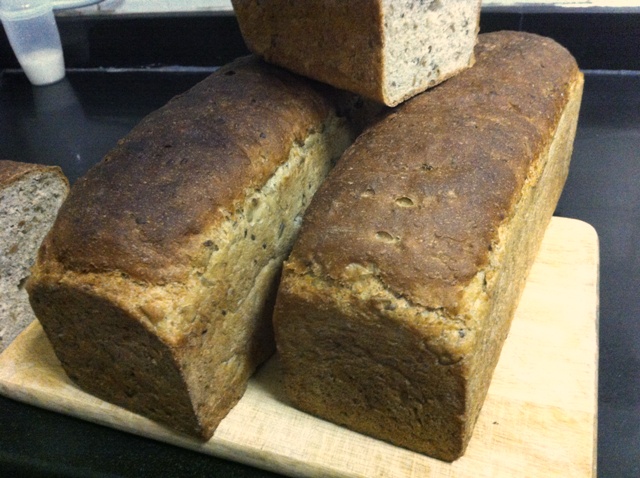 Upon arrival, I unloaded my gear and bread, and marched across the parking lot to the mall entrance. I arrived at the registration desk at 10:30 am, and there I saw  a queue of some 12 Artisans lining up already! Wow, this has become popular, I thought to myself.  Finally, I registered for July Market (I'm going on a vacation to see the family on June), and picked my table number.  Table No. 395 it was; positioned on the sunlit second floor. I made a trip around the tables, and there are none that sell bread! I believe that most vendors think that bread making  is too much trouble for too low a profit margin.
I prepared my table for display, and sat there waiting. This time, I brought some olive oil for a taster's dip, as against butter. My first client was a neighboring vendor, an Indian lady, who happened to like my previous market's garlic bread and bought one immediately. I was delighted to learn that she and her husband absolutely loved it.  Some familiar faces showed up every once and a while, notably my regular enthusiastic bread client who happens to be also a vendor. He bought a loaf of each, and went on on how he loves the bread and that it is alone worth the trip from his home hundred tens of miles away! That felt really heartwarming.  Finally, I had sold all the bread, with Roasted garlic flying off FAST; It was utterly delicious, and intensely aromatic.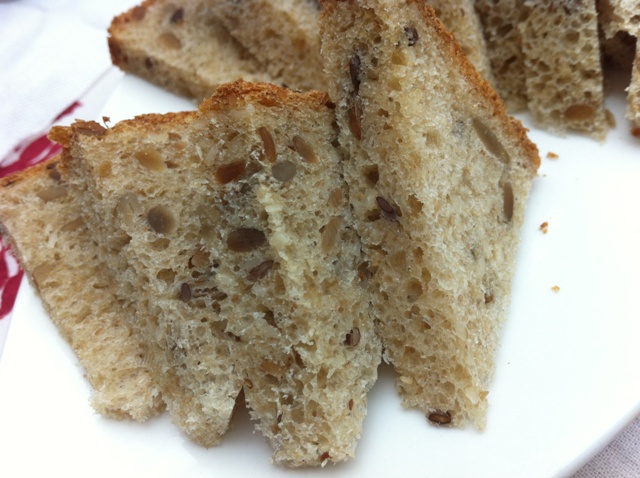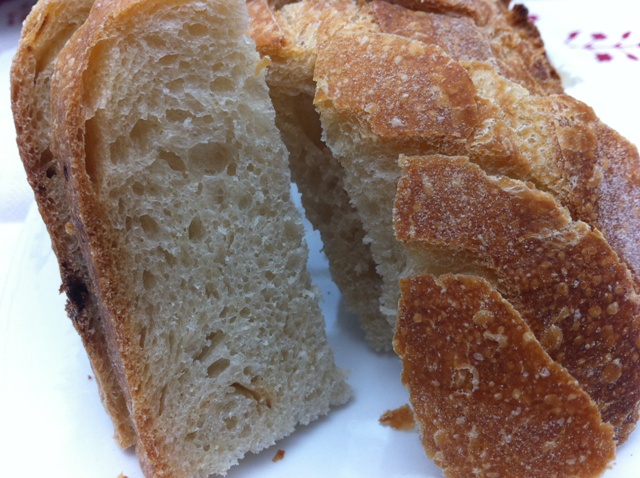 I had also printed some handouts on A4 highlighting the advantages of Artisan bread, and gave those away with my business card. I offered many visitors and clients baking them bread on order, but I have yet to hear from any of them. Thus far, I have only 1 client who orders a few loaves bimonthly, and  another prospective client is in the making.  I also noticed again and again, that many ask for gluten free bread, and so felt the urge to learn how to make it.
I happened to visit a multi commodity store earlier this month and as I walked down the food aisles, I noticed that there was Psyllium husk, marketed as a health drink powder. Packed at 100gr each, they were quite cheap !. I also found cheap tapioca flour from the same store.  It was good enough reason for me to seek gluten free flours, so I bought some sorghum and millet flours from another food store.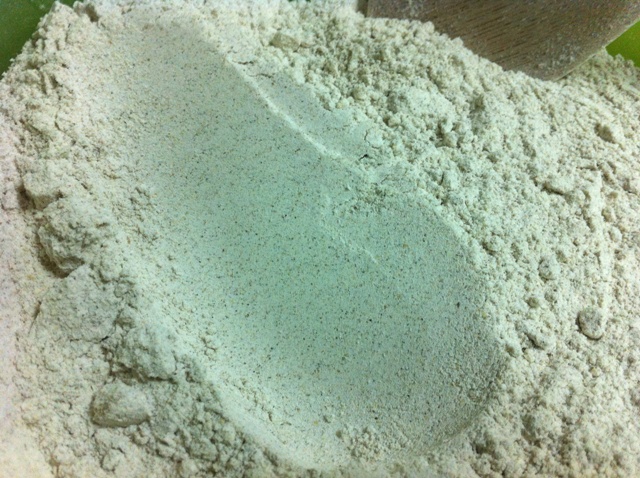 The recipe that I followed was that of (The bread kitchen) on YouTube. Her gluten free recipe is also dairy and egg free. I weighed the ingredients, and mixed them up with a spatula into a thick batter and poured it into my lined tin. The batter was proofed for 1.5 hours at room temperature, and a thin coating of olive oil was carefully brushed on top prior to baking. I baked it without steam for 40 minutes at 210 C with fan, as directed. I only substituted the potato flour with rice flour.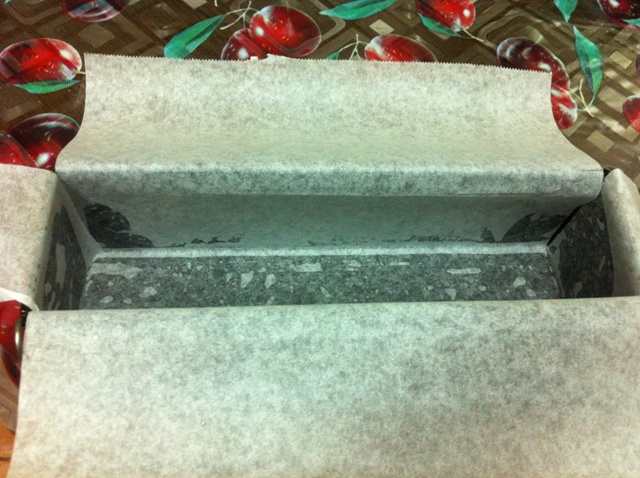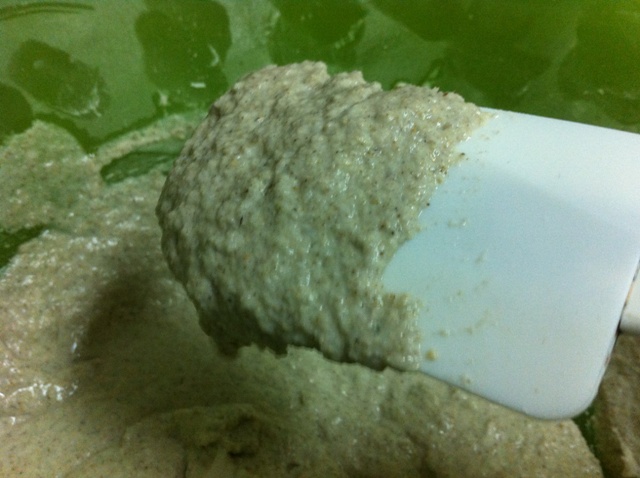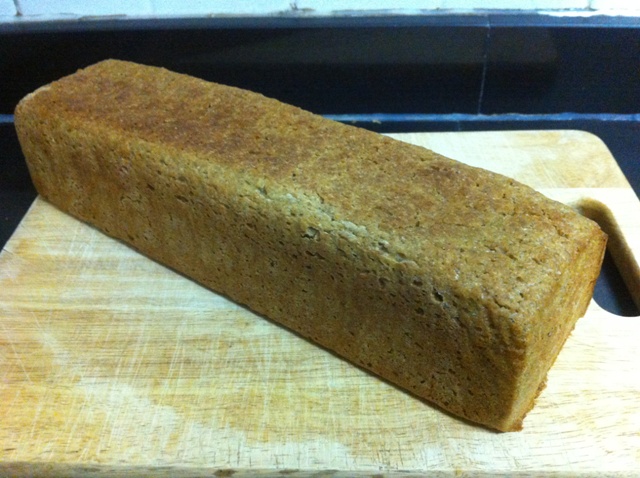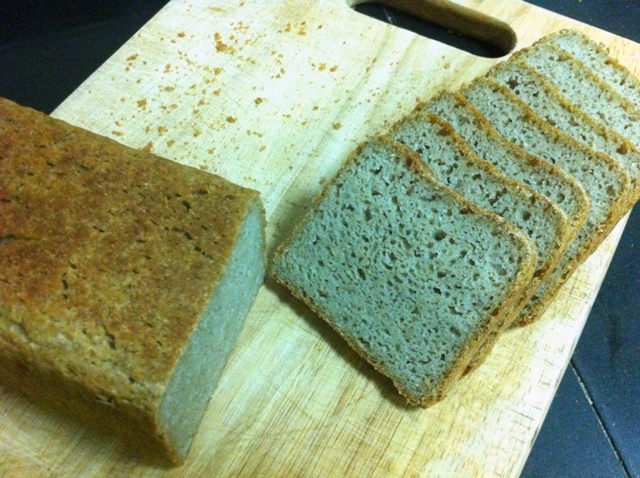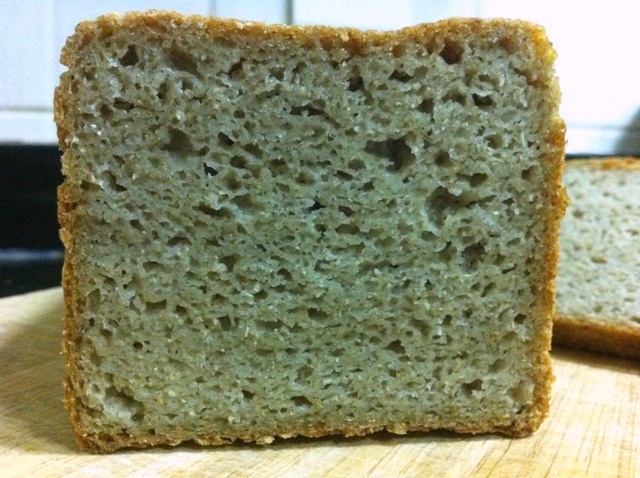 2 hours later, I sliced the loaf hoping for bread like texture. I was surprised  that it sliced, looked, felt, and tasted like a good 50% whole grain bread, with a hint of spice owing  to the sorghum, I think. I had few slices with my wife for dinner, and it was delicious! Quite hard to imagine that it contains no wheat flour at all.  I shall try substituting millet for roasted chickpea flour, or corn flour in my future GF bakes, or even try leavening it with a GF sourdough starter.
Khalid