Hello all, this is my first post over here :)
Iv'e been learning from this site for a long while now, and thought it's time to start posting the results.
This is my third or so attempt at baking a sabbatical with the goal of creating a nice, open, crumb - and I think I've finally nailed it.
The recipe is based at the recipe from "Baking Artisan Bread" by Ciril Hitz.
Made a 1:1 poolish and left it to ferment 16 hours overnight.
Final dough:
Bread flour 100%
Cold water 66%
Yeast 1%
Salt 3%
Poolish (1:1) 107%

Hydration of final dough is 77%
Mixed poolish with yeast, most of the water (85% of them), and a few tablespoons of the flour - until aerated.
Added rest of flour and kneaded in mixer for a few minutes, until a sticky but formed and homogeneous dough was formed.
Left to autolyse for 30 min.
Added salt and kneaded in mixer for 13 minutes, during which I've slowly incorporated the leftover water. Dough should be somewhat developed by now.
Poured sticky dough into an oiled oven sheet. Left to rest (covered) for 25 min.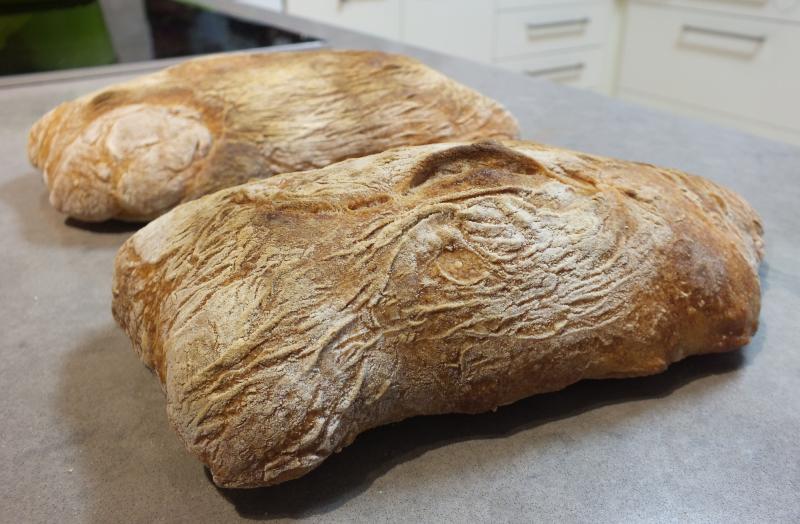 Preformed a double stretch and fold sequence. Left to rest for another 25 minutes
Repeat until 4 double S&Fs where preformed. Finish with 25 minute rest.
Flour top of dough and work surface with lots of flour.
Flipped dough and let fall from oven sheet onto the working surface.
Flipped half of dough over itself and floured it's top.
cut dough into apx 220g pieces.
cut a thin strip of dough from each piece and stick it on top of it (this will result in a weak spot that will allow the bread to expend without the need of scoring the sticky dough).
Flip the dough pieces onto a well floured couche. Flour top part of dough.
Cover and let proof for about 20 min (use finger pocking test).
Flip pieces again and place on a baking steel, placed in the middle of a super hot oven (I've preheated mine for an hour with broiler on max).
Poured a cup of hot water into a pan at the bottom of the oven. Spray oven walls with water.
Baked for 7 minutes, until oven spring has ended, and the breads no longer expand.
Reduce thermostat to 250 deg C, open oven and remove steam pan.
Continue baking for 10 to 15 minutes with oven door slightly open - until crust is browned to your preference. Bread inner temp should be at least 98 deg C (100 deg in my case).
Turned of oven heating and left to cool in oven with convection on for 10 minutes. (I've flipped the breads on their tops, so that the bottom won't continue baking from the steel leftover heat).
Remove excess flour from bread crust.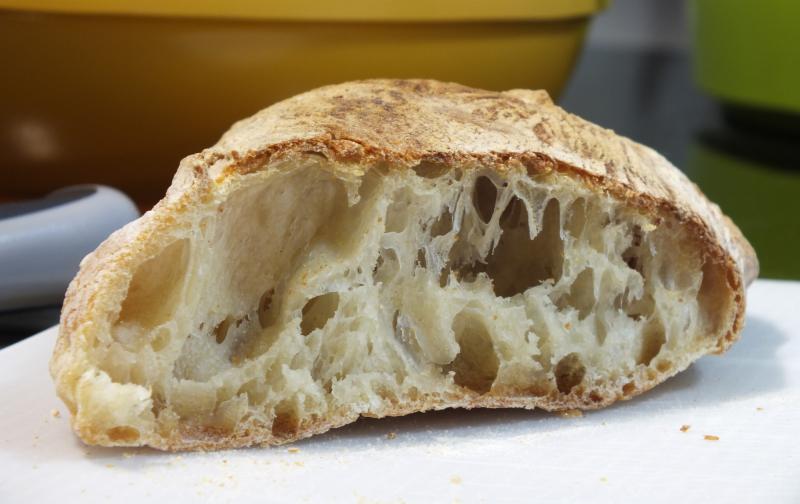 Crumb was open, soft and tasty.
Crust a little to dark and hard to my liking (Iv'e managed to injure my inner cheek...).
Taste was good for a lean yeasted bread, but I would like to improve it.
Made awesome sandwiches with some moldy cheese and fresh vegetables.
Thank you for reading, I'll appreciate feedback!
    - Shai