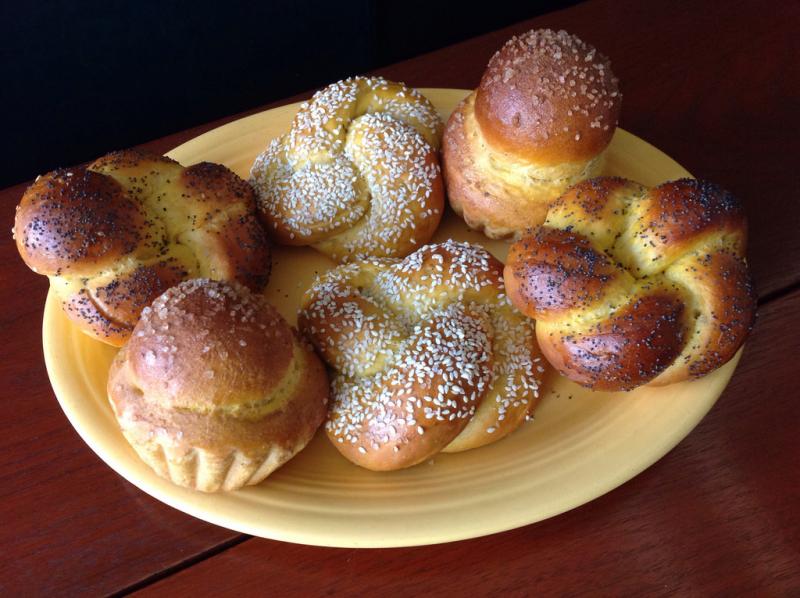 Found an aging half cup of pineapple juice in the fridge, had an aroma of ferment so I warmed it up on the stove top until it bubbled and foamed. Incorporated into another batch of sweet potato dough whose recipe I swiped from Floyd here. As you can see, got good rise in my briouche, nytzels and qaiseroles. 
Wondering now if if my SD starter might be so active because I cultured it using Debra Wink's pineapple/organic rye method. Tenant of mine being treated for Lyme told me his doctor instructed him to avoid any products that could contain yeast, which included pasteurized fruit juices from even freshly opened bottles or cans. So could there be enough living yeast in processed pineapple juice to alter the composition of the wee beasties in a SD culture? Thought that the growing medium determined the outcome, but is it possible that the pineapple introduces a strain of yeast that would not otherwise have been hosted by the rye, and that it could survive and multiply to become a significant or even dominant contender among all the other micro organisms? Would have thought that once it's initial source of food, the fructose in the juice, had all been consumed, the non-native yeast would have petered out. But if it does indeed persist, the subsequent starter might exhibit different characteristics than one begun with plain water. In which case then the pineapple juice has contributed more than just acidity!
Since it matured, I've always keep my rye starter refrigerated and feed it (about weekly) by first stirring in water cold from the tap before mixing in more rye meal until I have double the original volume, then take out half again for new dough and return the remaining amount back to the fridge. Interesting thing is, even cold like this, the starter always foams right up as soon as I stir in the water. Don't recall the simple whole wheat starters I maintained in the [now distant] past responding with such vigor. Which leads me to consider whether some strain of commercial type yeast (which as I understand is bred from fruit sources rather than grains) might have been introduced by the pineapple to my SD. Or do rye starters commonly behave this way? Thanks for any info about this.