B. Patisserie in San Francisco

I just got back from San Francisco. We had the expected fabulously delicious dinner at Fringale Friday evening. Saturday, we went to the Giants game with a sizable family group and had a good Thai dinner. This morning, we met one of our sons and his family and brother Glenn and his spousal unit for breakfast.
I had thought we would have breakfast at Thorough Bread Bakery, an extension of the San Francisco Baking Institute, but Glenn suggested we try a new bakery which he highly recommended. The "B. Patisserie" is a joint venture of Belinda (thus the "B") Leong, an American and French trained pastry chef and Michel Suas, the well-known and highly esteemed founder of the SFBI and author of Advanced Bread and Baking. Like Thorough Bread Bakery, it is a pretty small place that aims to be a neighborhood "salon de thé." The neighborhood is California street just off Divisadero, a very foodie locus.
When one walks in, one is almost assaulted by the aroma of sweet butter. Three steps into the bakery and you see the most extraordinary display of gorgeous breakfast pastries, varying from a simple French-style almond cake and some scones to a variety of simple and elaborate viennoiserie. They also bake a pain au levain from which they make a variety of hot and cold tartines and rustique baguettes. 
The bakery work area is open to the ordering line and seating area, and there were Belinda and Michel, hard at work, baking, slicing cakes, plating and looking very focused and serious but in a happy way. I did manage to greet Michel who remembered me. As we were finishing, Michel looked at our table and asked "How was it?" I gave him an enthusiastic two thumbs up and got a big grin in return, then back to business.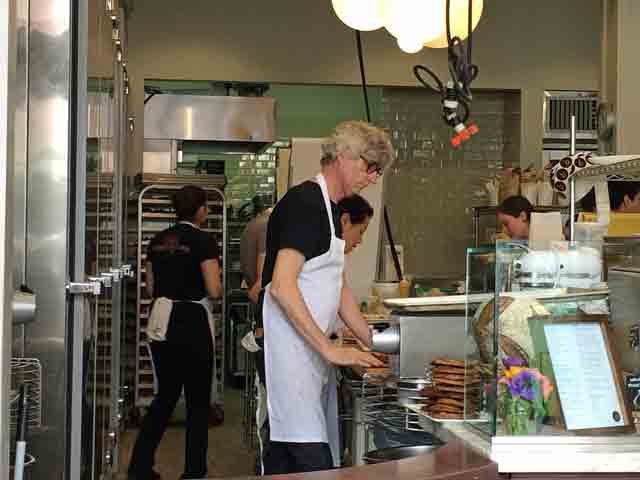 I had a half rustique baguette with butter and jam and a .... are you ready for this? ... chocolate, banana, almond croissant. And a cappuccino. They were each spectacularly delicious. My wife had a chicken and arugula tartine. I was told that was delicious too, but, between my wife and son, it disappeared before I got a taste. 
You can see photos of some of B. Patisserie's creations on their web site: http://bpatisserie.com
I am home, unpacked, and I'm going for a long walk now.
David