Farmer's Market Week 28 (Pain de Campagne)
A good friend of mine got a chance to work with a very reputable baker and brought me this formula for PDC as he called it.  It was his favorite of the loaves there and I had to give it a go.  Let's start with the fact that I misread my formula and came up short 600 g of H20.  I noticed the dough could take some more hydro and got 200 g in at the mix time but after re-reading the formula I noticed my botch.  So the dough should have been 82% hydration but ended at 73% which is a ways off the mark.  
Of course it didn't matter how the loaf came out.  At this point for me I failed even if a good loaf prevailed.  And based on the feel, action, and smell of the dough I knew it would be a fine loaf even with the error.  It did in the end turn out just fine.  In fact my friend said it wasn't very far off at all from the actual loaf.  Now it's on my to-do list to make it with proper hydration.  The finished loaf was pleasantly sour but not overly so with a very nutty whole grain profile and a soft tight crumb screaming for some PB&J.  
An odd thing with this recipe for me was the feed of the levain.   It's roughly 2 parts levain to 1 part flour.  I believe this was due to filtered water constrictions (they did not have warm filtered only cold) but wanted a levain that peaked in 6-8 hours and was fed 3 times daily.  Just for giggles I did 2 builds at this ratio to stay on target(D'oh).  This starter, 100% whole wheat, peaked in 3 hours for me as I guess the cold water I used wasn't cold enough.  It did have some serious sour notes to it and was vigorous.  In the end a good everyday hearth sandwich loaf. 
Pain De Campagne
--------------------------
Levain should be fed at least twice @ 80% hydration where the seed is equal to 1/2 the total weight.                          It's pretty close to 2 parts seed 1 part flour if that makes this easier.  And the levain is 100% Whole Wheat.
Pre fermented flour = 19 %
43% Whole Wheat, 5% Whole Rye, 5% Whole Spelt, and 47% AP or equivalent.  
82% Hydration (My loaf here is @ 73%)
2%  Salt
----------------------------------
Autolyse 1 hour (hold back 5% of H20 to incorporate levain and salt)
Add levain with 1/2 of held back h20 until incorporated
Add salt with remaining water and mix until salt is well distributed and moderate gluten is formed.
Bulk Ferment 2 1/2 Hours with 2 SF @ 50 minutes
Divide, Pre-shape, Rest 30 minutes
Shape and Retard 12-18 hours
Bake @ 500 with steam for 15.  Finish @ 460 rotating as needed for 25-30 more.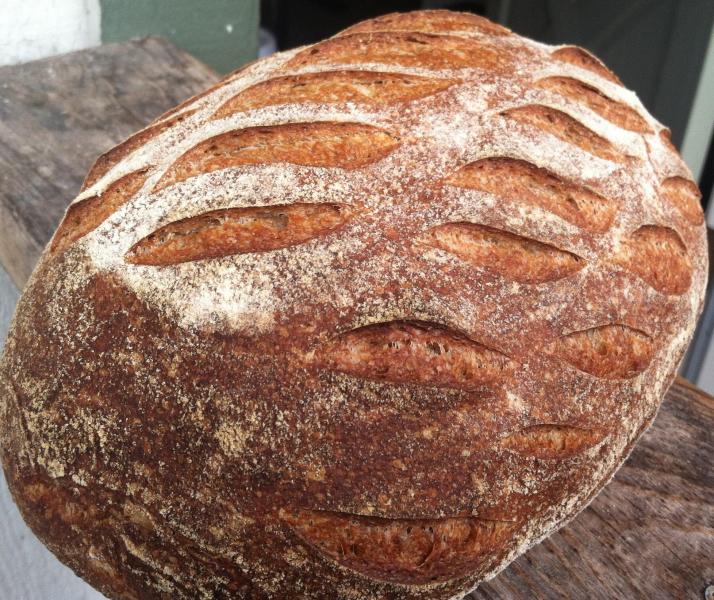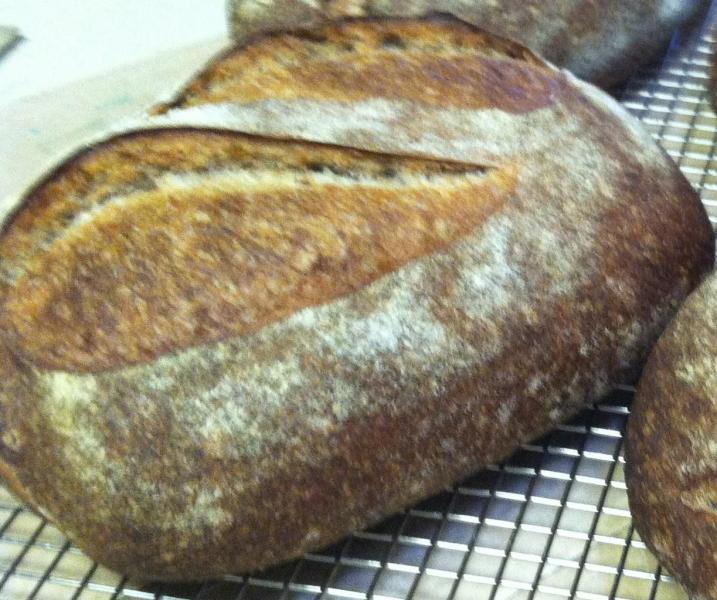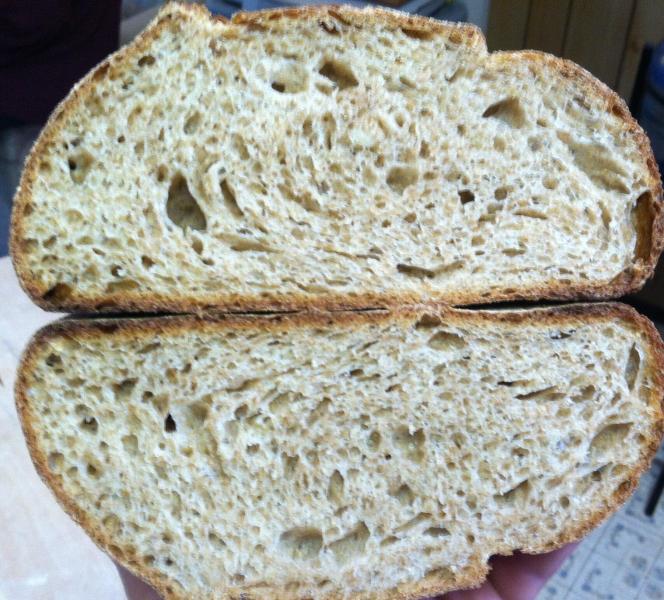 Got some local tuna, local ground lamb (soon to be kofte), leeks, shitakes, farm fresh eggs, greens, Herb starts (parsley, thyme, chives), paid back some barters owed, and sold a couple loaves to others.  
Cheers
Josh