My wife and I have been taking Italian language lessons in a small group for about 2 years. Our teacher was born in Palermo and trained to be a teacher from 16 years old through University. She has lived in the US for about 15 years, and she misses Sicily a lot, including the bread. 
Tomorrow, the class is meeting at some one's home to view an Italian movie and have a potluck. Our teacher has given me a pretty clear idea over the past two years of the kind of bread she likes best, and I've concluded that the miche I learned to make at the SFBI fits the bill. So, that's what I will take, along with one of the Pane Valle del Maggia.
The formula and procedures for the miche can be found here: Miche from SFBI Artisan II - 2 kg. The only modification I made is to substitute 20% whole wheat for an equal weight of AP flour in the Final Dough.
This is a 2 kg loaf. It's about 3 times the size of the Pane del Maggia I also baked today. To give you an idea of their relative sizes, here's a side-by-side photo of the bannetons I used for each: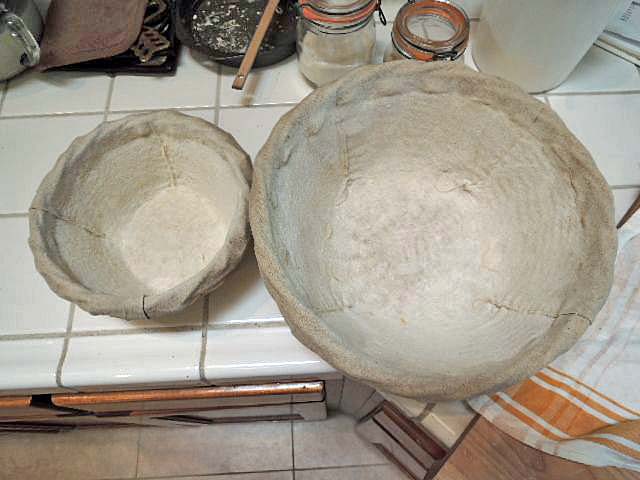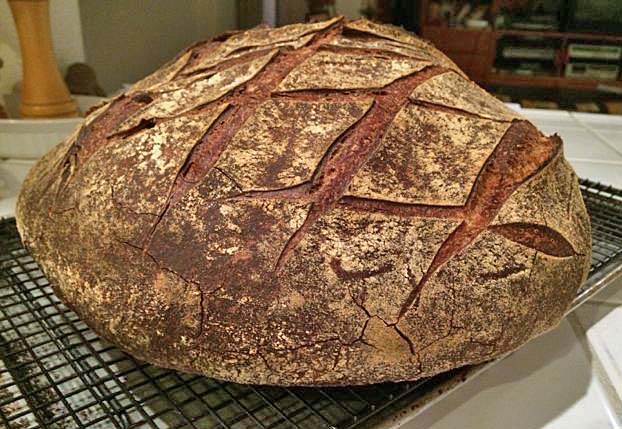 When sliced, the crumb was well-aerated but not very open.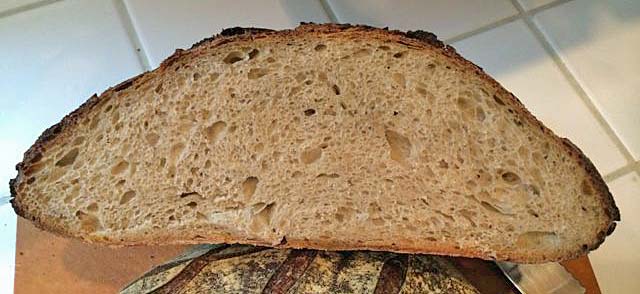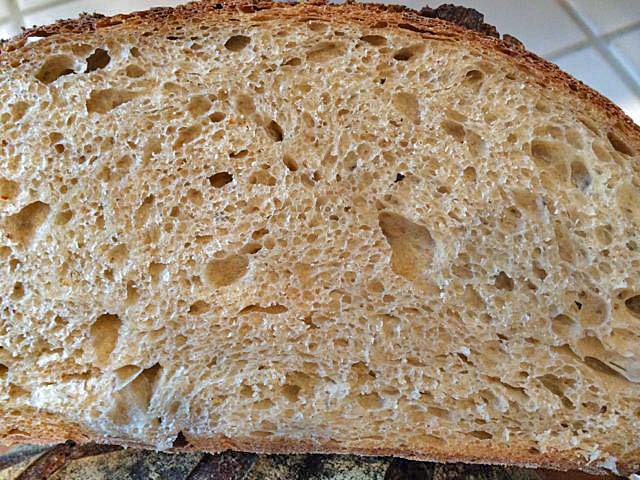 The crust was very crunchy, and the crumb was chewy. The flavor was moderately to severely tangy, like an old-fashioned San Francisco sourdough. I think the whole wheat's main contribution was to increase the acetic acid flavor. I enjoyed the first taste. I sliced the bread and took it to the potluck, when eaten 60 to 90 minutes later, it seemed much less sour. It was very good and was well-received as was the Pane Valle del Maggia that I also brought. (That's code for "Everyone loved them ") One of my classmates wanted to know where in Fresno I found it. The few slices that were not eaten with dinner were distributed by the hostess for others to take home. She assured me she kept enough for her breakfast.
David