Sourdough Honey & Walnut Spelt Bread
Spelt, honey, and walnuts seem to like each other's company, as demonstrated very happily by this bake. It's true that the scoring leaves a lot to be desired and the loaves could have come out of the oven sooner. Regardless, the crumb was moist and the taste more delicate than the ingredients might suggest, just right for sandwiches in fact.
I've done a few variations on breads with a high proportion of whole spelt up to 100% over the last few months, and enjoyed all of them. There's an elastic quality to spelt flour that makes even sticky, wet doughs pleasant to work with, and whole spelt seems to rise more contentedly than whole wheat.
The recipe isn't especially original. It's largely adapted from Jeffrey Hamelman's Honey Spelt Bread that he included in the second edition of Bread, but this uses yeast and doesn't have walnuts. There's also some influence from the Dinkel-Walnussbrot recipe posted on The Fresh Loaf by hanseata (http://www.thefreshloaf.com/node/22236/dinkelwalnussbrot-spelt-walnut-bread) a few years ago which seems to have inspired lots of bakers since.
Anyway, my formula today used 75% whole spelt (bread flour made up the rest), with a 25% sourdough pre-ferment made up of spelt and wheat flours in the same 75:25 ratio. Hydration was at 73%, and the other ingredients apart from salt were 4% honey, 10% chopped walnuts, and 0.2% fennel seed. I retarded the shaped loaves for 18 hours in the fridge, and left them out at room temperature for 2½ hours before a 40-minute bake.
My sourdough starter was perky from the beginning, and came through with a gratifying oven spring: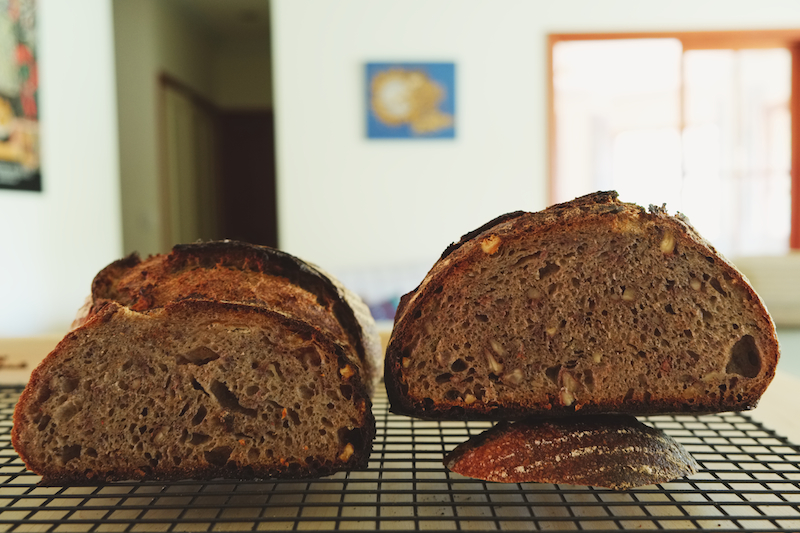 The darkened crumb contributed by the walnuts is one of the features of this bread I like most. I'm definitely going to bake it again.