Arts and Crafts Market # 3
For this past Market day, I've baked the same breads I often bake For all preceding Arts and crafts markets: A Rye , A Whole Wheat multigrain, and a country White loaf.  For This market ,however, I've baked all three of them. a 7 Kg. worth of Rye dough, 5.5 Kg. Worth of Whole wheat multigrain, and 5kg. worth of Tartine's Sesame bread dough; yielding a total dough of 17.5 Kg!  All bread was baked in three consecutive days, and none were frozen. Phew!
The day began at the registration desk , followed by a random table draw. I was seated in a far corner on the ground floor this time. I prepared the table for display, and readied myself for the big day. Immediately, I began preparing samplers for customers who'd like to have a taste of my breads. I had a chocolate vendor to my left, and a jewelry designer to my right; all were friendly and courteous.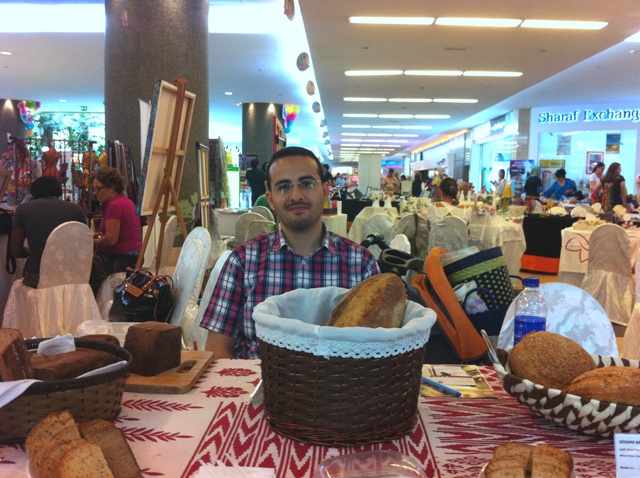 Customers began to show up on my table, and many were interested in Artisan bread. Occasionally, some would ask if I had gluten free breads, in fact, many here appear to have gluten intolerance. I think I might have to learn how to make GF breads soon. A German gentleman accompanied by his family has also shown a good deal of interest in Artisan breads; notably Rye. I quote him saying: "mmm, this is really authentic!", as he chewed down a piece of the 80% rye bread. That was heartwarming.  A Georgian lady picked up some Rye bread and a Russian, too. I told the latter that I bake Borodinsky bread, and she gasped with a smile cheerfully : OHH, really?!! Apparently, I struck a nerve there. Most eastern European expats living in the region yearn for their bread back home.
Old clients tracked me down, of course, and nailed their share of bread. By the end of the Market day, I had half a boule of sesame bread left that was eventually sold to a neighboring vendor. Had I more loaves left, I would have been sold out too, but this is the maximum capacity my oven can handle.
So, that was it! The Market day drew to an end, so i packed my gear and left. Despite the back ache that persisted throughout the day, I felt a soothing sense of satisfaction and achievement that kept my spirit up. 
Khalid