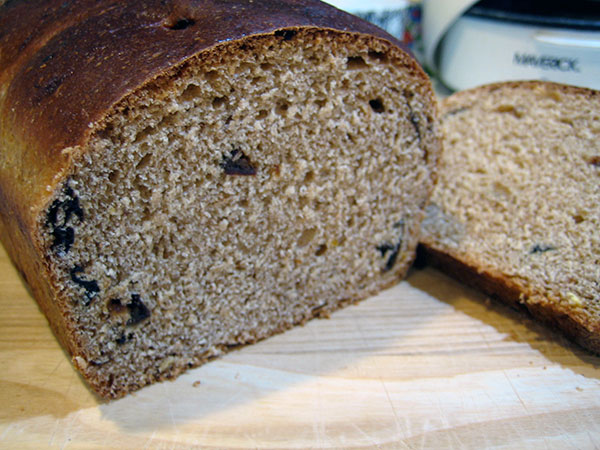 This weekend I baked an Orange Prune Bread from Beth Hensberger's Bread Bible. Despite some quirks about the book that annoy me, all of the recipes I've baked from it have turned out very good. This recipe was no exception: I enjoyed it and my kids loved it. 
Honey Orange Prune Bread
Makes 2 loaves
1 cup water
2 teaspoons (1 packet) instant yeast
1 cup milk
3 tablespoons honey
3 tablespoons butter
2 1/2 teaspoons salt
1 1/2 cup whole-wheat flour
Zest of 1 orange
8 ounces chopped pitted prunes
3 to 3 1/2 cups unbleached all purpose flour
Combine the water, yeast, honey, and milk.
Stir in the whole wheat flour, butter and salt.
Add the orange zest, prunes, and flour 1/2 cup at a time.
Mix until you have a manageable dough that is slightly sticky but that can be handled by hand.
Knead for 4-5 minutes in a standmixer or from 5-10 minutes by hand.
Place the dough in a bowl, cover, and let rise for 1 1/2 hours or until doubled in size.
Divide the dough and shape it into two loaves. Place each in a greased pan.
Preheat the oven to 350 while the loaves rise to double their size again, around 45 minute.
Bake the loaves at 350 degrees from 40-45 minutes, rotating them once halfway through.
Eat.