February 10, 2014 - 8:52pm
Spelt Sourdough Bread Result Needs Advice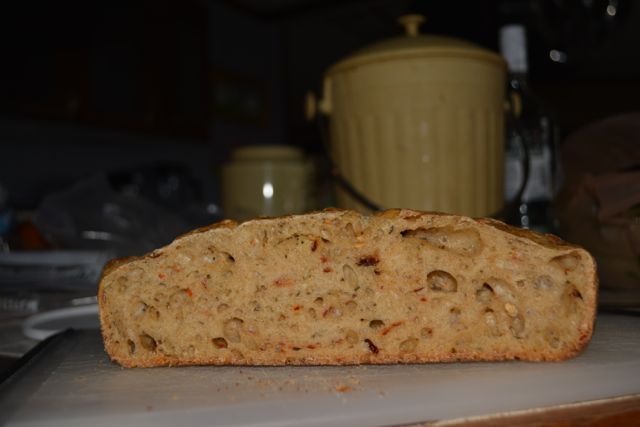 I have been baking for a while and while previous normal results are not what I would love, they aren't terrible.  Even these results aren't in terms of taste.  I use white Spelt pretty regularly at this point, and over the last few months, it has been spreading in the oven.  I recently received a dutch oven (5 quarts) from a friend and I have been using it.  This recipe used the dutch oven with the following recipe.
600 grams white spelt
360 grams water
9 grams vinegar
12 grams salt
20 grams olive oil
Starter is from my rye starter (more robust in taste and delicious).  I use a 20% formula-- 20 percent of the flour and 20 percent of the water, thus:  72 grams water, 120 grams flour, and about two tablespoons starter. 
Once the build is finished, I make the dough.  I let the dough rise about five hours, degassed, let the dough final rise about an hour. I let the dough final rise in the dutch oven,lightly spray and score with scoring knife (although, I cannot seem to make a significant mark with the knife which is a little discouraging) and place in a preheated gas oven at 500 degrees F and immediately reduce to 475.  After 20 minutes I remove the dutch oven lid and reduce heat to 450 for the last 2o minutes and remove.  The pre and post results are attached.  Hydration levels by my calculation are approx 63 percent with the oil.  Any ideas ad suggestions on how to improve this would be appreciated.  On another note, the crumb seems better to me and the taste is always incredible to me and to everyone else who raves about it.
Your thoughts would be welcomed.