February 5, 2014 - 3:29pm
Kalamata & Rosemary Sourdough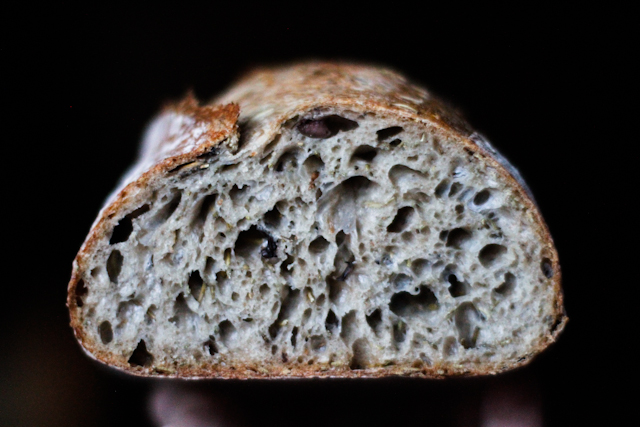 Hey yall!, yesterday and today I made this sourdough with kalamata olives and rosemary.
The formula is as follows. 592g bread flour, 29g whole wheat flour, 29g whole rye flour, 452g warm water, 98g olive juice, 130g chef (100% hydration), 72g kalamata olives, 33g rosemary and 13g salt.
First I whisked together my flours and in a separate bowl I whisked together my chef and warm water. I poured my olive juice onto the flour then added the olives and rosemary then added the water/chef slurry. I did my best to pull it together with a bowl scraper then with a mixing spoon, mixing just until the flour was hydrated and then giving it an hour autolyse.
After the autolyse I gave it a stretch and fold, spread the salt on the counter and gave it six minuets of slap and folds each time slapping it on the salt so it grabbed a bit every time. after that I let it rest for three or five minutes then gave it three more minutes of slap and folding, another rest and another minute of slapping and folding. I then put it in a bowl with a cover and let it sit at room temp for an hour, during that hour I gave it three evenly spaced sets of stretch and folds. then I put it in the fridge overnight. an hour after I put it in the fridge I gave it one set of stretch and fold, then another a few hours later.
Today, I removed the dough from the fridge and let it warm for an hour or so at room temp. then I divided/pre-shaped /shaped and proofed it at room temp tented in a damp towel for right around three hours, I popped it onto the preheated stone in my 550 degree oven and splashed a bit of hot water on my preheated sheet pan. after a minute or so I added a bit more water and after another minute i turned the oven down to 470, I baked at 470 for fifteen minutes or so, then rotated the loaves and baked at 460 for maybe fifteen additional minutes then baked at 450 until the loaves were done.