February 3, 2014 - 7:04am
Sideways Bursting Loafs (First Post!)
First off - great website. I learned more from you guys than from an entire semester in school. Thank you!
I've been baking bread for years in a bread maker but just recently got serious enough to investigate what actually happens during the entire process. Over the last four weekends I've made eight batches first following the lessons on this website and then starting to experiment. However, I've noticed a pattern with my loaves: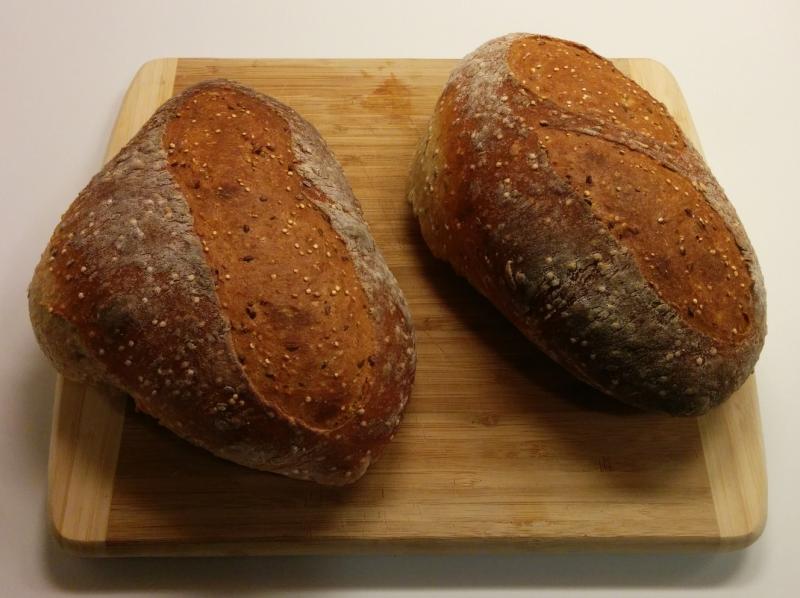 As you can see, they bust out the side and my scores at the top pretty flat and don't really generate an ear/burst open which is what I'm trying to achieve. Here's another view:
So the loaves do burst but just not in the location that I want them to...
I have two theories:
1. The heat in my oven could be too high. Looking at the gradient of color on the side, it might the possible that the crust on the top dries out too quickly and that the scores as a result just harden up. The only soft spot then is the side, thus a side-bust.
2. My loaf is under-proofed. Again, the crust becomes hard but there is still much life left in the loaf...
Here is the recipe I created:
- Overnight sponge from this recipe: http://www.kingarthurflour.com/recipes/french-style-country-bread-recipe
- 1hr Autolyse of 1/5 cups WW flour, 2 cups AP flour, 2 cups of water (overall hydration is about ~60% if my math is right)
- Mix autolyse and sponge and add 3 tsp of salt, 1/2 tsp of dry yeast and 1Tbsp of honey, 1/4 cup flax and 1/2 cup of quinoa. Mix for ~3min. Let double in size, stretch and fold. Repeat once. Shape into batard, let rest 15-30min, until not quite doubled in size. 
- Start oven at 500deg F, steam from pan as well as spray bottle every 3 minutes for first 10 min. After 10min, reduce to 425deg.