January 26, 2014 - 2:23pm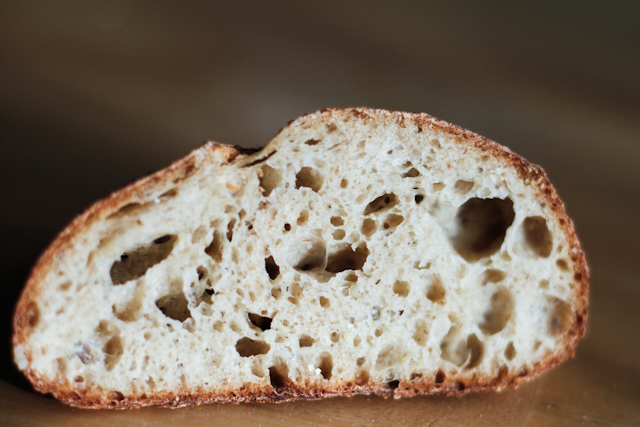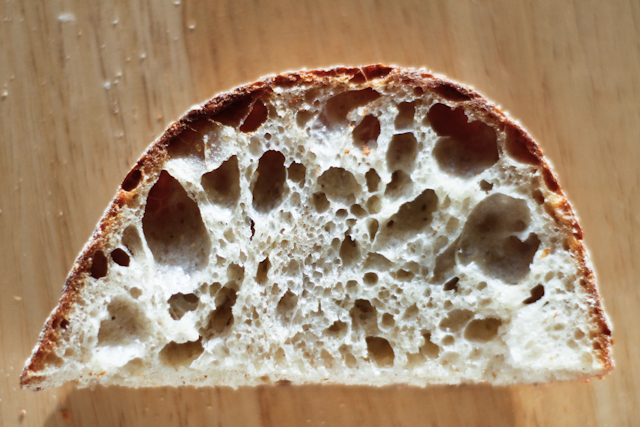 Formula: 615g bread flour, 35g whole rye flour, 460g warm water, 110g chef (100% hydration), 141g coarse ground cornmeal (thats the dry weight), and 13g salt.
Yesterday afternoon I boiled some water and added it to the 141g cornmeal, I continued adding water until all the corn was hydrated, added just a touch more and let it sit for two hours. Next I weighed out my flours and whisked em together, weighed out my salt and set it aside, weighed out and combined my chef and warm water then added the water/chef mixture to the flour grits. I gently mixed with a bowl scraper then with a spoon and once the dough came together I let it autolyse covered in the bowl for an hour.
After the autolyse, I gave it a gentle set of slap and folds and let it rest, after 3 or 5 minutes I spread the salt out on the counter and gave the dough six minutes of slapping and folding on top of the salt so it pulled a little up at a time. After those six minutes I let it rest for 5 or so minutes and gave it anther 3 minute set of slap and folds. After another short rest I gave it another very short set of slap and folds (1 minute or so) a stretch and fold then put it in a clean bowl and let it ferment at room temp for an hour or so. During this room temp fermentation I gave the dough 3 sets of stretch and folds in the bowl, first after the 20 minutes and the second after forty and the third around the hour mark. then I covered the bowl and popped it in the fridge. An hour later I gave it another gentle stretch and fold then another a few hours later.
This morning I removed the dough from the fridge and let it sit at room temp for two or so hours, scaled/preshaped/shaped and proofed for around 3 hours,
Getting on baking time I preheated my oven, stone and sheet pan to 550. then I presteamed the oven with an ounce or so of hot water on the sheet pan, scored and slid the loaf in, gave it another small steam, about a minute later I gave it another small steam waited a minute and turned the oven down to 470. after around 10 minutes I turned it down to 460, after another ten or so I turned it to 450 for the remainder of the bake.
I am extremely happy with how this bread came out, Its got that overnight bulk ferment tang blended wonderfully with the sweetness of the corn and the barely perceptible (maybe placebo) earthiness of of the rye