January 25, 2014 - 11:21am
Very quick sourdough bread with a bit of rye and whole wheat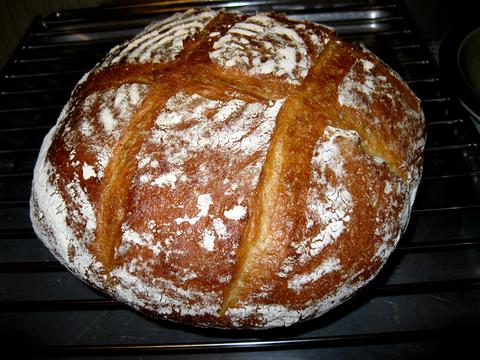 Yesterday I was a bit frustrated with a project and at cooking lunch I cut myself.
So I really needed to bake something, preferably with spelt or wheat (usually I bake rye >50%) which would give me a dough that I could really physically work with.
Problem: I don't like yeast and I had no levain built the day before. But I had a lot of starter in the fridge (about 70g / 2.5 ounces) - 100% rye and not fed for 10 days. A good time to feed it so I took 15g away and fed it with 30g of water, 30g of flour...
For my levain I needed a quick solution: Heat and high hydration and a high percentage of seed starter. For wheat you don't need the sourness, so I thought it might work:
This is the result: Wheat bread with 17.6% rye and 11.8% whole wheat and 76.5% hydration.
For the levain:
50g rye starter
50g rye flour
50g whole wheat flour.
200g water
Total: 225g water, 125g flour, 180% hydration
Kept at 28° for about 2.75 to 3 hours (28° = 82.4F)
For the autolyse:
350g levain
300g flour (I used 150g Bread flour (0.7% ash, 11,8% protein) and 150g french flour (0.55% ash))
I just let it rest for 35' after mixing it with a spoon. I already added the levain as
75g water
For the final dough I added 25g of Water and 8g of salt:
400 to 500 Slap&folds
2h of bulk fermentation with 4 Stech&Folds every 30'.
1,5h of fermentation in a banneton
In the oven:
15' at 250° (482F) with lots of steam (a huge mug of water for my small oven, poured on 1kg (2.2 pounds) of steel nails I preheated in the oven).
30' at 200° (with removed the steam)
##############################################

Overall Formula:

Levain:
50% rye starter at 100% hydration
50% rye flour
50% whole wheat flour
200% water
final dough:
70.6% wheat flour
82.4% levain (at 180% hydration)
23.5% water
1,88% salt
hydration = water + water portion in the levain = 23.5% + 82.4%*(180%/280%) = ca. 76.5%
flour = flour + flour portion in the levain = 70.6 + 82.4%*(100/280) = ca. 100,0% :)
#############################################
lg|Adrian