December 28, 2013 - 7:27am
This bake was one half of Peter Reinhart's recipe from BBA. I used 50g of sweet levain and 50g yeast water levain. The dough more than doubled in an hour in the bulk ferment and even half the recipe tested the capacity of my Lodge DO. This makes a wonderful sandwich bread -- piled high with Montreal smoked meat and grainy mustard. YUMMM!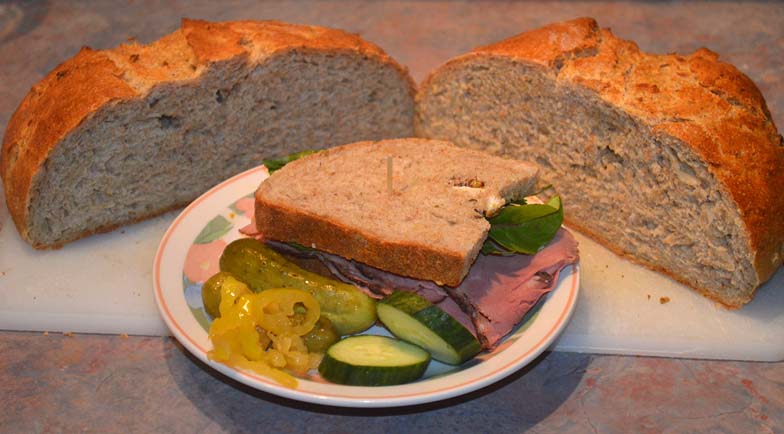 Starter
50g sweet levain
50g YW levain
128g dark rye flour
80g water
170g onion, sauteed in oil
I let this get happy for about 4 hours and then began the mix.
Final dough
228g strong bread flour
64g dark rye flour
14g brown sugar
8g salt
1 tsp caraway seed
114g whole milk
100g water
I mixed, rested for 20 minutes, then kneaded for 6 minutes, then into an oiled bowl to bulk ferment. In an hour this cough had more than doubled, so degas, stretch and fold  and pre-shape. After 10 minutes I shaped a boule and proofed in a linen lined wire mesh colander suspended in a mixing bowl. After 30 minutes proofing the oven went on at 400F. After an hour of proofing I scored and baked in the hot cast DO covered for 12 minutes, then uncovered for another 24 minutes convection turning every 4 minutes. 
Happy baking! Brian