December 25, 2013 - 1:50am
SFBI Miche (take 2), and Pastry assessment
Since the day I baked my first San Francisco Baking institute's Miche (Posted by dmsnyder here) , I wanted to have another go at it soon. Alas, I have been distracted by several other formulas and books and eventually ended up putting it off. Two days ago, I was reminded by the formula when I saw my wheat germ bag sitting in my freezer and decided to give the formula another whirl.
Although the formula calls for a high extraction wheat flour, all I had was whole wheat and bread flour. I  assumed that the Indian flour (Chakki atta, or Stone milled whole wheat flour ) that I've purchased recently was refined to an 85% extraction as is the case with other brands, but it was labeled: 100% whole wheat flour. I've decided to add bread flour to the final mix to approximate the ash content of the high extraction flour.  The % of prefermented flour is down to 10% as I was planning on baking it after 18 hours, but ended up baking after 8.
RECIPE: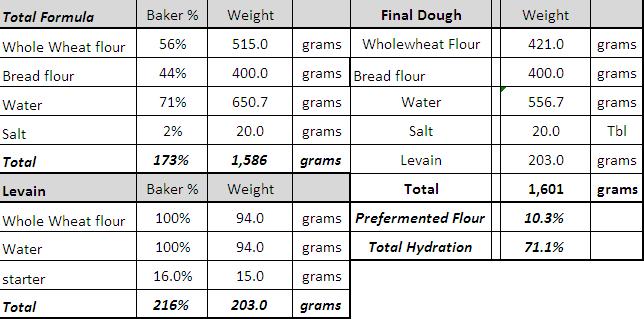 INSTRUCTIONS:
 Mix all ingredients at once, by hand or using a mixer for 5-10 minutes. Rest the dough for 5 minutes and resume mixing for another 5 minutes. The dough will not be sticky. Shape as a round and let ferment in an oiled bowl for 3 hours at preferably 78 F or 24-25C, folding it every 50 minutes . By the end of bulk fermentation, the dough will have risen by 50%. scrape your dough onto a floured surface, pat the dough even (Don't knead), Pre-shape it into a round, and leave it to rest for 15- 20 min, covered. Dust your basket or kitchen towel with a mixture of all purpose flour and rice flour, and shape your dough and invert it smooth side down into the basket. Retard your dough in the refrigerator for 8 – 18 hours at 10C.
Next day, remove the dough from the refrigerator and let rest at room temperature. The final fermentation will be 3-4 hours, but watch the dough NOT the clock. 50 minutes before you plan to bake your dough, Preheat your oven with a stone in place to a 500F or 260.  5 minutes before loading the bread, place your steaming dish filled with wet towels on the bottom of your oven.  When ready, invert the dough on baking paper lined peel/ board and close the oven immediately. Bake for 15 minutes with steam, and then remove the steaming dish and reduce the temperature to 400F for another 20-25 minutes. 
When the time is over, remove your bread from the oven. Wear oven mitts, and tap on the bottom of one loaf, It should sound hollow. Furthermore, you may insert a thermal probe into the center of the loaf from the bottom, and the temperature should register 195-200F or 90-95C. If it doesn't, put it back in the oven for another 10 minutes. Cool the bread completely on a wire rack, prior to cutting.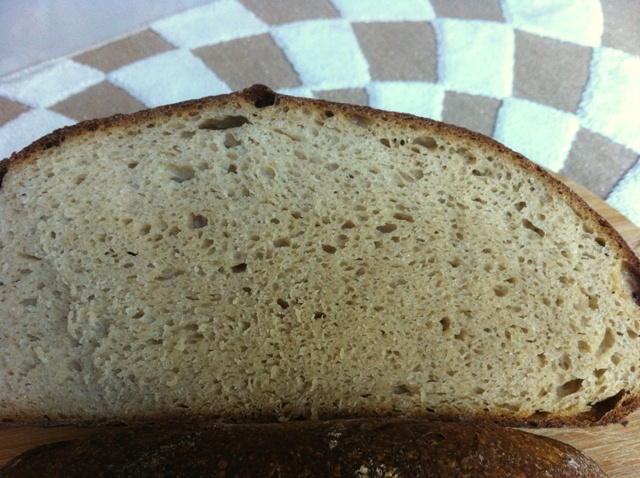 The bread was sliced after 4 hours, and the interior was moist. Breads of this type will use more rest period for the flavors to set, so it wasn't at its prime. Today, I made an olive and cheddar cheese , and it was delightful! This is a keeper despite leaving out the toasted wheat germ. I will purchase the high extraction Chapati atta I found lately for this recipe and add wheat germ to it next time.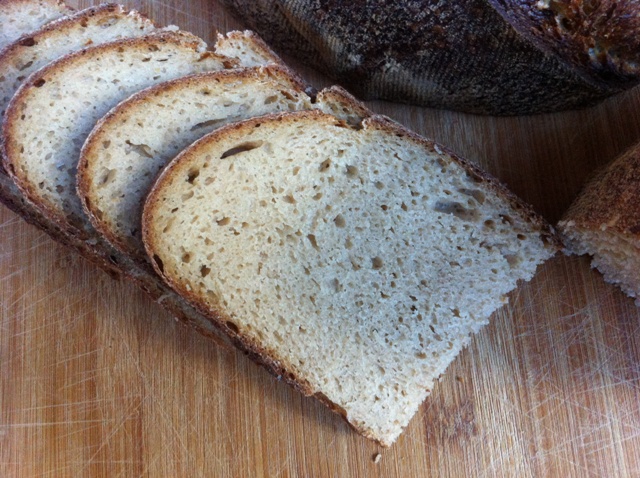 As to my pastry classes, I've had my first theoretical and practical assessment last weekend in Cold and hot desserts.The theory part was easy and I've done well. For the practical,  I was asked to do Crepes Suzette and Coffee Bavarois. I started with crepes suzette, but struggled to get it right. I made two scrambled crepes in two different pans, and felt frustrated. I began making the bavarois to boost my confidence up abit, and after pouring it into moulds, I mixed crepe batter again but managed to season the third pan properly. The crepe peeled off nicely. As to the sauce, it was somewhat tart, as I've forgotten to caramelize the sugar first and reduce the sauce, however, I managed to salvage it in the end. All that wasted my time, and I should have started with coffee bavarois first as It needs refrigeration. Ultimately, both desserts were plated and presented to the Chef and received approval. Sadly, I have forgotten to take a picture of the final products.
I have two classes and one last assessment in baked goods, and I'll be done.Time sure flies!
-Khalid