December 21, 2013 - 9:11pm
Pain de Campagne from Flour Water Salt Yeast
When I got Ken Forkish's Flour Water Salt Yeast and started baking from it last Summer, I found the breads and pizza doughs to be delicious, but the fermentation times for both levains and doughs was very much shorter than what were given in the book. I figured it must be due to my warm Summer kitchen, which was in the mid- to high-70's (F). Well, now it is Winter, and my Kitchen is about 68 dF. So, I have begun revisiting some of Forkish's breads.
This week, I made his Pain de Campagne. As given in the book, this is a mostly white bread with a bit of whole wheat. It is a pain au levain, but is spiked with instant yeast. I modified the formula to 10% medium rye, 15% WW and 75% AP flour, and I left out the instant yeast for this bake. I followed Forkish's procedure for mixing and stretch and folds, but I fermented the levain and the dough in my Brød & Taylor Proofing Box set at 72 dF. The fermentation times were just a tad longer than Forkish specified for the bulk fermentation, which could be due to my leaving out the instant yeast.
Here's the result: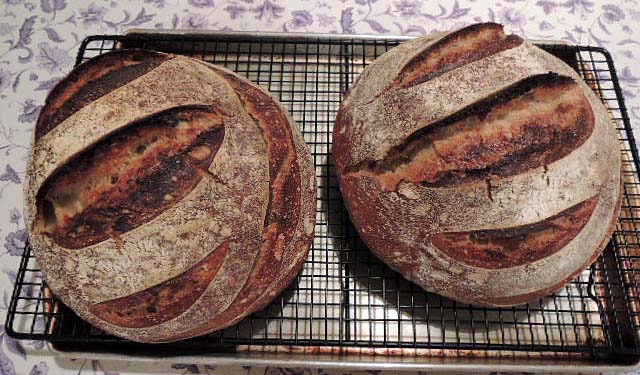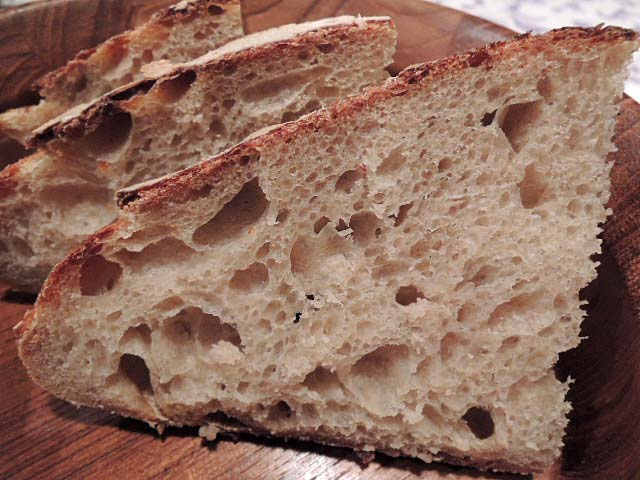 The flavor was less sour than I remember this bread being but quite nice. 
I made another batch of pain de campagne dough, wanting to increase the whole grain proportion and also the flavor complexity and the sourdough tang. For that batch, I increased the WW to 24%, keeping the rye at 10%. The AP flour is now at 66%.  That is, the final dough flours were: 500g AP, 200g WW and 100g Rye. (The levain contains 160g AP and 40g WW flours.)
I also included the instant yeast. I bulk fermented at 76 dF and let the dough get to 2.5X the initial volume. That took about 4.25 hours. 
And here are photos of the second bake with increased WW and instant yeast: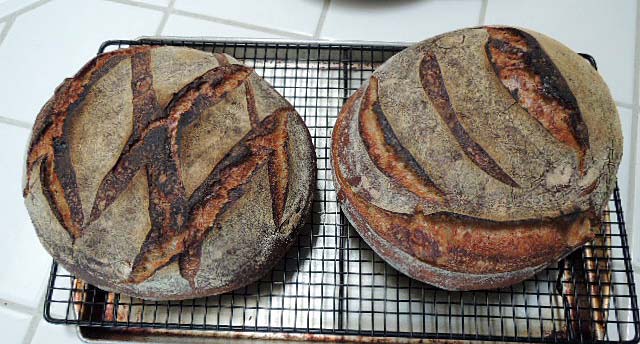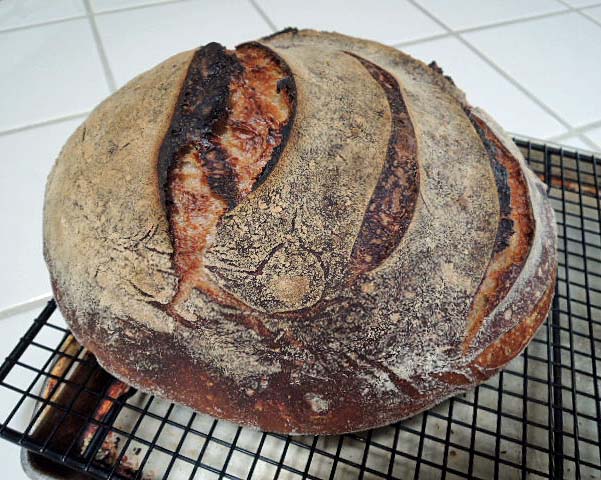 I went for a walk, and, when I came back, ....
Megacrackles!!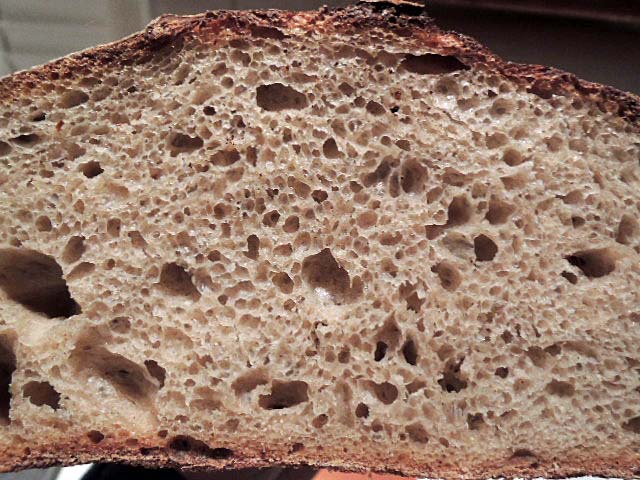 One of these loaves went to a friend whose Winter Solstice party we attended this evening. The second loaf rested for about 8 hours before I sliced and tasted it.
Just as I had hoped and Josh predicted (see below), this second bake, with more rye and whole wheat and a higher fermentation temperature, was markedly more sour. Interestingly, the flavor seemed more complex overall. 
This was a very useful lesson for me. I will be making this bread using the increased whole grain flour and increased fermentation temperature from now on. This experiment with increased fermentation temperature in particular needs to be repeated with other formulas. Stay tuned.
As a bonus, here is a loaf of  "Hansjoakim's Favorite 70% Rye" I baked a couple days ago and sliced this morning.
Note the blowout on the right. I proofed this loaf seam-side down with the intent that the folds would open up during oven spring, but, alas, I again sealed the seams too well. Thus, the blow out. A good demonstration of that which scoring is meant to prevent.
Of course, the blow out in no way detracts from the eating quality of the bread which in this instance was delicious.
David