December 10, 2013 - 4:40pm
Sweet levain, yeast water Pulla!
I was quite a bit more patient this time, letting the dough tell me when it was ready and this is the best pulla I have ever baked! I topped it with the egg wash, sprinkled liberally with sugar, ground almond and slivered almonds. I totally forgot I was going to bake this as a chacon and went in to auto pilot and divided the dough into 2 balls then one ball into 3 for braids . . . Next time I will try a chacon pulla! A skibum moment!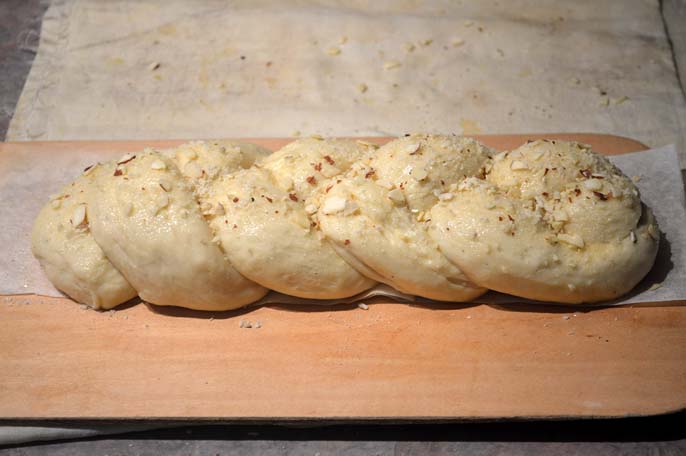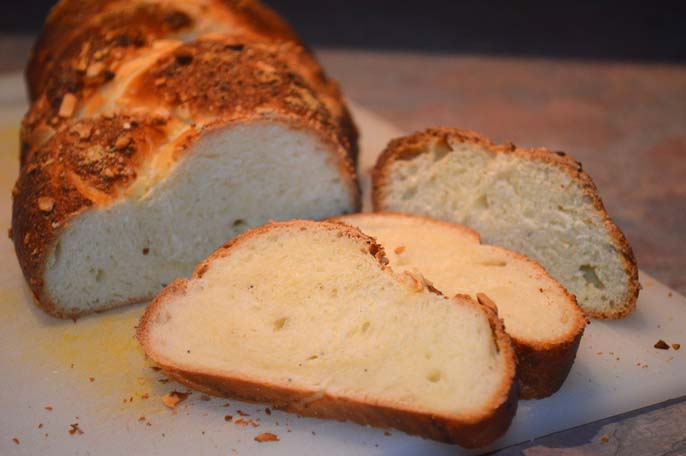 I scaled this recipe to 2/3 my grandmothers recipe posted in varda's Pulla post, with weights.
280 grams milk scalded
6 cardamom pods, hulls removed and seeds ground, infuse in hot milk
140g sugar
188g strong bread flour, next time I will mix AP and BF, just to see
1 egg, 50g
50g sweet levain
50g YW levain
The levains were fed a day before and left on the counter to double or more and collapse.
When the milk has cooled to 80F make a sponge with the above ingredients and let it go for a couple of hours or more until nice and bubbly.
Next add 1 cup, 135g flour and mix until smooth.
2/3 tsp coarse sea salt, forgot to weigh
80g melted butter, beat the dough until it is smooth and glossy and all the butter has been combined.
175g or more flour, gradually add this until you have a firm dough that is not sticky.
Rest 10 minutes once all the flour is combined. Knead 4 minutes, rest 10 and knead 4 minutes.
The first bulk rise took about 6 hours and it more than doubled, nearly 21/2. Degassed and did a couple of S&F's, then bulked it a hour on the counter then into the fridge for 16 hours at which point it was again 21/2 times bulk.
After an hour on the counter to warm up, I divided the dough into 2 batches, one for pulla and one for cinnamon buns. After pre-shaping, resting rolling out the dough and braiding the loaf, I let it proof for about 2 hours and baked 20 minutes 400F convection, turning once and finished at 400F no convection for 4 minutes turning once.
I had this apre ski with beer and can't wait to have it for breakfast with strong coffee! Great pulla! I think my granny is smiling right now.
Happy baking, Brian