December 9, 2013 - 3:49pm
When I first caught sight of these pretty rolls in a Mexican bakery, I was totally smitten. But my enthusiasm quickly deflated when I took the first bite - the cute little shells were overly sweet, but other than that: no taste whatsoever! 
Sadly, this was the case with almost all the pastries we had at the Riviera Maya: they looked very appetizing, but tasted only bland and sugary.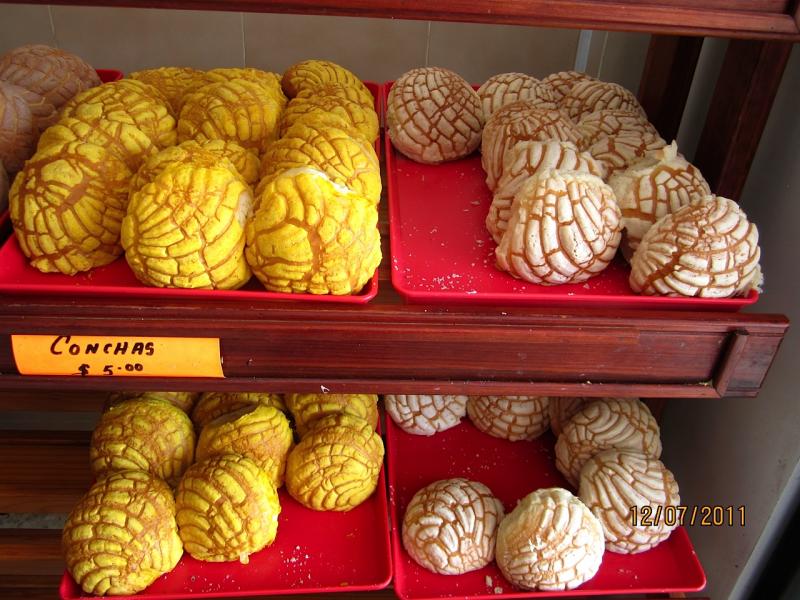 Conchas in Mexican bakery: pretty but bland
But shouldn't it be possible to bake Conchas whose attractive exterior matched a delicious interior? The idea intrigued me and kept me thinking. Back from our trip, I started searching for a recipe.
A Little Cup of Mexican Hot Chocolate didn't only have a recipe for this Pan Dulce, it also had a very entertaining story about a nightly encounter with a mysterious woman and her ardent desire for revenge! 
Before we flew to Mexico this year, I finally wanted to tackle the Conchas. Remembering the "Mujer Misteriosa" and her dark desires, I dug through several pages with recipes until I finally rediscovered Clementina's blog post.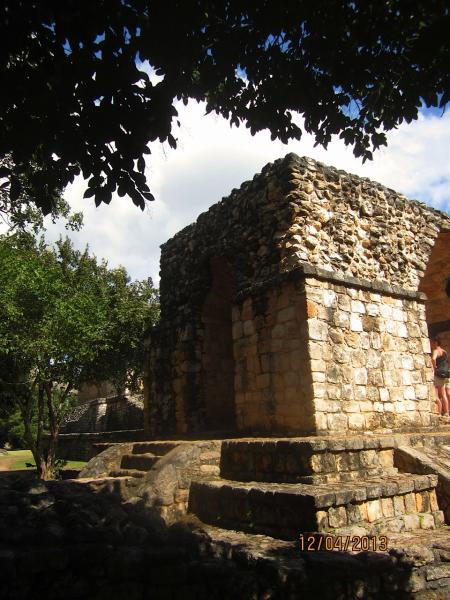 Mexico's Mayan ruins are worth a trip - here the recently discovered Ek Balam
Mexicans seem to have a real sweet tooth. All Concha recipes I had googled, contained lots of sugar. Being a gringo, I cut it down drastically, and, also, exchanged some of the flour with white whole wheat.
And how to force taste into even the lamest bread dough? Two words: overnight fermentation! I reduced the yeast, stretched and folded the dough, and put it to sleep in the fridge.
Rolling and cutting out the chocolate and cinnamon toppings evoked an early Christmas spirit, but with a little patience (and the help of a large cookie cutter) this was achieved, too (though some misshaped cookies had to be crushed, cooled and re-rolled.)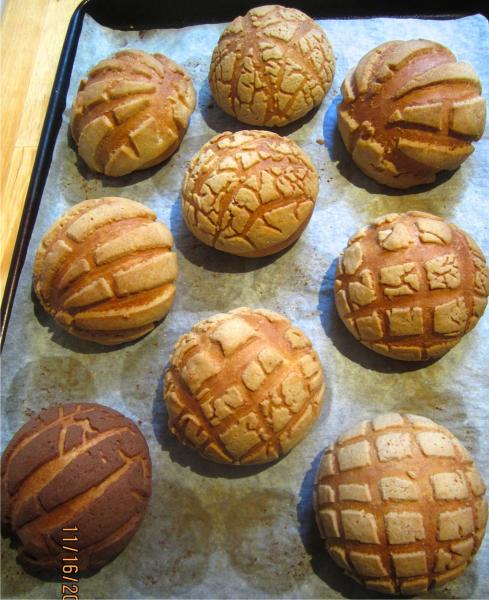 Baking brings out the pretty two-colored pattern
After their rise the Conchas looked already quite attractive, the cuts in the toppings had opened, and after baking the two-colored pattern had fully emerged.
Of course I was extremely eager to see whether my Conchas had escaped their compañeros' fate of bland and boring sweetness. We tried them, and - here they were, delicate rolls with a hint of cinnamon, topped by a crisp sugar cookie: a real treat!
Delicate rolls with a hint of cinnamon, topped by a crisp chocolate or cinnamon cookie
You find the recipe on my blog "Brot & Bread" here.