November 13, 2013 - 10:48pm
Last week, my breads had a more or less "command performance" in the Italian language class my wife and I are taking. I've been a bit uncomfortable taking food since the class meets in  a deli/cafe/wine bar. Anyway, I decided to let it be on the teacher's head. I took a large wicker basket with half slices of 3 breads - a seeded sourdough Italian bread with 20% durum flour, a walnut-dried fig bread based on my San Francisco-style sourdough and a "Overnight Country Brown" from Ken Forkish.
Everyone seemed to enjoy all the breads. I was most delighted by the reactions of a fellow student who is a professor of art at the local State University. He was munching on the Forkish bread and carrying on about how even the local "French Bakery" (which is pretty good) puts "too much air" in their breads. He was talking, I'm sure, about the fluffiness you get when you spike sourdough breads with yeast. He thought the Country Brown was a lot like the breads he had had in France. (It is very similar to some pain de compagne I've had in the Dordogne Valley.  And we had a "guest" sitting in, which we often do. Clara is a native Italian -  an older woman who was the cook/owner of an Italian Restaurant/Pizzaria that is now closed. I understand she still has her old commercial mixer at home and bakes her own bread and makes pizzas and calzones. Her compliments meant a lot to me. 
Speaking of Forkish's breads, Fresno is now in our version of "Fall." My kitchen temperature is running right around 70 dF. I've made a couple FWSY formulas in the past 2 weeks - one is fermenting now - and they are keeping to the timings in the book more closely. I'm still not able to let an "overnight" dough bulk ferment at room temperature overnight.  I'm not too unhappy about this. The cold retardation makes the breads more sour, which i don't mind.
The breads at the head of this blog entry are some San Joaquin Sourdough baguettes and San Francisco-style Sourdoughs with 20% whole wheat I baked yesterday.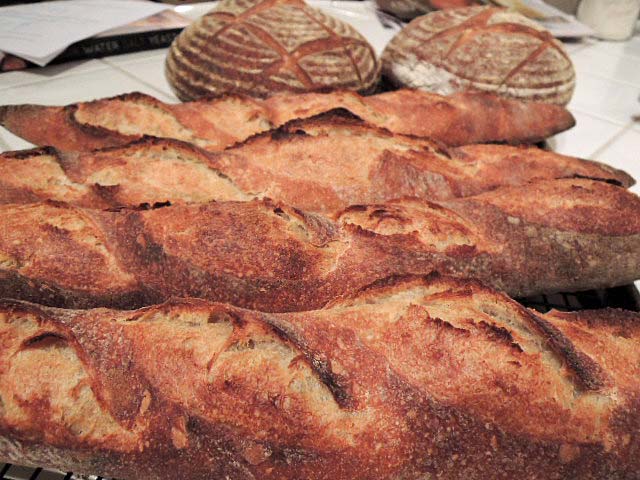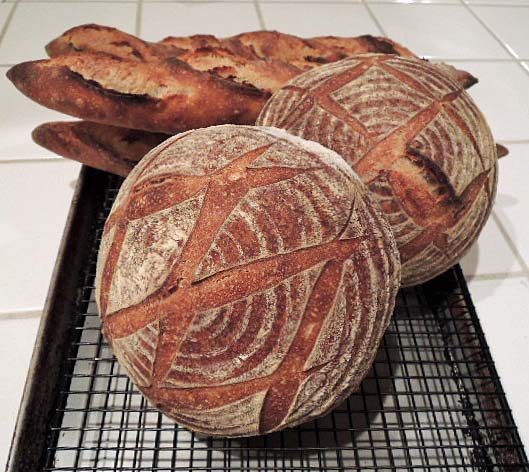 We're having Thanksgiving at our house for the first time in several years. Our sons and their families and one of my sisters and her son will be with us.  I'm looking forward to it. It's time to start planning baking for the holiday weekend. Some breads for stuffing, some for morning toast and sandwich rolls for sure. 
David