November 7, 2013 - 5:12am
About four months ago, satisfied with my progress with wheat breads, I decided I'd give rye breads a go. Within the week I had reviewed Hamelman's (Bread) comments on rye flour's idiosyncrasies, Ortiz's (The Village Baker) near deification of Pain de Seigle, and developed a respectful fear of rye's dreaded "starch attack". In earlier days I'd made singular attempts at Volkenbrot and, while test baking for ITJB, Kornbroyt: each a dense-crumbed rye; both tasty, but not the rye bread I was looking for.
Encouraged by its praise, and perhaps in memory of our recently passed fellow TFLer, Eric, I tried Eric's Rye. I loved it—http://www.thefreshloaf.com/node/32600/attempt-1st-erics-rye—but it too wasn't the rye I sought.
I took a trip down memory lane.
I grew up in Scranton, PA during WWII, and the following fifties. In my eighth year, the war nearly won, my father took me on my first trip to NYC: the Big Apple. My father's love of baseball would rival any current-day Boston Red Sox fan. In those days, with proper planning, you could see a Dodger's game Friday, a Yankee game Saturday and catch a Giant's game at the Polo Grounds—sometimes a double-header—on the way home Sunday. My dad was a great planner.
I believe I tasted Rye bread for the first time that summer in a near-Broadway bar—the "Silver Dollar". It was 1944, but it still offered a free lunch. I had a ham sandwich on rye bread: probably old-style NY Deli Rye. That was the rye I was searching for.
I researched more than a handful of NY Deli Rye recipes and formulae. I was surprised and disappointed to find most called for white rye: a flour many TFLer's warned me lacked flavor, and I'd experienced first-hand making Greenstein's (Secrets of a Jewish Baker) Jewish Rye.
I started experimenting substituting Whole Rye Flour for White Rye flour. Initially, using commercial yeast, making straight doughs. I made little ones (not photographed) and big ones—a two pounder is featured above. Update: 27 Dec. 2013 We cut this bread for post holiday ham sandwiches. I've added this crumb shot.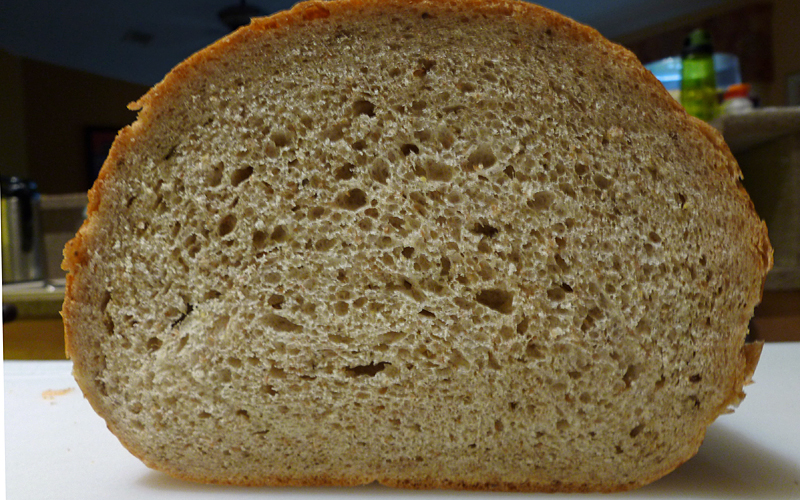 The flavors were good, but not there yet. I've made some with caraway seeds, some without.
It was time to try Rye Sours.
I ignored all the books advising starting a Rye Sour from scratch. I am the happy owner (parent?) of a reliable and robust sourdough seed starter, faithfully refreshed weekly. Starting with ten grams of my old faithful, in three 12 hour builds, I made my version of a Rye Sour feeding only with Whole Rye. It now rests, in the fridge,   beside its white-flour mother, it too refreshed weekly. 
I made only little ones: 1 lb. or 1.5lb.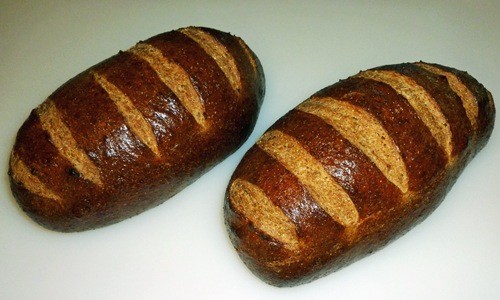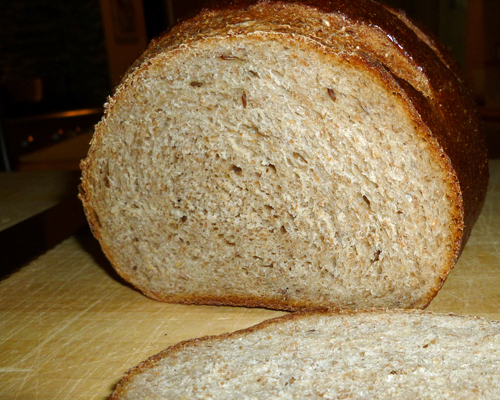 Yesterday I gave a neighbor, in thanks for mounting a bat house on our barn, a loaf from the most recent batch. That I'm willing to share is a sure sign the flavor's getting real close to what's wanted. [pic
Finally, also yesterday, I did a side-by-side bake using the formula I've settled on: one loaf straight dough--chevron slashes--and one loaf converted for Rye Sour--straight slashes--keeping the flour ratio, liquid, salt, vegetable oil, and milk powder identical in each.  I used 2-1/4 tsp. of commercial yeast in the straight dough, and added 1 scant tsp. of commercial yeast to the Rye Sour version. I make the Rye Sour with two, twelve-hour builds and reason the natural yeast population has passed its peak. All dough handling, and baking was as identical as possible. The straight dough loaf proofed earlier than the Rye Sour version; consequently, the loaves were baked serially.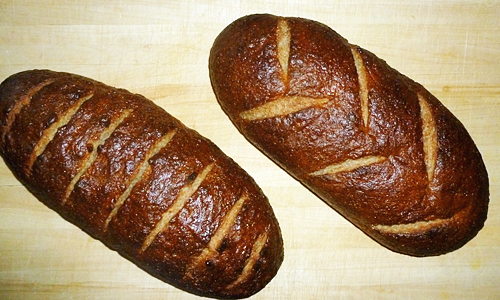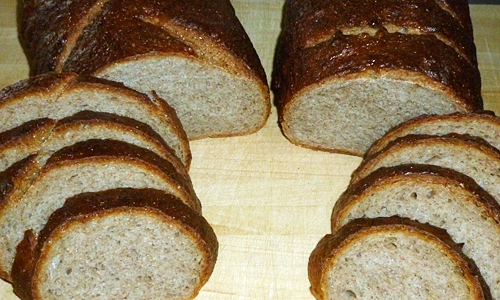 The straight dough exhibited slightly more oven spring, otherwise I don't see any other difference.
My wife encouraged this comparison. "If the straight dough tastes as good as the sourdough version why go to the extra trouble?" was her argument. However, while she consumes sourdough breads with relish, she still is wary. Occasionally, the "tang" in my sourdoughs reach beyond her taste tolerance. I think this was the real motive for her encouraging the taste test.
Post-bake (and 24 hours aging) I set up a blind tasting for her.
No surprise to me, the Rye Sour version won! It's mouth-feel is slightly chewier, but that's not the tie breaker. It's flavor  pops; the straight dough not so much. Their both keepers, but we'll be baking the Rye Sour version most often.
Next rye steps: In past browses I've come upon Scandinavian recipes for herb or spice flavored rye breads, but I hadn't kept a bookmark. If you have a favorite in this category, please share it with me.
David G