October 20, 2013 - 10:17pm
This week's baking 10/20/13
As previously advertised, I turned to the rye side this week. I baked a couple loaves of Greenstein's Jewish Sour Rye, which is still a favorite, especially toasted. The loaf in the photo is a 4 lb loaf of Hamelman's 3-stage 80% Rye Bread. It was baked this afternoon and is presently cooled and wrapped in baker's linen, "curing." I will not slice it for at least 36 hours. Crumb photos will follow.
I really like this bread, but I don't make this type of high percentage rye very often. Each time i do, I am sure it is going to be a disaster. The dough never really comes together in the mixer, and the boule is molded more than shaped. The loaf, when it's ready to bake, has the consistency (and color) of chocolate mouse. Yet, even when clots of dough stick to the brotform, you can scrape them off and slap them back on the loaf. And it always bakes up into a gorgeous, rustic, crusty on the outside moist on the inside, delicious exemplar of "real bread." 
I can wait to slice it, because I know how much better it will be in a couple of days. Meanwhile, the cream cheese and pickled herring are standing by. I'll go fishing for some smoked salmon tomorrow. (My sister, Ruth, says you can always find the best fishing spot for smoked salmon by watching for the circling bay gulls.)
I also made a batch of San Joaquin Sourdough baguettes this week. In contrast to the rye, these are delicious 20 or 30 minutes after they have come out of the oven.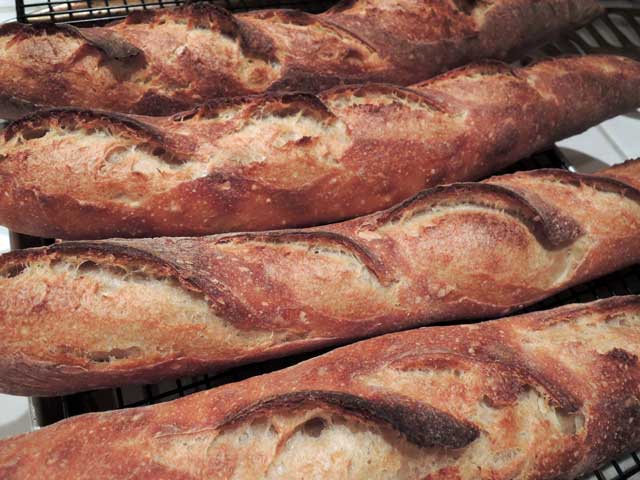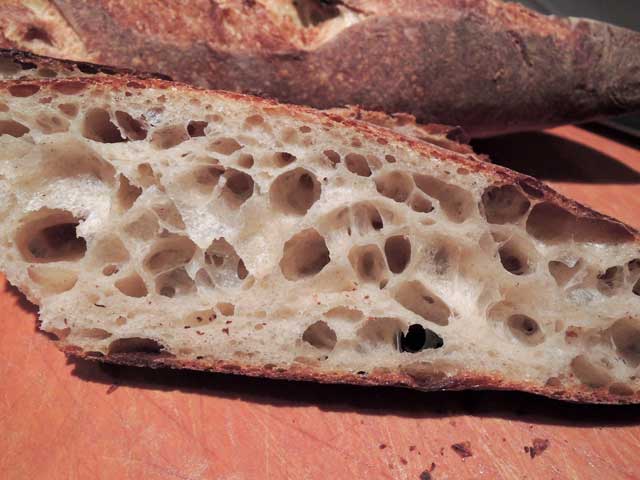 These have been turning out so reliably good the past few months, they have become a staple. They make great sandwiches, good toast and the second best French Toast (after challah). 
Next week, I am teaching, but, if time allows, I need to make some sort of whole wheat or multi-grain breads. 
Happy baking!
David