Juergan was my inspiration when he mentioned I should try spelt in the starter on the 40/60 loaf. I thought about it and made a biga with 2 feedings using 50g spelt/50 g apple yeast water for a total of 200g, no  commercial yeast .I let it rise all night in the oven with the light on. Wow...it really grew and smelled lovely..faint apples   I subtracted that from the total liquid/flour in the  Norwich formula that I use as a base. I also subbed spelt for 1/2 the rye called for. I fed my regular white starter with AP as usual and used 1/2 whey and 1/2 AYW for remaining liquid.. Mixed all but salt and let autolyse for 3 hrs as I had errands to run.
Came back and did 3 sets of  30 folds in the bowl at 30 min intervals. Turned out on a wet counter and did 2 sets of s&f's at 30 min. intervals on the countertop. Divided into 3 boules at 750g approx. each. Let proof 30 min. in the cloth lined  baskets and then into the fridge overnight.
This AM I heated my iron pots for 30 min at 500. Remove loaves from fridge and slashed one  and into hot pots and turn down temp to 460 for 20 min  lid on and 10 min without lid.  You can see that I slashed one and let the other two burst as David has been doing. I much prefer the burst !  Huge ears and lovely crust and blisters and glistening crumb. Went out a few hours came  back  and cut one so I could have a taste and make pics :)  Fantastic YW crust that tastes like caramel  and smells like it too. Soft crumb and lovely structure . This bread is a delight . I am so pleased to have the "touch of spelt" without the headaches . I think I do better without commercial yeast. This from a baker that has used it for all breads for 40 years until I discovered wild yeast ! I don't need the extra bit of push it gives and I  like the way this reacts  much better. It has been an interesting journey toward more spelt. I shall cont, the exploration and keep finding ways to increase it reliably. There are a lot of formulas on TFL using  spelt and I want to cont. to try them. 
just out of fridge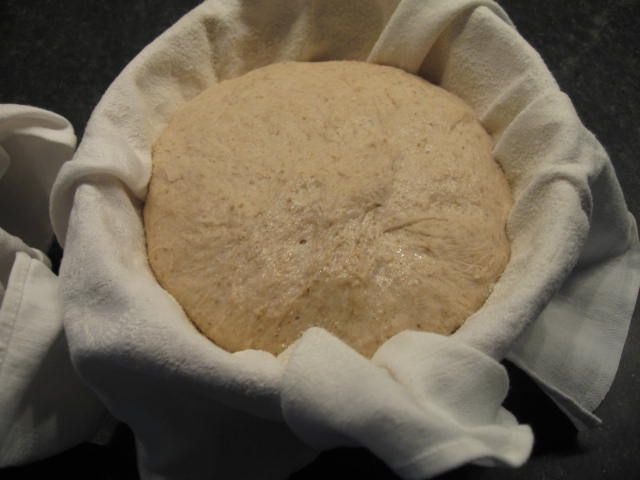 one slashed
slashed loaf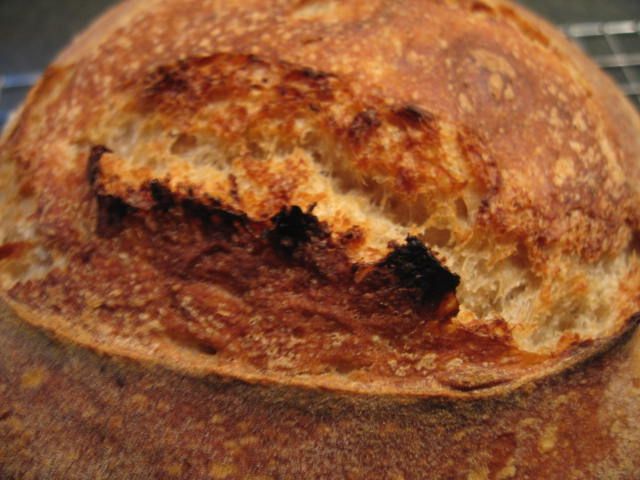 bursting forth
crumb:
dinner last night with the last of one loaf of the 40/60 loaf grilled....homemade fettucini and shrimp with grape tomatoes , capers , preserved lemon, white wine and fresh basil